This year's Grand Prix of Abu Dhabi, the traditional penultimate round of the UIM F1 H2O World Championship, roars into life on Thursday with the first of two F4-S support races and BRM Pole Position qualifying for the world's finest tunnel boat racers.
Staged on a tricky course off the Abu Dhabi Breakwater and hosted by the Abu Dhabi International Marine Sports Club (ADIMSC), the main race has attracted 19 drivers from 12 nations, including Team Abu Dhabi's Thani Al-Qamzi and Alex Carella.
Frenchman Philippe Chiappe of the CTIC F1 Shenzhen China Team leads the F1 H2O Drivers' Championship by 13 points from the Victory Team's Shaun Torrente. Carella is fourth in the points' standings behind Finland's Sami Selio.
Etihad Airways is the official carrier for Team Abu Dhabi that is also supported by the Abu Dhabi Sports Council and runs under the patronage of His Highness Sheikh Dr. Sultan Bin Khalifa Al-Nahyan, advisor to the Head of State and chairman of the board of directors of the Abu Dhabi International Marine Sports Club (ADIMSC) and under the guidance of His Highness Sheikh Mohammed Bin Sultan Bin Khalifa Al-Nahyan, Vice-President and CEO of the ADIMSC. They were joined at the Breakwater by His Highness Sheikh Zayed Bin Sultan Bin Khalifa Al-Nahyan to officially open race proceedings on Wednesday morning.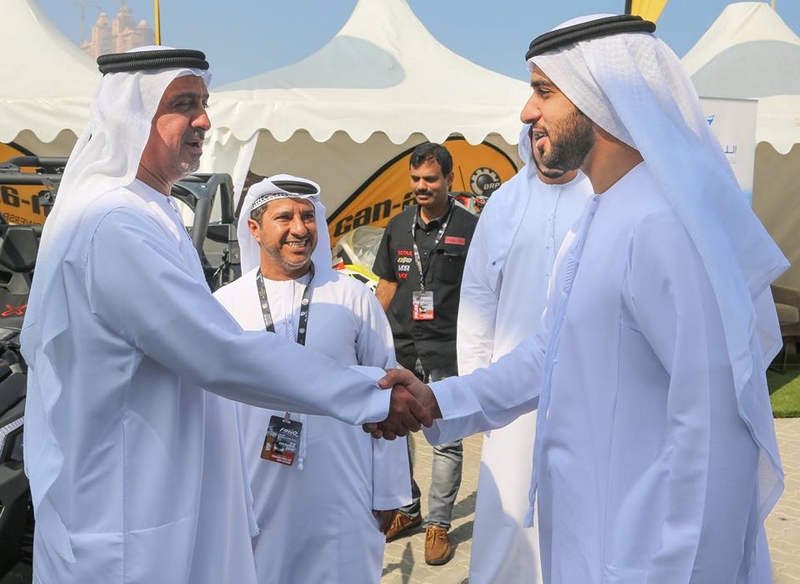 The racing team runs under the auspices of the ADIMSC and board member and assistant general manager Salem Al-Romeithi, he said;
There is a real buzz around the pit lane and paddock areas now and it's going to be a very exciting two days of racing.
We didn't want this event to be just about the racing.
We want to have a carnival-type atmosphere.
We have marine equipment, a display of tents, a food court, kids' zone and a spectator village and we want to create a more social environment for this race.
Our team is well prepared and, hopefully, will also perform on the race course and we can celebrate another achievement this weekend.
A determined and focused racing manager Guido Cappellini added;
Alex (Carella) will try and win this race, that is normal.
For Team Abu Dhabi this is the most important race of the season.
For one month we have prepared for this and all the team has been pushing 100% for this result.
This is our home race and we need to win to keep open the World Championship, just in case Chiappe (Philippe) has a problem.
On every race course pole position is so important.
Last year, Alex had pole position, he win the race and, unfortunately, had a problem near the start.
Pole position is a big advantage. 80% of the time, pole position takes the race win.
That's why Thursday afternoon is so important.
Maybe Rashed (Al-Qamzi) just needs two podiums here and he wins the F4-S championship.
It has been a good season and shows that young talent is coming through strongly at Team Abu Dhabi.
For this reason, we entered endurance and F2 this year and for the team to win the 24-hour (Rouen) in its first season was a tremendous achievement.
We worked so hard this year in Abu Dhabi, even testing in the night to get everyone prepared and our team is getting the rewards for their effort.
Teams entered in the UIM F1 H2O series were permitted to practice on the course on Wednesday afternoon, following the completion of administration and scrutineering procedures.
It's a useful session just to shakedown the boat, get the feel of the course and check everything is working well before we get into the real important things like qualifying on Thursday.
– Insisted Team Abu Dhabi's Alex Carella, a three-time World Champion.
The ADIMSC has laid on excellent facilities for spectators. There will be a grandstand with seating for first class viewing of the action, in addition to the aforementioned traditional tent exhibition, a DJ and music, a kids' play zone and a food court with activities running from 11am to 10pm.
After further free practice and F4-S time trials on Thursday morning the first of the two F4-S races starts at 2pm and is followed by BRM pole position qualifying at 3.30pm.
2016 Grand Prix of Abu Dhabi – list of entries:
1. Philippe Chiappe (FRA) CTIC F1 Shenzhen China Team
2. Xiong Ziwei (CHN) CTIC F1 Shenzhen China Team
3. Nadir Bin Hendi (UAE) Victory Team
4. Shaun Torrente (USA) Victory Team
5. Thani Al-Qamzi (UAE) Team Abu Dhabi
6. Alex Carella (UAE) Team Abu Dhabi
9. Christophe Larigot (FRA) F1 Atlantic Team
10. Duarte Benavente (PRT) F1 Atlantic Team
11. Sami Selio (FIN) Mad Croc Baba Racing
12. Filip Roms (FIN) Mad Croc Baba Racing
14. Jonas Andersson (SWE) Team Sweden
15. Jesper Forss (SWE) Team Sweden
23. Bartek Marszalak (POL) Blaze Performance Team
24. Francesco Cantando (ITA) Blaze Performance Team
27. Ahmed Al-Hameli (UAE) Emirates Racing Team
28. Erik Stark (SWE) Emirates Racing Team
50. Marit Stromoy (NOR) EMIC Racing Team
51. Mike Szymura (DEU) EMIC Racing Team
17. Grant Trask (AUS) EMIC Racing Team