Team Abu Dhabi 4's Shaun Torrente and Faleh Al-Mansoori won the first of 2 XCAT races in Hangzhou, China this weekend.
The Pole Sitters, Dubai Police crewed by Nadir Bin Hendi and Arif Saif Al-Zafeen could only finish 6th, allowing Torrente and Al-Mansoori to equal their Championship points lead.
Torrente and Al-Mansoori overtook Dubai Police to hit the front at the start of the Hangzhou Grand Prix on the Qiantang River in the Xiaoshan District of Hangzhou City on Saturday and they held on to seal a convincing victory and storm into contention for the UIM XCAT World Championship title.
With the bit between their teeth after the performance in Shanghai last weekend, the team running out of the Abu Dhabi International Marine Sports Club (ADIMSC) duly tied with their Emirati rivals in the title race heading into the second of the Hangzhou races on Sunday.
The 222 Offshore crew of Italy's Giovanni Carpitella and Australia's Darren Nicholson delivered a useful performance to finish in second position, while Team Australia's Blue Roo crew of crew of Pål-Virik Nilsen and Jan Trygve Braaten were third.
Team Abu Dhabi 5's Rashed Al-Tayer and Majed Al-Mansoori maintained their championship challenge with fourth place and Dubai Police limped home in sixth after seeing a massive series lead evaporate in the third of six Chinese XCAT races in three successive weekends.
Torrente said after the race:
Abu Dhabi gives us the best boat and this is a fantastic result for us.
Now we are tied for the lead in the championship after this race result.
Now we have a big chance to win the championship.
Race 1
The start of the opening 17-lap, 60.75Nm race was held in gloomy and calm conditions but it was disappointing news for Swecat Racing, who were sidelined before the start after gear case issues before the start.
The format was similar to the previous week with boats tackling one start lap, 14 normal race laps and two compulsory long laps.
Team Abu Dhabi 4 made a good start and applied the pressure on Dubai Police from the outset. Torrente and Faleh Al-Mansoori managed to hit the front and were followed through the opening turns by 222 Offshore and the Blue Roo, as Dubai Police slipped to fourth ahead of Team Abu Dhabi 5.
Team Abu Dhabi 4 continued to edge away from their rivals as 222 Offshore and the Dubai Police vied for second and third places and long lap strategies began to come into play with Team Abu Dhabi 5 down in seventh place. Al-Tayer and Al-Mansoori climbed to sixth soon afterwards as Team Abu Dhabi 4 led from 222 Offshore, Dubai Poiice, the Blue Roo and HPI.
Over the subsequent couple of laps there were minor changes to the running order and Team Abu Dhabi 4 continued to lead from 222 Offshore, although the Blue Roo passed Dubai Police to snatch third and Dubai Police then slipped behind HPI and Team Abu Dhabi 5 and into sixth. New Star incurred a penalty lap and slipped to ninth.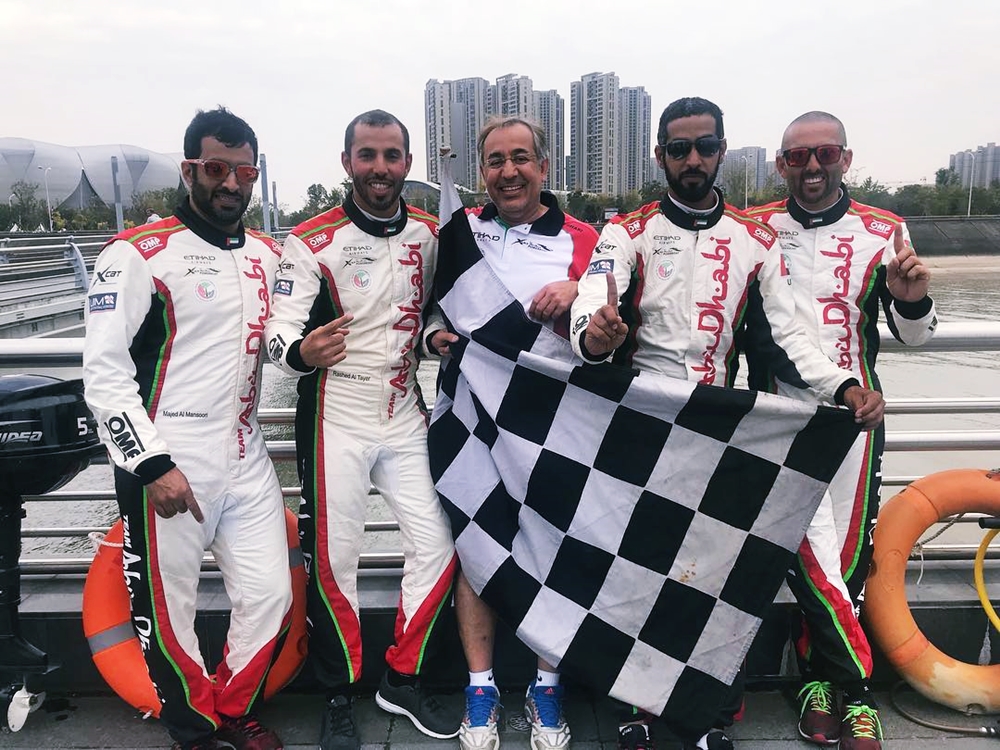 Team Abu Dhabi 4 held on to claim the win from 222 Offshore and the Blue Roo, but sixth for Dubai Police dented their title challenge.
2018 Hangzhou Grand Prix – race 1 result
1. Team Abu Dhabi 4 – Shaun Torrente (USA)/Faleh Al-Mansoori (UAE) 35pts
2. 222 Offshore 10 – Giovanni Carpitella (ITA)/Darren Nicholson (AUS) 30pts
3. The Blue Roo 8 – Pål-Virik Nilsen (NOR)/Jan Trygve Braaten (NOR) 26pts
4. Team Abu Dhabi 5 – Rashed Al-Tayer (UAE)/Majed Al-Mansoori (UAE) 22pts
5. HPI 96 – François Pinelli (FRA)/Giuseppe Schiano di Cola (ITA) 18pts
6. Dubai Police 3 – Arif Saif Al-Zafeen (UAE)/Nadir bin Hendi (UAE) 15pts
7. Kuwait 17 – Abdullatef Al-Omani (KUW)/Moustafa Al-Dashti (KUW) 12pts
8. Videx 22 – Alfredo Amato (ITA)/Daniele Martignoni (ITA) 10pts
9. New Star 9 – Mikhail Kitashev (RUS)/Dmitry Vandyshev (RUS) 8pts
10. Yacht Club Como 20 – Serafino Barlesi (ITA)/Domenico Caldarola (ITA) 6pts
11. Pastamato 46 – Andrea Comello (ITA)/Joakim Kumlin (SWE) 5pts
Swecat Racing 2 – Erik Stark (SWE)/Sebastien Groth (SWE) DNS
2018 UIM XCAT World Championship – positions after race 7
1. Team Abu Dhabi 4 178pts
1. Dubai Police 3 178pts
3. Team Abu Dhabi 5 155pts
4. Team Australia 8 152pts
5. 222 Offshore 10 137pts
6. HPI 96 92pts
7. Kuwait 17 87pts
8. Venus Bali/Viniexsport/Pastamato 46 78pts
9. New Star 9 73pts
10. Yacht Club Como 20 67pts
11. Videx/Ribot 22 50pts
12. Swecat Racing 2 46pts
13. Maritimo 12 0pts