Brodenbach,Germany acts as a warm-up event for some of the UIM F2 drivers before they enter into full blown competition in Finland next month.
Three F2 races will be run over the weekend and one of those was contested today.
Qualifying saw Stefan Hagin put his Molgaard on pole in his home country in front of Uvis Slakteris and Rupp Temper.
In Race 1, Austrian Rupp Temper had a blistering start and pulled away from the field, closely followed by Hagin and Norwegian Frode Sundsdal who came charging from 6th position and clawed his way up to third.
Sundsdal was clearly enjoying his return to F2 with his new EDH Racing Team.
Uvis Slakteris, had a spin on the first corner, and was then broadsided by the French entry of Fabrice Boulier.
Boulier had to retire, Slakteris was able to carry on.
The tricky Brodenbach race course caused problems in the early laps but then allowed the competitors to settle down and race to their finishing positions.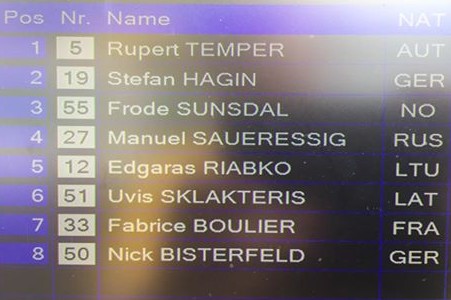 After the race Rupp Temper said,
My setup was super. Michael Werner has made a great job and he know the race course well. After all, he won his first World Championship title here in 1977. After that he raced more than 20 times here – so nobody knows this circuit better than our team!
An extremely pleased Frode Sundsdal commented,
Entering a new team is not easy, so we already felt like winners when we showed up. P6 in this morning's qualifying was okay after a full day of hard work, and achieving a third place – We just loved it! Stefan was on pole in Tønsberg and Rupp won both Match and Speed runs in the same race, so for me it's okay to lose to them. They are great friends, and have loads of seat time – which I will work on.
The final 2 F2 races will be contested tomorrow (Sunday 21/05).
Photos: Marc Huider and Christian Moskopp Fotografie