Sunday afternoon's BRM Qualifying on the 2.02km, six-pin course on the Liu River was split into three sessions with the slowest six of the 18 entrants eliminated in the first 20-minute session.
Alex Carella put in a time of 46.61 seconds in the first three minutes to try and put himself into Q2 early on, but Thani Al-Qamzi was down in ninth at the mid point of the session with a lap of 48.43 seconds and needed to keep an eye on his rivals running behind to ensure it made it into the top 12.
Nadir Bin Hendi, Filip Roms, Francesco Cantando, Christophe Larigot, Jesper Forss and Jonas Andersson were eventually eliminated, with engine issues preventing Andersson doing more than a handful of laps at the end of the session. Bartek Marszalak clipped a turn buoy and was duly penalised and that enabled Larigot to reach Q2.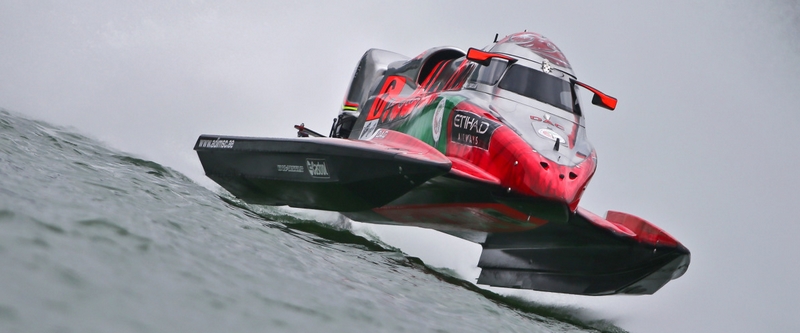 Carella's (above) strategy of setting a fast early lap worked again in Q2 and the Team Abu Dhabi driver clocked a 46.72 second tour to all but seal his place in the Q3 shoot-out. Mike Szymura, Duarte Benavente, Larigot, Ziwei Xiong, Al-Qamzi and Marit Stromoy were eliminated, as Erik Stark won the session with a lap of 46.63 seconds and Carella tied with Ahmed Al-Hameli in third place.
Torrente was first on to the water for the six-boat shoot-out to determine pole position.
The Victory Team driver posted an opener of 48.14 seconds and improved with a cleaner lap of 46.81 seconds to set the target. Selio opened with a lap of 46.33 seconds and ran even faster with a 46.17 second lap.
Al-Hameli was next on to the water and the two-time Liuzhou pole winner carded an opener of 46.37 seconds, but a stunning second lap of 46.05 seconds displaced Selio and gave the Emirati provisional pole.
Carella opened up with a 46.34-second tour but missed out on provisional pole on his second lap by just 1/100th of a second.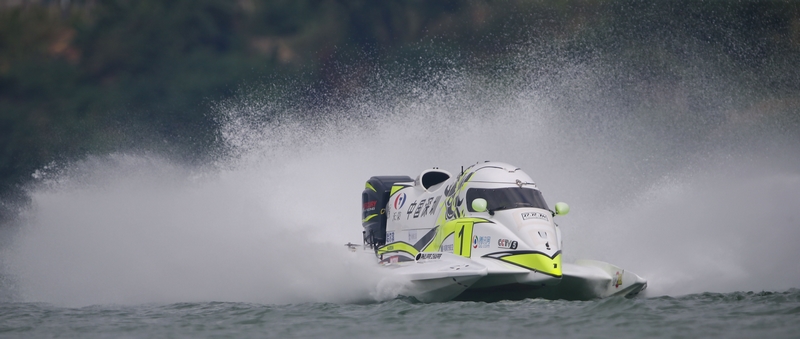 Chiappe (above) knew the importance of pole position on this demanding course and the Frenchman opened his account with a lap of 46.05 seconds to equal Al-Hameli's time, but he could not go faster on his second lap.
Stark carded a first lap of 46.34 seconds and was not able to move up on his second tour of the circuit and the Swede had to be content with fifth place.
Al-Hameli's time was later rounded down to 46.04 seconds and he was given pole position.
Earlier in the day Carella had pipped Torrente to the fastest lap in the free practice session by just 2/100ths of second with a lap of 45.69 seconds.
The Italian ran for 20 laps. Al-Qamzi's session was cut short by engine issues, but the second Team Abu Dhabi driver carded the 13th quickest lap of 48.47 seconds.
2016 Grand Prix of Liuzhou – BRM Qualifying result:
1. Ahmed Al-Hameli (UAE) Emirates Racing Team – 46.04sec
2. Philippe Chiappe (FRA) CTIC F1 Shenzen China Team – 46.05sec
3. Alex Carella (UAE) Team Abu Dhabi – 46.06sec
4. Sami Selio (FIN) Mad Croc Baba Racing – 46.17sec
5. Erik Stark (SWE) Emirates Racing Team – 46.34sec
6. Shaun Torrente (USA) Victory Team – 46.81sec
8. Thani Al-Qamzi (UAE) Team Abu Dhabi – 47.84sec