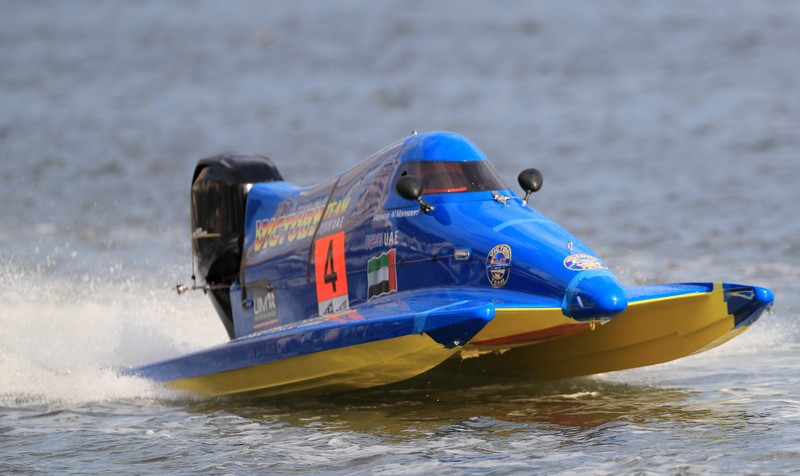 Third overall in today's Sharjah race was sufficient for the Victory Team's Mansoor A-Mansoori to pip Frenchman Jeremy Brisset to the F4-S title.
Hungarian veteran Rudolf Mihaldinecz led from start-to-finish to pip young Frenchman Tom Chiappe to the overall Grand Prix victory and the race two win. Al-Mehairbi incurred a one-lap penalty for not maintaining his line and duly lost fourth position.
Rudolf Mihaldinecz nosed ahead of Mohammed Al-Mehairbi and Tom Chiappe at the start pontoon, as title rivals Mansoor Al-Mansoori and Jeremy Brisset started in fifth and fourth positions. The 57-year-old Hungarian began to extend his advantage as Chiappe and Al-Mansoori moved ahead of Al-Mehairbi through the opening turns.
The race developed into a procession for the next few laps until Louise Vella found a way passed Brisset on lap 15 to snatch fifth and the leader began to lap the tail-enders. Mihaldinecz survived a scare on lap 20 to secure victory over Chiappe by the margin of 9.11 seconds and third place was sufficient for Al-Mansoori to claim the world title from Brisset and Al-Mehairbi, but the latter was docked one lap for a lane infringement and Vella moved up to fourth place.
Brisset managed to keep his title hopes alive by taking the wheel of Corentin Guesnel's Maverick ASV for the final race of the season. It gave the Frenchman the opportunity to try and pip Al-Mansoori to the title – 11 points separated them at the start of the day. Chiappe topped the times in the morning's practice session in a time of 50.18sec, with Wu Bingchen and Vella in second and third and Al-Mehairbi and Al-Romaithi classified in fifth and eighth.
The timed trials took on extra significance on this occasion. Mihaldinecz spoiled the party with the pole position-winning lap of 50.11sec. Al-Mehairbi slotted into second and Chiappe was third but title rivals Al-Mansoori and Brisset qualified fifth and fourth, respectively.
2017 F4-S Trophy – final positions:
1. Mansoor Al-Mansoori (UAE) Victory Team 116pts
2. Jeremy Brisset (FRA) F1 Atlantic Team 100pts
3. Mohammed Al-Mehairbi (UAE) Team Abu Dhabi 86pts
4. Louise Vella (AUS) Team Sweden 82pts
5. Rudolf Mihaldinecz (HUN) Mad-Croc Baba Racing Team 56pts
6. Wu Bingchen (CHN) CTIC F1 Shenzhen China Team 54pts
7. Corentin Guesnel (FRA) Maverick F1 40pts
8. Tom Chiappe (FRA) Emirates Racing Team 35pts
9. Kalle Viippo (FIN) Mad-Croc Baba Racing Team 29pts
10. Mohamed Al-Matlae (UAE) Victory Team 17pts
11. Mohamed Al-Yamahi (UAE) Victory Team 16pts
12. Sebastien Haugaard (SWE) Team Sweden 15pts
13. Rashed Al-Romaithi (UAE) Team Abu Dhabi 11pts
14. Damon Cohen (AUS) Blaze Performance 8pts
Photo: Mike Powell