Team Abu Dhabi's Mohammed Al Mehairbi who currently lies second in the F4-S Championship, was quickest in qualifying for tomorrow's round 5 race in Xiangyang.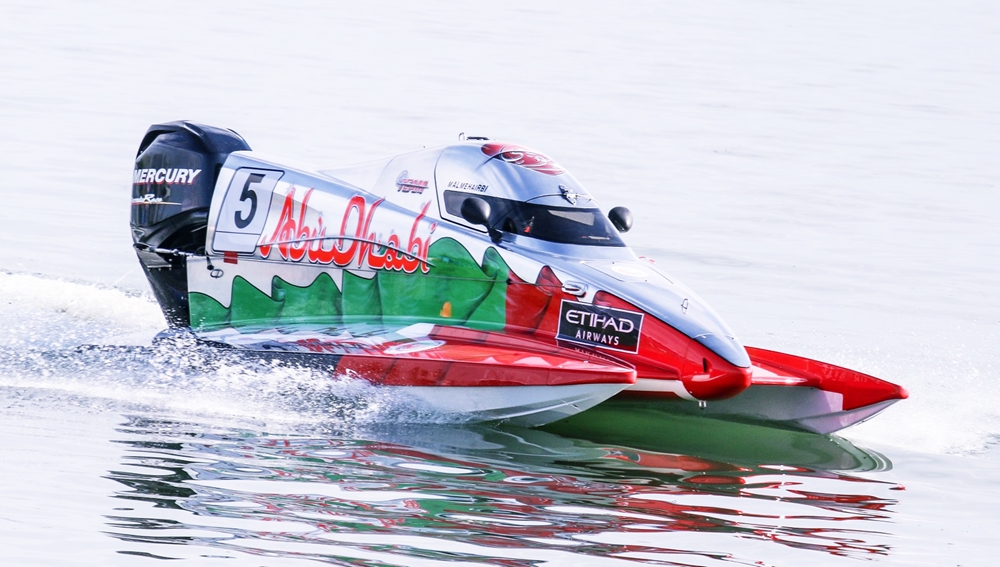 Britain's Sam Whittle was just .14 slower in his F1 Atlantic Team BaBa hull.
Whittle had topped the times for most of the session only to see the Team Abu Dhabi driver pip him at the last. A change of prop for Whittle from what he had ran in London, gave him a distinct speed increase.
Alexander Lindholm was third, now running in the colours of Amaravati, the capital of the Indian State of Andhra Pradesh and the host city of the UIM F1H2O Grand Prix of India.
Photo: Sam Whittle
SATURDAY September 22nd
F4 Free Practice 09:30 – 09:50 Local Time (02:30 – 02:50 British Summer Time / 03:45 – 03:50 Central European Time)
F4 Race Race 1 (Round 5) 12:00 – 12:20 Local Time (05:00 – 05:20 British Summer Time / 06:00 – 06:20 Central European Time)
F4 Race Race 2 (Round 6) 15:30 – 15:50 Local Time (08:30 – 08:50 British Summer Time / 09:30 – 09:50 Central European Time)
F4-S Qualifying
1st) Mohammed Al Mehairbi 1:09.60
2nd) Sam Whittle 1:09.74
3rd) Alexander Lindholm 1:09.86
4th) Max Stilz 1:12.42
5th) Ahmad Al Fahim 1:14.33
6th) Bingchen Wu 1:14.53
7th) Tom Chiappe DNS
8th) Rudolf Mihaldinecz DNS
9th) Joris Colleret DNS