Team Amaravati's Jonas Andersson held of a sustained challenge from Shaun Torrente to take a well-deserved sixth career-victory at the UIM F1H2O Grand Prix of France in Evian to move into second place in the world championship standings writes Nigel Quilter.
Andersson said after taking his first win since 2016:
It is great to win again.

I selected a prop that would give me a chance to beat Philippe [Chiappe] to the first corner but I didn't do it and he just went away and was so fast.

But then he broke and from that point I just tried to control the race.

I knew Shaun was there but I didn't think he would take any risks in terms of the championship.

But if he had tried to pass, I had more speed so I think I would have covered it off.
Third place went to Torrente's Abu Dhabi teammate Thani Al Qemzi, but once again there was more agony and heartbreak for CTIC F1 Shenzhen driver Philippe Chiappe whose race came to a premature end for the fourth time in five outings on Lac Leman, retiring from a comfortable lead on lap 15 of 40.
The battle for the win and podium places hinged on a dramatic turn of events on lap 15 when pole-sitter and race leader Chiappe suddenly slowed and pulled off the circuit handing the lead to Andersson, with Al Qemzi closing down and passing his teammate just before the yellow flag was raised when Maverick F1 Racing's Cedric Deguisne barrel-rolled out of the race.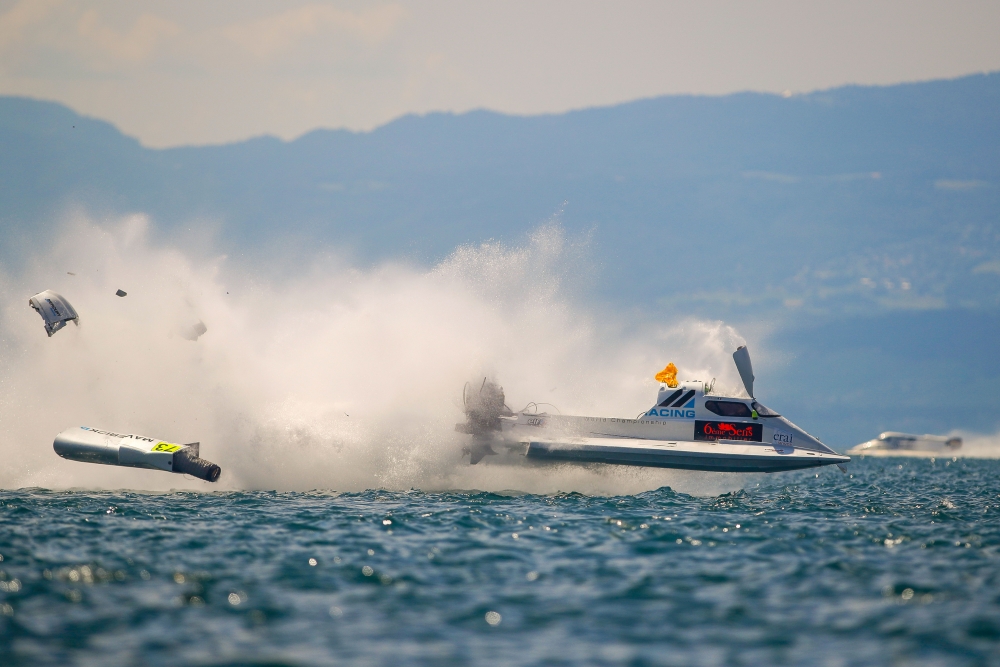 But the order for the restart reverted to the positions of the lap before with the unfortunate Al Qemzi losing out.
From the restart Andersson was able to control the pace out front but was unable to shake off Torrente, his lead fluctuating between two and four seconds, but held on to run out the winner by 1.97s.
Behind the leaders an epic fight for the final podium slot unfolded between Al Qemzi and Emirates Racing's Marit Stromoy who, after losing out at the start and dropping two places to fourth, fought back and closed in and passed Al Qemzi at the end of lap 25 but he struck back immediately regaining the place on the next lap.
Peter Morin made up two places but was never in contention to challenge the front runners and was unchallenged in fifth, with Alex Carella finally ending his run of seven races without a finish picking up points in sixth spot, but it was a disappointing day for teammate Ahmed Al Hameli, retiring after just 9 laps.
It was an afternoon of mixed fortunes for Blaze Performance with Greg Foster enjoying his best result in just his second start in the championship finishing in seventh which was some consolation for the team after Francesco Cantando had fought his way up through the field from 19th off the dock and into eighth when forced to retire on lap 25.
Bartek Marzsalek improved from 13th to take his second successive top-ten finish in eighth from F1 Atlantic's Duarte Benavente, but it was another frustrating outing for teammate Alberto Comparato failing to complete a lap, with Erik Stark somehow managing to bring his DAC home in tenth despite a loose dashboard!
Sharjah Team's Filip Roms came home in 11th teammate Sami Selio's afternoon ending on lap 28 after running strongly in fifth, Beranger Robart the final finisher, Erik Edin's race ending after just six laps.
Second place for Torrente keeps him on top in the championship standings with Abu Dhabi extending their lead in the Teams Championship to 30 points from Team Amaravati.
Torrent said at the finish:
I pushed hard to try and force Jonas into a mistake, while making sure I didn't make any mistakes myself to stay ahead in the championship.
1 Jonas Andersson 40 + 0:00 20
2 Shaun Torrente 40 + 1.97 15
3 Thani Al Qemzi 40 + 4.81 12
4 Marit Stromoy 40 + 6.14 9
5 Peter Morin 40 + 14.10 7
6 Alex Carella 40 + 23.34 5
7 Greg Foster 40 + 34.64 4
8 Bartek Marszalek 40 + 37.11 3
9 Duarte Benavente 40 + 38.11 2
10 Erik Stark 40 + 1m+01 1
11 Filip Roms 39 + L1 0
12 Béranger Robart 37 + L3 0
13 Sami Selio 28 DNF 0
14 Francesco Cantando 24 DNF 0
15 Cédric Deguisne 15 DNF 0
16 Philippe Chiappe 14 DNF 0
17 Ahmed Al Hameli 9 DNF 0
18 Erik Edin 6 DNF 0
19 Alberto Comparato 0 DNS 0