7/100th of a second was enough to see Duarte Benavente top the timing sheets in Q2 Qualifying just ahead of the reigning UIM F2 World Champion Pierre Lundin.
Benavente, who just twelve moths ago failed to even make the start line at his home Grand Prix.
The Portuguese driver left it till the very last lap before producing a stunning time. It means that in tomorrow morning's top ten 'shoot-out' he will be the last driver to go out and try to claim pole position for the Grande Premio de Portugal taking place in Ribadouro, Baião.
In what many believe will be his final UIM F2 race Sweden's Pierre Lundin, who won here twelve months ago, will try everything in his power to claim that all important pole position, as realistically only a maximum points score from Sunday's Grand Prix will give him any chance of retaining the title for a third year.
He will also need the current point's leader Rashed Al Qemzi to finish in fifth place or lower for that to happen.
Although the Team Abu Dhabi driver was over a second slower in Q2 he did enough to make the top ten 'shoot-out' and will be hoping to improve on a time that saw him only ninth quickest.
An Abu Dhabi team spokesman said:
We brought him in for a propeller change mid way through the session but when he went back out there was too much traffic and he was unable to put a fast lap in.
We are not too concerned because when he's out by himself we know he can deliver what's required.
Perhaps the surprise package of the day was the young Dutch driver Ferdinand Zandbergen racing for Sami Selio's MadCroc BaBa Racing team.
He posted the second quickest time in his Q1 group and improved that by 8/100th of a second to finish just behind Lundin.
Making it no further than Q1 was the 2016 World Championship runner up Erik Edin.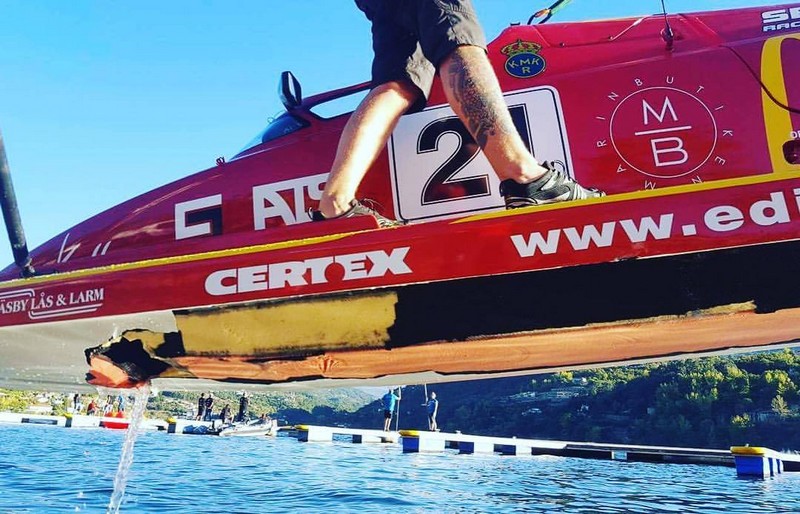 His Molgaard hull struck some floating debris which punched a huge hole in the left sponson.
Everything felt perfect till this happened, now the weekend is over for us.
Earlier in the day Rupp Temper had to withdraw his entry after his RSC Regan Team discovered his DAC hull had delaminated.
That leaves twenty one drivers contesting the eighteen grids slots available.
This means that Sunday morning will also see the repechage take place with just the last remaining three spaces being fought out by six drivers.
On pole position for that race will be the Latvian driver Uvis Slakteris and alongside him will be Team Abu Dhabi's Mohamed Al Mehairbi.
With the weather forecast promising a change in wind speed and direction, expect a very busy morning on the Douro River before the Grand Prix gets under way at 15:45 local Portuguese time.
Q2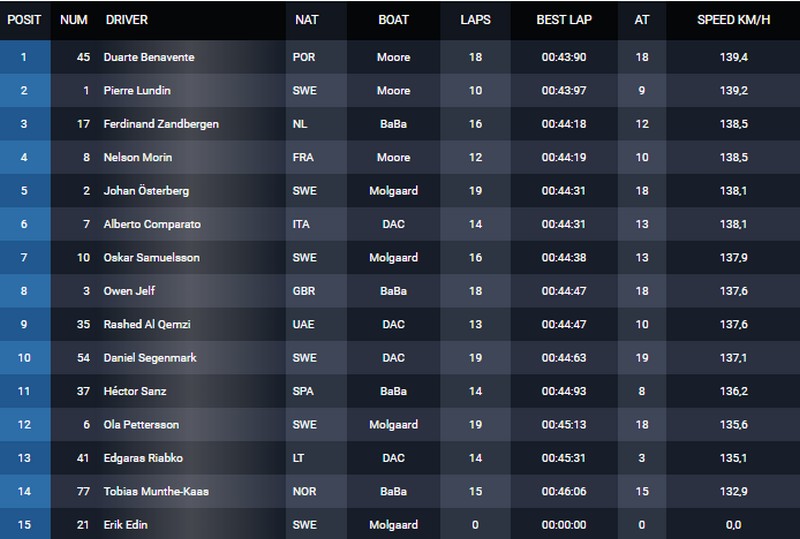 Q1