The Dubai Police crew of Nadir bin Hendi and Arif Saif Al-Zafeen led the second race of the weekend from pole position to secure a fourth successive XCAT victory by the margin of 7.47 seconds.
That means the Dubai-based crew now hold a championship lead of 48 points over the 222 Offshore crew of Italian Giovanni Carpitella and his Australian throttleman Darren Nicholson. They finished third for the second day running behind the two UAE boats.
Team Abu Dhabi 5's Rashed Al-Tayer and Majed Al-Mansoori guided their American-built MTi to the chequered flag in sixth position and slip to fifth in the championship standings. Team Australia's Blue Roo crew of Pål-Virik Nilsen and Jan Trygve Braaten finished fourth and Yacht Club Como's Italian pairing of Serafino Barlesi and Alessandro Barone were fifth.
Race 2
The starting order for race two was determined by the finishing positions in race one.
Swecat Racing suffered ongoing technical problems and remained festooned at the pontoon trying to fix an engine issue under a red flag and damage sustained in the morning's free practice sidelined New Star.
Dubai Police maintained their advantage over Team Abu Dhabi 4 through the start lap with the Blue Roo and 222 Offshore in third and fourth, but the Blue Roo managed to overtake Team Abu Dhabi 4 and snatch second position at the start of the 17-lap race.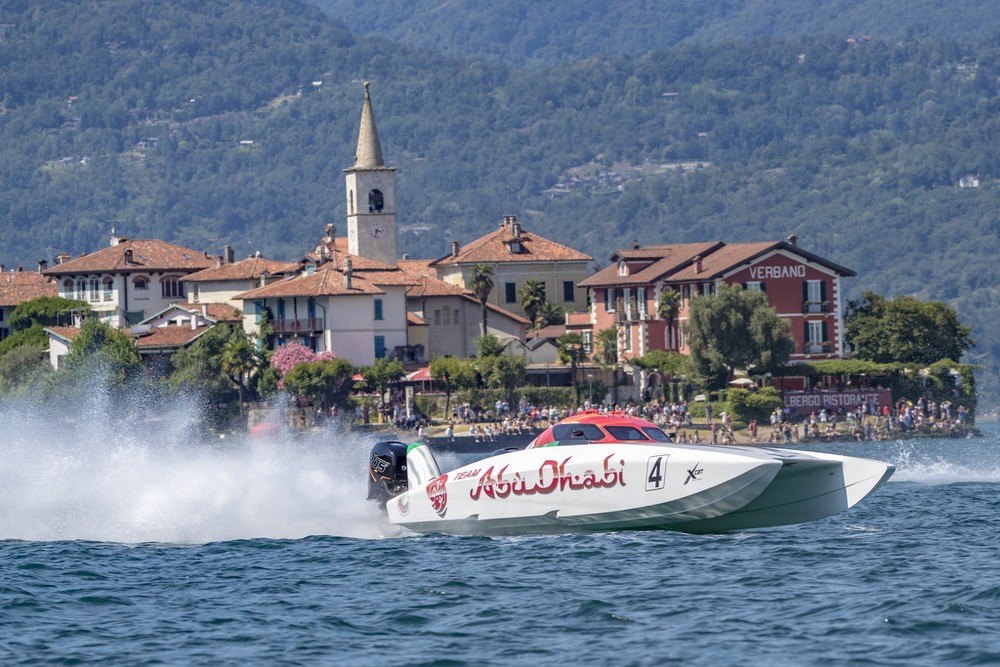 But Team Abu Dhabi 4 regained second before the end of an opening lap that saw Team Abu Dhabi 5 slip to seventh behind Yacht Club Como and Ribot.
Dubai Police began to edge 2.5 seconds clear of Team Abu Dhabi 4, as Yacht Club Como opted for a first long lap after catching the wake of the fourth-placed Blue Roo. 222 Offshore retained third place after three laps.
The championship leaders continued to pull away from Team Abu Dhabi 4, as the wind began to strengthen slightly out on the lake.
Team Abu Dhabi 5 and HPI 96 both took their first long laps and Kuwait moved up to fourth temporarily as a result of several of the leaders also opting for long laps.
The Blue Roo regained fourth position behind runaway leaders Dubai Police, Team Abu Dhabi 4 and 222 Offshore after nine laps, but Kuwait fell back after taking the first of their mandatory long laps.
Dubai Police saw their advantage over Team Abu Dhabi 4 trimmed to 12 seconds once the Dubai crew had taken their first long lap, as Kuwait slipped to sixth place after running their long lap opener.
With the various long lap strategies nearing completion, Dubai Police continued to lead from Team Abu Dhabi 4, as 222 Offshore began to feel pressure from the Blue Roo in the battle for the final podium place.
The gap narrowed for the lead considerably after Dubai Police ran their second long lap heading into the last few tours of the course.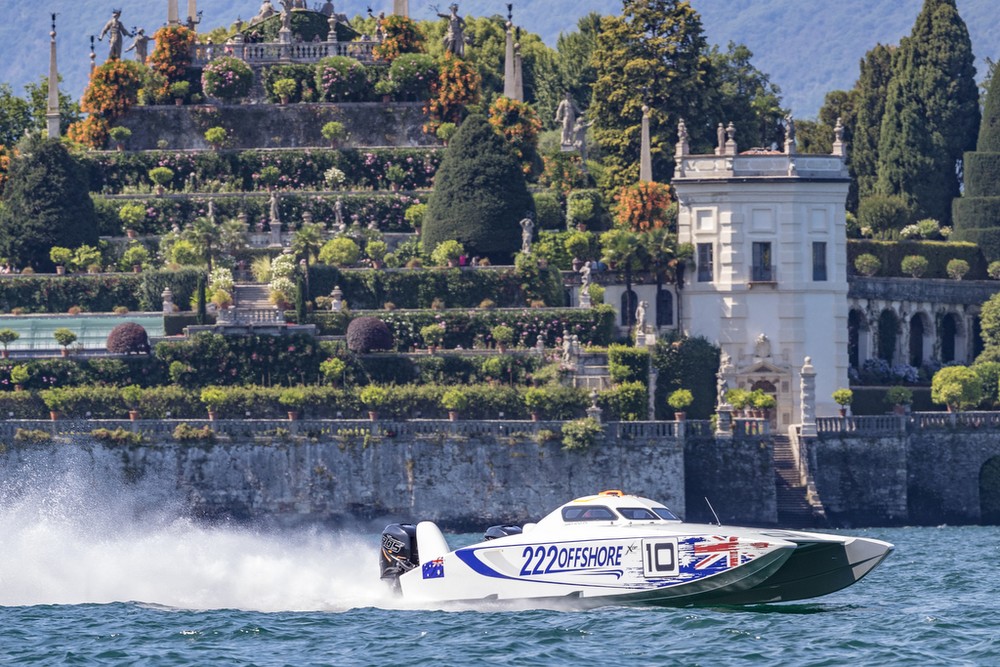 But Dubai Police held on to confirm another maximum points haul and a second victory of the weekend, with Team Abu Dhabi 4 and 222 Offshore rounding off the podium positions and Team Abu Dhabi 5 reaching the chequered flag in sixth position.
Both Ribot and HPI were lapped by the leaders.
Action in the UIM XCAT World Championship calendar resumes with a series of races in China in late summer.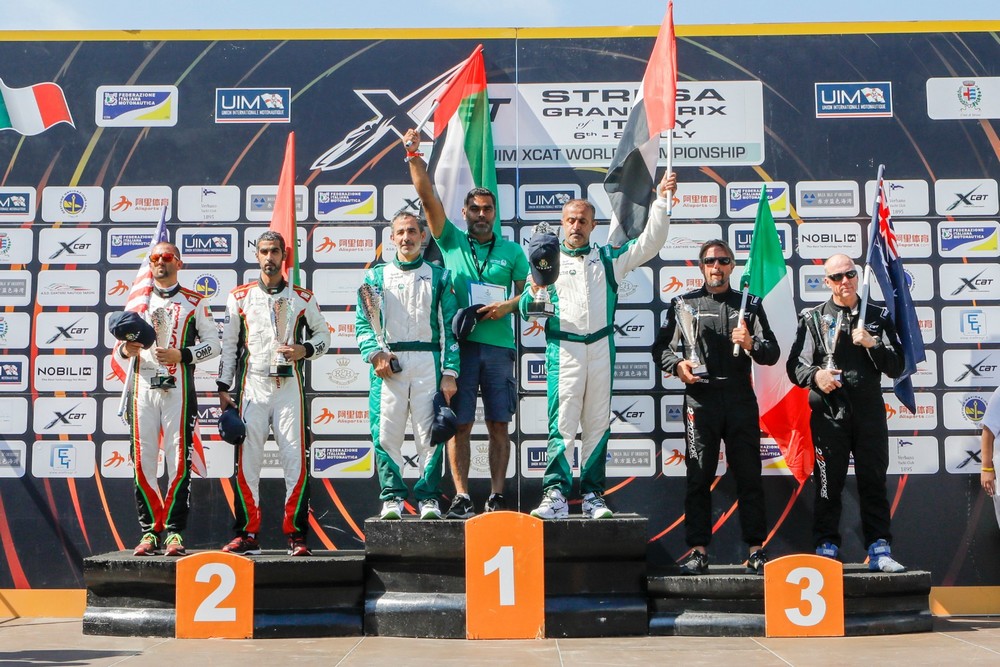 2018 Stresa Grand Prix of Italy – race 2 result:
1. Dubai Police 3 – Arif Saif Al-Zafeen (UAE)/Nadir bin Hendi (UAE) 44min 57.14sec
2. Team Abu Dhabi 4 – Shaun Torrente (USA)/Faleh Al-Mansoori (UAE) @7.47sec
3. 222 Offshore 10 – Giovanni Carpitella (ITA)/Darren Nicholson (AUS) @31.63sec
4. Team Australia 8 – Pål-Virik Nilsen (NOR)/Jan Trygve Braaten (NOR) @38.10sec
5. Yacht Club Como 20 – Serafino Barlesi (ITA)/Alessandro Barone (ITA) @1min 00.75sec
6. Team Abu Dhabi 5 – Rashed Al-Tayer (UAE)/Majed Al-Mansoori (UAE) @1min 25.37sec
7. Kuwait 17 – Abdullatef Al-Omani (KUW)/Mustafa Al-Dashti (KUW) @1min 48.69sec
8. Venus Bali 46 – Andrea Comello (ITA)/Domenico Calderola (ITA) @2min 28.38sec
9. Ribot 22 – Alfredo Amato (ITA)/Daniele Martignoni (ITA) 1 lap behind
10. HPI 96 – François Pinelli (FRA)/Rosario Schiano (ITA) 1 lap behind
New Star 9 – Mikhail Kitashev (RUS)/Dmitry Vandyshev (RUS) DNS
Swecat Racing 2 – Mikael Bengtsson (SWE)/Erik Stark (SWE) DNS
2018 UIM XCAT World Championship – positions after race 4 (unofficial):
1. Dubai Police 3 140pts
2. 222 Offshore 10 92pts
3. Team Abu Dhabi 4 82pts
4. Team Australia 8 74pts
5. Team Abu Dhabi 5 67pts
6. New Star 9 49pts
7. Kuwait 17 48pts
8. Venus Bali 46 47pts
9. Videx/Ribot 22 36pts
10. HPI 96 33pts
10. Yacht Club Como 20 33pts
12. Swecat Racing 2 26pts
13. Maritimo 12 0pts