After being cruelly robbed of a win in Race 1 on Saturday due to a split bladder tank only a few hundred yards from the finish line, Jack Bobin put on another masterclass of offshore driving.
When he ran out of fuel on Saturday, he had a 3 minute lead over his nearest rival, Team Slayer, and was making a mockery of the rough seas.
Today, in calmer waters he finished a full 2 minutes ahead of the Guernsey team.
Leading from the front and expertly guided by his veteran navigator Barry Culver, the quietly spoken but determined Bobin from Essex dedicated his win to his parents, who have supported his racing career.
If the Motorvated Team were happy, Team Slayer were ecstatic. A carefully driven second place with the prize of 300 points added to their 400 points achieved in Race 1.
Slayer's driver Paul Etasse told me at the podium presentation,
We just need a fifth place tomorrow and we are World Champions – We are very close.
Both Motorvated Racing and Team Slayer are Phantom 19 G hulls, modified by John Guille to incorporate stepped ventilation.
The steps, the product of Guille's troubled mind, appear to give the boats speed in the rough and calm and there has been buying interest from Scandinavian teams this week.
Guille told me,
I'm working on prices to supply at least 2 teams with new hulls, I'm extremely pleased with the interest the G has generated here. With the 1 – 2 today, I'm going to drink a case of Breda tonight to celebrate.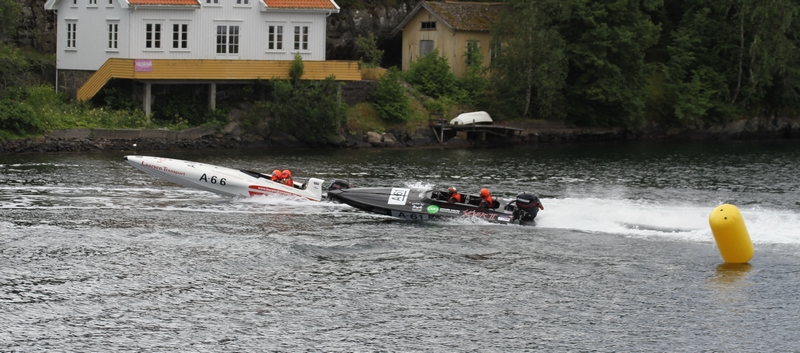 Inge Lund and Espen Knutsen completed the podium positions, absolutely revelling in the conditions, the Norwegians could have placed higher, had they not experienced mechanical gremlins, which brought the Ocke Mannerfelt BatBoat to a halt on 2 separate occasions.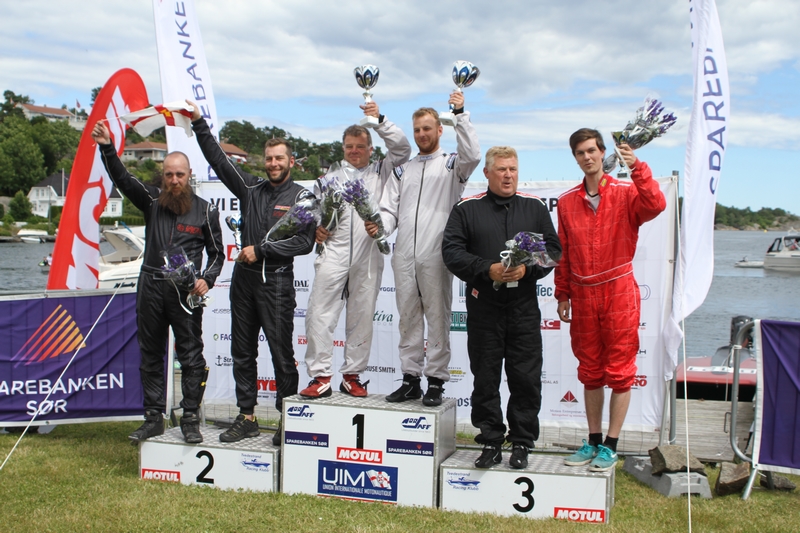 It's all to play for in Race 3 tomorrow, but the bookmakers have closed the betting on John Guille celebrating another Phantom 19 G 3A World Championship win.
Photos (If you can call them that) – Terry O'Neil