With the start of the 2017 UIM F2 World Championship season just four weeks away, several of the teams are now running through their final preparations and next weekend twelve of those teams will be competing at the International ADAC Motorbootrennen in Brodenbach, Germany as a 'dress-rehearsal' before heading to the World Championship's opening round in Kaunas for the Lithuanian F2 Grand Prix.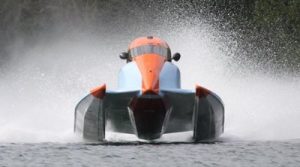 Amongst those competing on their home soil will be four German drivers, Simone Schuft, Nick Bisterfeld, Stefan Hagin and Manuel Saueressig.
Just last week Schuft was in the UK testing the Gordon Cook Racing prepared Moore hull which she quickly became accustomed to.
I love it, it's been a very productive couple of days and considering everything was so new to me I can now go into my first race with some confidence.
Having also recently signed a sponsorship deal with the Italian fashion house Giorgio Di Mare, her crew will certainly be one of the best dressed on the banks of the Mosel.
Meanwhile Bisterfeld, who first competed in Brodenbach in the ADAC class back in 2004, will be hoping for a change of fortune this year after he dropped out early during the 2016 event.
Hagin will also be hoping for a smoother ride after he crashed out in the second heat whilst challenging for the race lead.
He did go on to secure the Bronze medal though with two second place finishes out of the three heat format.
Making his final appearance in an F2 hull will be the local hero Saueressig, who like Bisterfeld, learnt his race craft competing in the ADAC series;
If I could choose a venue for my last race then picking my home town is a very cool choice.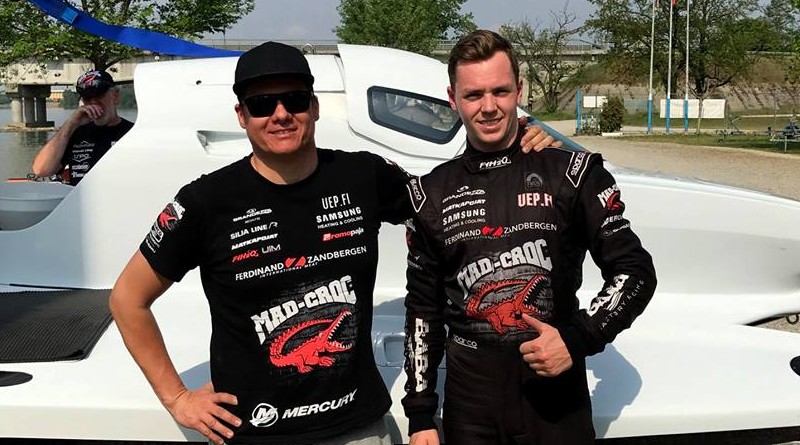 As one driver departs, another makes his F2 debut and that's the twenty-two year old Dutch driver Ferdinand Zandbergen.
He will be driving for the Mad-Croc BaBa Racing Team under the watchful eye of Sami Selio with whom he raced their F4-S in the F1H2O series. Selio told me;
We started testing him in the F2 BaBa hull late last year.
For me he was amazingly good, he quickly worked out where his limits were.
First introduced to Zandbergen by Johan Coenradi, Selio was initially surprised to learn that there was no history of boat racing in his family but that didn't stop the young driver from securing the runners-up spot in the F4-S Drivers Trophy in only his second competitive season.
Now part of the 'development team' Selio is in no hurry to rush his new protégé.
We are not looking to win the F2 title in our first season but we are going to be competitive.
We are going to use the championship to improve his talent but there is no time scale set, for sure he might make mistakes, he is a 'rookie' after all.
Another team making their Brodenbach debut will the Italian Blaze Performance Team run by the hugely experienced Francesco Cantando.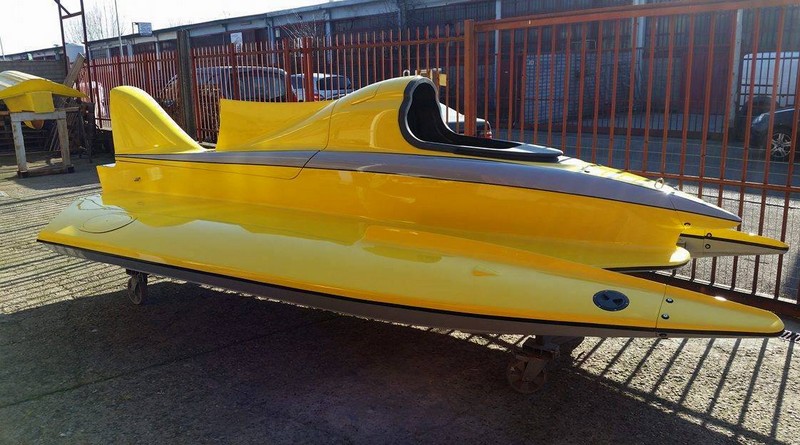 They will be using the event to try out their latest Blaze F2 hull and are hoping to have Tomas Cermak in the drivers' seat.
Fresh from his success at the 24 Heures de Rouen will be Edgaras Riabko, the Lithuanian driver will be hoping to improve upon his 2016 result when he finished in sixth place;
I have raced here many times and it can get very tight on this course.
It's the same problem in all classes, as long as the guy sat on pole position takes a tight line at the first turn then there's no issue but if not, they could push all the other drivers very close to the shoreline and that could get interesting.
Starting as favourite to win the International German F2 Championship in Brodenbach and collect the Ango Hannes Memorial Prize for a third occasion will be the Austrian driver Rupp Temper.
After a dominant performance in 2015 he narrowly missed another clean sweep of heat wins last year when his former team-mate and good friend Frode Sundsdal beat him to the chequered flag in the final round.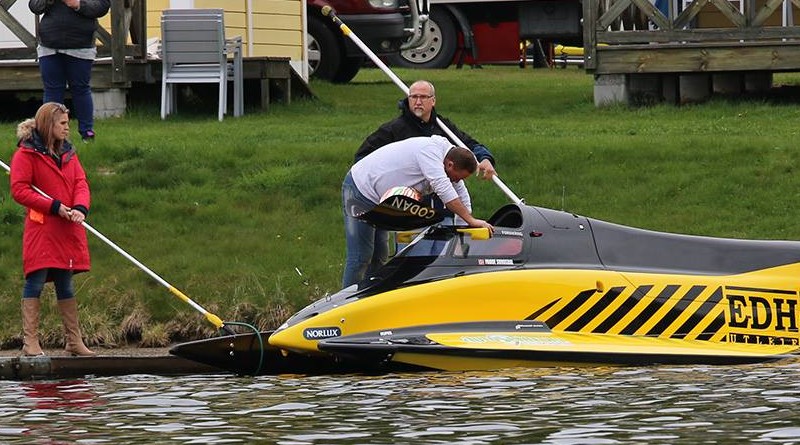 This year Sundsdal has been working extensively with a new engineer, David McCormick from Missouri. McCormick is a newcomer to racing in Europe, although he has a huge amount of experience in the US as a Driver, Scrutineer and Engineer.
Sundsdal will certainly be pushing Temper all the way, along with the 2016 UIM F2 European Champion Uvis Slakteris from Latvia, who is also among the entry list.
Last year both Temper and Slakteris were in contention to collect the Bronze medal at the final round of the World Championships but the Latvian driver clashed with Fabrice Boulier in 'free practice' and Temper went on to secure the third place.
Slakteris will be hoping that 'lightning doesn't strike twice' on the narrow course and that he and Boulier both make it through the weekend unscathed.
The F2 'Free Practice' gets under way at 10:05 on Saturday 20 May, followed by Qualifying at 11:40 and the first heat starts at 14:15. Two further heats take place on Sunday 21 May before the victory ceremonies get under way in the town square at 17:00.