Team Abu Dhabi's Alex Carella delivered a sensational performance to lead from the start to the chequered flag to secure a convincing victory in the 18th Grand Prix of Sharjah and a fourth UIM F1 H20 World Championship title.
Philippe Chiappe of the CTIC Shenzhen China Team could not recover from a disappointing start from fifth position on the pontoon and the three-time champion had to settle for an eventual third position and the runner-up spot in the World Championship after climbing back from as low as eighth in a largely processional race on Khaled Lagoon
The Victory Team's Ahmed Al-Hameli benefited from a superb start to hold second for much of the race until he hit technical trouble and his demise opened the door for Team Sweden's Jonas Andersson to snatch second spot.
Thani and Rashed Al-Qemzi delivered solid performances to reach the finish in third and ninth positions to cap a memorable afternoon for Team Abu Dhabi, with young Rashed claiming his first World Championship points.
Poland's Bartek Marszalek and Chiappe's team-mate Peter Morin rounded off the top six. But Thani was given a one-lap penalty for jumping the start some minutes after the podium and slipped to sixth and finished fourth in the championship.
To mark a memorable weekend, Team Abu Dhabi also added the UIM F1 H2O Teams' Championship title for the first time since 2015 to the UIM Pole Position Trophy earned on Thursday and the prestigious UIM F2 World Championship secured by young Rashed Al-Qemzi in Portugal in October.
The last drivers' title won by the Abu Dhabi International Marine Sports Club (ADIMSC) had been by Scott Gillman back in 2006, the man who Carella joined in the sport's all-time Hall of Fame with four world titles.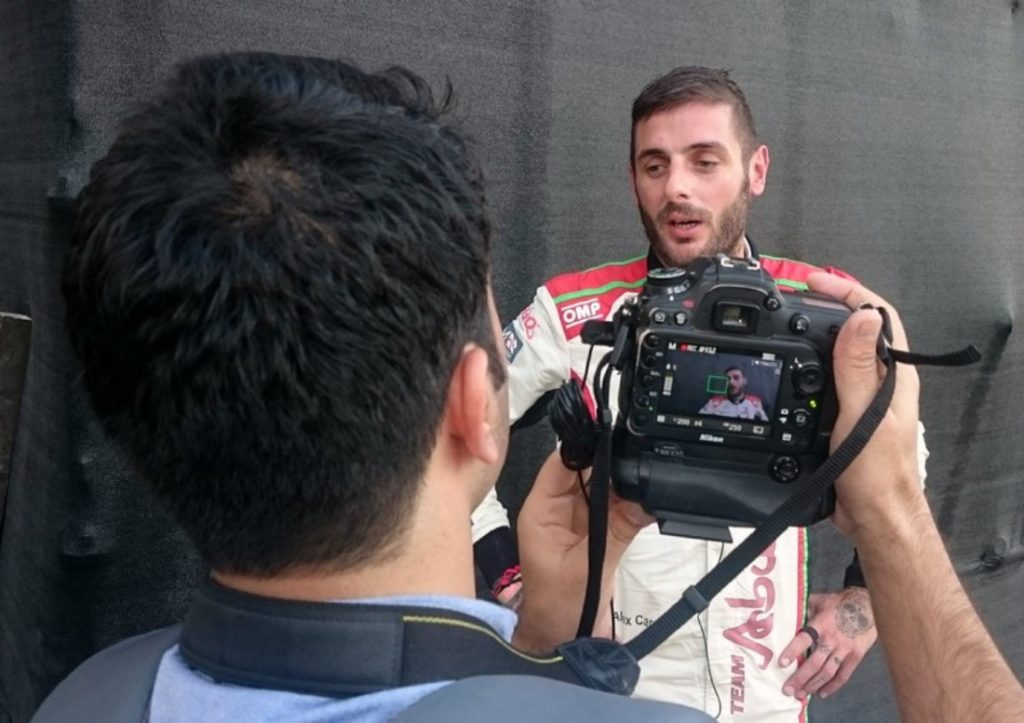 Carella said:
It is a very special feeling. I fight this weekend.

I wanted to come out with everything.

The work of yesterday paid today and it gave me a perfect place to start.

When I heard that Philippe was in eight position I knew I did not want to push too much.

I was in perfect control of the race.

I was just hoping that nothing would happen.
His Highness Sheikh Dr. Sultan Bin Khalifa Al-Nahyan said:
We devote this fantastic victory for Team Abu Dhabi to His Highness Sheikh Khalifa bin Zayed Al-Nahyan, the President of the United Arab Emirates, to His Highness Sheikh Mohammed bin Rashid Al-Maktoum, UAE Vice-President, Prime Minister and Ruler of Dubai and to His Highness Sheikh Mohammed bin Zayed Al-Nahyan, Crown Prince of Abu Dhabi and Deputy Supreme Commander of the UAE Armed Forces.

We also dedicate this success to the Supreme Council members, Rulers of the Emirates, Crown Prince, Ruler's Deputies and the people of the UAE.

It is a terrific achievement to win the world title after 11 years and marks an historic day of celebration for the team in Sharjah.

We are also proud that Emirati drivers and growing young talent played a significant contribution to the team's success in dominating three major disciplines in the championship.

This is no mean feat and something we look forward to defending next season.
Salem Al-Remeithi added:
Our team deserved the success this year.

This is an achievement for the whole UAE and we are proud to have succeeded in the championship.

Our team deserves to be number one and can climb on to the podium with pride. To earn the three victories in the Drivers' Championship, the Teams' Championship and the Pole Position Trophy is a fantastic achievement by our team.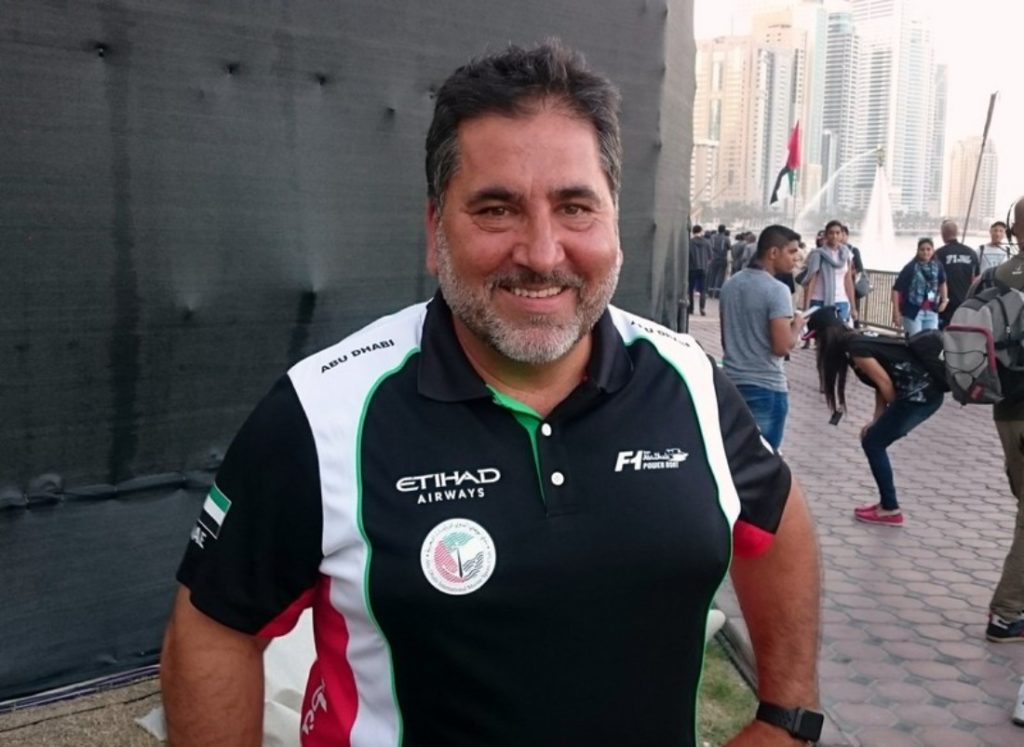 An emotional Cappellini said:
Incredible, incredible.

To win the last race in the World Championship is the best possible thing you can do to win the title.

We had two boats on the podium (until the lap penalty) and Rashed gains his first ever points.

For me, it is one incredible day.
18th Grand Prix of Sharjah
Nineteen boats lined up on the pontoon for the 45-lap showdown to decide the outcome of a fascinating World Championship.
Sami Selio was not able to start, Shaun Torrente used a spare Moore boat after his morning's practice crash and Erik Edin fitted a near-standard engine after suffering a failure in the morning.
Grant Trask and Duarte Benavente also changed engines and started at the rear of the field.
Carella lined up on the pontoon followed by Stark, Marszalek, Al-Hameli and Chiappe, with Rashed and Thani Al-Qemzi climbing to 10th and 11th.
A trouble free start was crucial and the series leader made it safely through the opening turn to maintain his lead although Al-Hameli managed to find a way to overtake Stark and Marszalek to snatch second position Chiappe slipped to eighth and Thani and Rashed Al-Qemzi held fifth and 14th.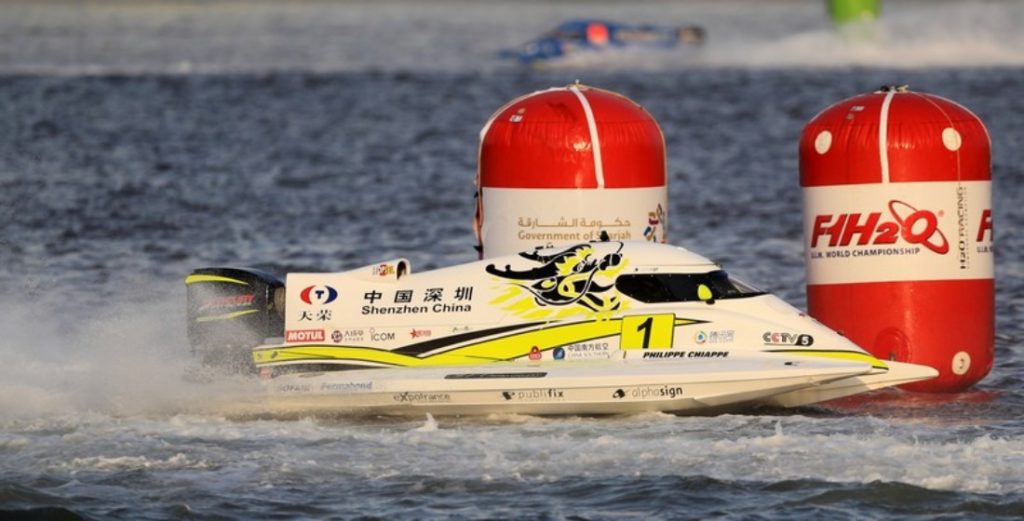 The Team Abu Dhabi driver extended his lead to 3.75 seconds through five laps, as Al-Hameli, Stark, Andersson and Thani Al-Qemzi rounded off the top five.
Torrente began his climb through the field and snatched 11th and Rashed Al-Qemzi moved up to 13th, but Chiappe continued to slip further behind and trailed the leader by 24.58sec after eight laps. Francesco Cantando and Matthew Palfreyman (electrical) both retired.
The leaders held station through 13 laps and Carella's lead edged out to 4.80sec, as Rashed Al-Qemzi moved up to 12th after Torrente withdrew his Moore with engine issues and returned to the pits.
The Italian's lead grew to 7.26sec after 18 laps, as the leading duo gradually pulled clear of Stark, Andersson and Al-Qemzi and Chiappe's title dream began to fade. Mike Szymura and Cédric Deguisne (engine) joined the growing list of retirements.
At the halfway point, Carella's lead was reduced to 3.95sec as he continue to close in and pass the tail enders, but Stark's brave run ended on lap 29 when the Swede retired with a broken propeller blade and Andersson inherited third behind Carella and Al-Hameli, with Al-Qemzi and Barszalek moving up to fourth and fifth and Chiappe creeping in front of Filip Roms and into sixth before the Finn pulled out on lap 34.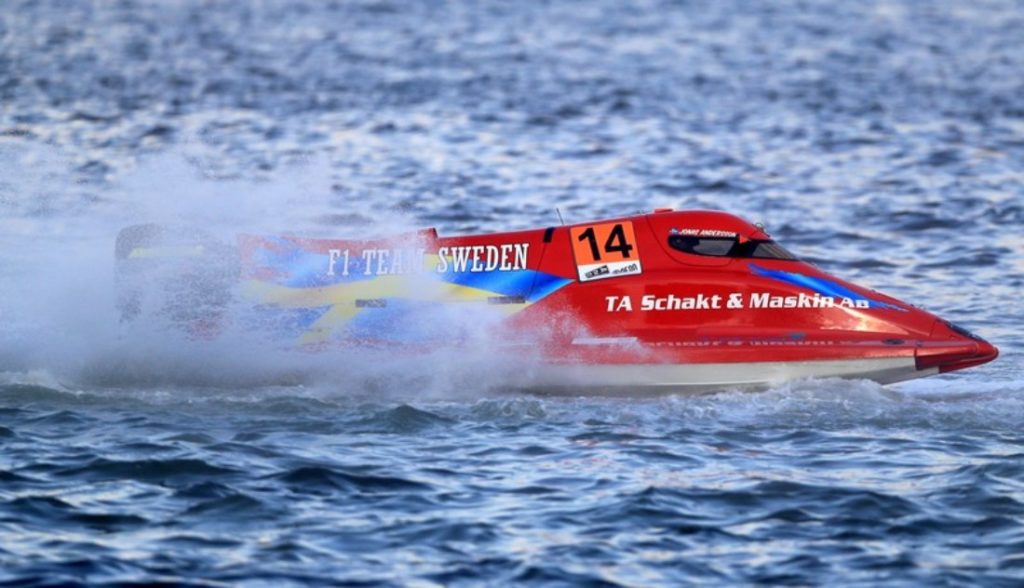 With 10 laps to go, Andersson passed Al-Hameli to snatch second position, but Carella's lead had grown to 23.68sec.
Chiappe continued to climb and he overtook Marszalek to secure fifth and he snatched fourth when Al-Hameli slipped out of contention.
There were no last minute dramas for Carella and the triumphant Team Abu Dhabi driver reached the chequered flag to secure the world title by the margin of 16.03 seconds, with Andersson, Thani Al-Qemzi and Chiappe rounding off the top four and Rashed Al-Qemzi clinching his first points in ninth.
But Thani Al-Qemzi was given a one-lap penalty for a jump start some minutes after the race and slipped to sixth, with Chiappe inheriting third.
Team Abu Dhabi have tonight lodged a protest against that decision.
2017 Grand Prix of Sharjah – race result:
1. Alex Carella (UAE) Team Abu Dhabi 45 laps
2. Jonas Andersson (SWE) Team Sweden @16.03sec
3. Philippe Chiappe (FRA) CTIC F1 Shenzhen China Team @20.06sec
4. Bartek Marszalak (POL) Blaze F1 Team @20.68sec
5. Peter Morin (FRA) CTIC F1 Shenzhen China Team @27.36sec
6. Thani Al-Qemzi (UAE) Team Abu Dhabi L1
7. Grant Trask (AUS) F1 Atlantic Team L1
8. Marit Strømøy (NOR) Emirates Racing Team L1
9. Rashed Al-Qemzi (UAE) Team Abu Dhabi L2
10. Duarte Benavente (PRT) F1 Atlantic Team L2
11. Erik Edin (SWE) Team Sweden L2
Ahmed Al-Hameli (UAE) Victory Team DNF
Filip Roms (FIN) Mad-Croc Baba Racing Team DNF
Erik Stark (SWE) Team Sweden DNF
Mike Szymura (DEU) Emirates Racing Team DNF
Cédric Deguisne (FRA) Maverick F1 Team DNF
Shaun Torrente (USA) Victory Team DNF
Francesco Cantando (ITA) Blaze F1 Team DNF
Matthew Palfreyman (GBR) Emirates Racing Team DNF
Sami Selio (FIN) Mad-Croc Baba Racing Team DNS
Béranger Robert (FRA) Maverick F1 Team DNS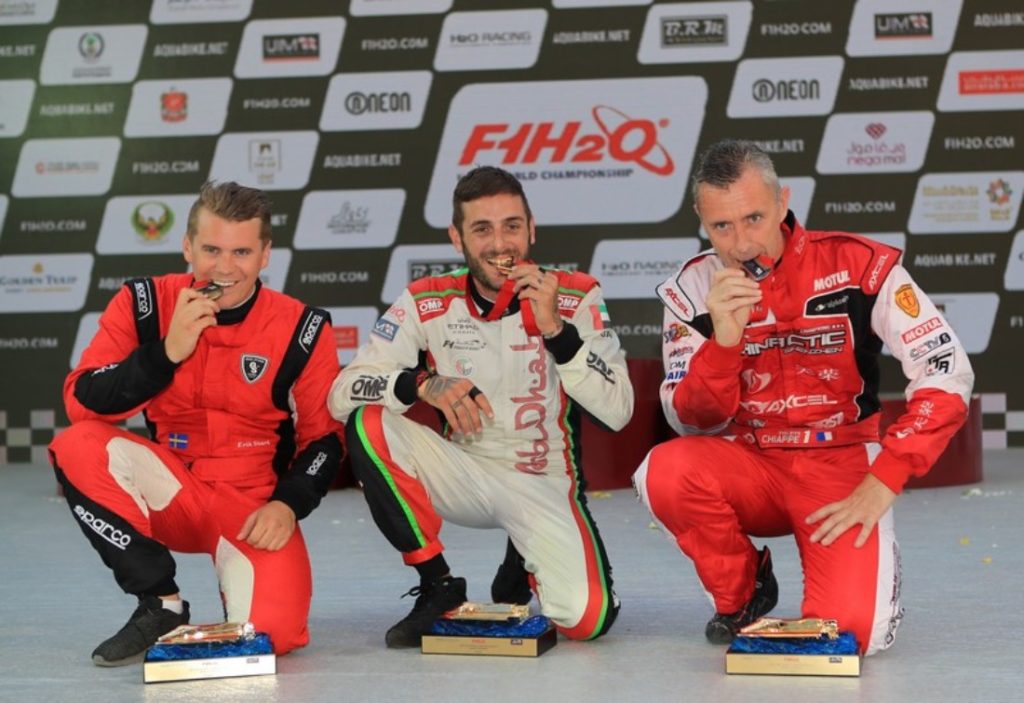 2017 UIM F1 H2O World Championship – final positions:
1. Alex Carella (UAE) Team Abu Dhabi 90pts
2. Philippe Chiappe (FRA) CTIC F1 Shenzhen China Team 71pts
3. Erik Stark (SWE) Team Sweden 49pts
4. Thani Al-Qemzi (UAE) Team Abu Dhabi 34pts
5. Jonas Andersson (SWE) Team Sweden 32pts
6. Sami Selio (FIN) Mad-Croc Baba Racing Team 30pts
6. Ahmed Al-Hameli (UAE) Victory Team 30pts
8. Shaun Torrente (USA) Victory Team 28pts
9. Bartek Marszalak (POL) Blaze F1 Team 23pts
10. Marit Strømøy (NOR) Emirates Racing Team 21pts
11. Duarte Benavente (PRT) F1 Atlantic Team 15pts
12. Peter Morin (FRA) CTIC F1 Shenzhen China Team 12pts
13. Grant Trask (AUS) F1 Atlantic Team 9pts
14. Filip Roms (FIN) Mad-Croc Baba Racing Team 8pts
15. Cédric Deguisne (FRA) Maverick F1 Team 7pts
16. Mike Szymura (DEU) Emirates Racing Team 4pts
17. Francesco Cantando (ITA) Blaze F1 Team 2pts
17. Rashed Al-Qemzi (UAE) Team Abu Dhabi 2pts
Photos: John Moore and Mike Powell