Team Abu Dhabi's Alex Carella delivered another sensational performance to claim a 12th career victory and a vital UIM F1 H20 World Championship success at the 20th Grand Prix of France on Evian's Lac Leman (Lake Geneva) on Sunday afternoon.
The Italian led from the start and managed to fend off a fierce challenge from Victory Team's Shaun Torrente until lap 10, when the American hit the front.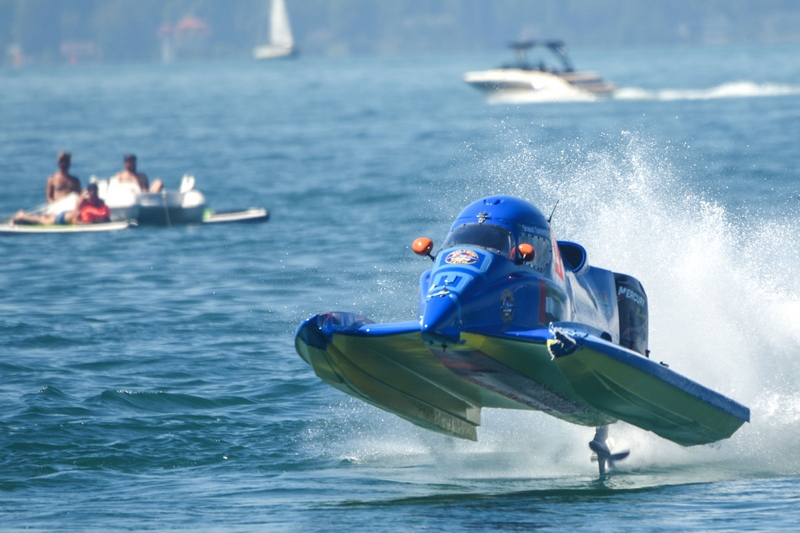 The Victory Team driver clouted a turn buoy soon afterwards and was forced to run a drive through penalty lap after the turn buoys had been secured. Carella duly regained the lead and Torrente regrouped to reach the chequered flag in third after passing Erik Stark with 11 laps to run. Carella's victory by the margin of 11.72 seconds gives him an 11-point lead in the Drivers' Championship after two rounds and Team Abu Dhabi leads the CTIC China Team by eight points in the Teams' Championship.
With double World Champions Philippe Chiappe and Sami Selio both retiring and Jonas Andersson suffering engine issues, it opened the door for Finland's Filip Roms to take a career best second position.
Cedric Deguisne also finished a career-best fourth behind Torrente.
Team Abu Dhabi's Thani Al-Qamzi qualified in fourth and held his position for the first eight laps until a mechanical issue intervened and forced him down the leader board.
The disappointed Emirati eventually retired and failed to pick up any championship points.
Carella had qualified in pole position for the race after a thrilling Q2 session on Lac Leman.
We change position a couple of times in the Q2 and, at the end, I see a chance on the last lap to take it and we fought and we got the pole position. It was great for the time after the hard job they have done for the last few months. Taking the win is a fantastic feeling. I dedicate this win to the hard work put in by everyone by Team Abu Dhabi over the last few weeks. It's a fantastic feeling to be leading the championship.
20th Grand Prix of France
The reward for their success in the morning's Q2 qualifying session was pole position and fourth on the grid for Carella and Al-Qamzi, with Torrente and Chiappe sandwiched between the two drivers racing out of the Abu Dhabi International Marine Sports Club. Forty-eight laps of the demanding 2.08km course lay ahead and the forecast was for strengthening winds towards the end of the race. Ivan Brigada moved to the rear of the field after a last minute technical issue.
Carella and Al-Qamzi needed a good start and the Italian pushed Torrente wide through the first turn and managed to edge into a 3.55-second advantage over the American through two laps. Al-Qamzi retained fourth and Andersson pushed Stark down to seventh place and then moved ahead of Al-Hameli to claim fifth. The gap between the two leaders was down to 1.78 seconds through lap six, as Carella began to overtake the first of the tail-enders. The Team Abu Dhabi driver and Torrente were in a class of their own and running 12 seconds in front of Chiappe and 13 ahead of fourth-placed Al-Qamzi, as Cantando retired.
Al-Qamzi began to slow, lost his hold on fourth place and slipped down the leader board to ninth place after as many laps, as Torrente managed to overtake Carella and gain the outright lead. By lap 13, Torrente had extended his advantage over Carella  and then struck a turn buoy hard and slightly damaged the front of the boat. He then collided with a second turn buoy and somehow maintained a 3.97-second advantage after 14 laps when a yellow flag was raised. Such was the pace of the leading duo that they were over 30 seconds in front of Chiappe in third.
The turn buoys were secured and action resumed on lap 17, with Torrente able to fend off Carella and maintain the lead. Chiappe passed Andersson to snatch third, but Torrente was forced to take a drive through penalty lap and his punishment enabled Carella to regain the lead from Chiappe, Filip Roms, Stark and Torrente in fifth. Andersson succumbed to engine issues soon afterwards and Sami Selio also pulled off the course and retired.
The drama continued and Chiappe also ground to a halt on the side of the course, as Roms inherited second position and Carella extended his lead to 8.66 seconds through lap 22. His lead was up to 12.11 seconds after 29 laps and the Italian stayed out of trouble to extend that lead to 21.39 seconds through lap 35 of 48. Roms retained second and Torrente began to put Stark under severe pressure for the final podium place and managed to get passed on lap 37.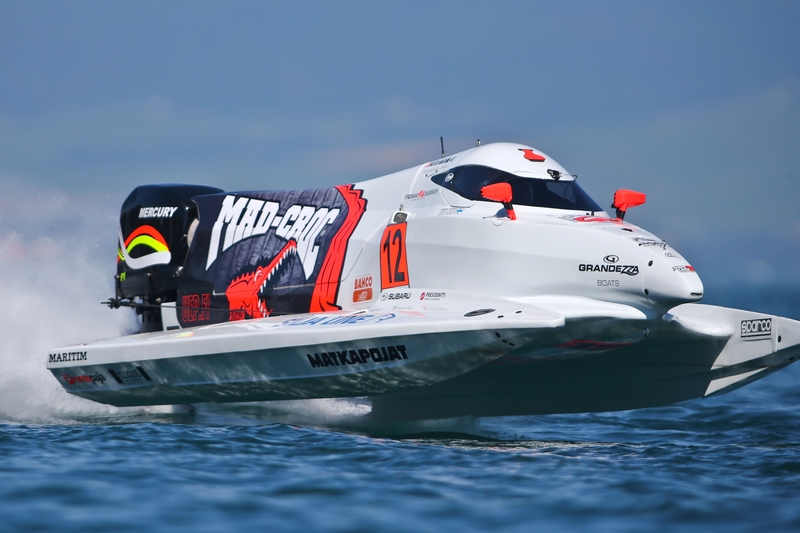 Carella retained his composure to claim the win and make up for the previous year's disappointment in Evian and Torrente closed in on Roms, as Stark fell out of contention and gifted Cedric Deguisne with a career-best fourth place. Try as he might, Torrente could not find a way passed the young Finn and was forced to settle for third place and second in the championship standings.
BRM Qualifying
Rescheduled because of Saturday's strong winds and waves, the BRM Qualifying session was modified and shortened. The Q1 session ran for 20 minutes and eliminated 12 of the 20 drivers, while Q2 ran for 30 minutes after a 10-minute break. It was a free-for-all amongst the leaders to claim pole position.
Carella had been fastest in the morning's practice in much improved race conditions and an early lap of 47.64sec in Q1 all but confirmed his safe passage into Q2, even though Chiappe later carded a 46.61sec tour and Jonas Andersson was also in impressive early form to clock a 47.14sec lap. The session was yellow-flagged after a spectacular flip involving Ziwei Xiong's CTIC China Team boat, but Q1 finished under a green flag and Al-Qamzi did enough to slot into eighth.
Ivan Brigada, Bartek Marszalak, Christophe Larigot, Jesper Forss, Mike Szymura, Nadir Bin Hendi, Cédric Deguisne and Francesco Cantando were eliminated, with Marit Stromoy surviving to fight again in the closing minutes at the expense of Cantando.
Andersson laid down the early gauntlet in Q2, but the leading group began to turn up the heat and the top three swapped and changed as the session progressed. Torrente topped the times with a lap of 45.95sec with 17 minutes to go, Chiappe snatched the lead with a time of 45.69sec with 13 minutes remaining and then Carella moved ahead with 12 minutes to run, after setting a time of 45.41sec.
Torrente then claimed the lead with minutes remaining – after running a lap of 44.56sec – but Carella and his radio man Alex Canzi played the strategy to perfection in the dying seconds and found a section of clear water that enabled the Italian to card a lap of 44.13sec and claim pole position for the 12th time in his career in thrilling fashion. Al-Qamzi set consistent times through the session in the second of the Team Abu Dhabi boats and was rewarded with the fourth fastest time of 45.46sec to slot in behind Carella, Torrente and Chiappe and ahead of a returning Ahmed Al-Hameli and Erik Stark.
The UIM F1 H2O World Championship now heads to Portugal's Algarve coast and the town of Portimao at the end of the month.
2016 Grand Prix of France – race result:
Alex Carella (ITA) Team Abu Dhabi – 48 laps
Filip Roms (FIN) Baba Racing – @11.72sec
Shaun Torrente (USA) Victory Team – @12.52sec
Cédric Deguisne (FRA) Maverick Racing – L1
Christophe Larigot (FRA) F1 Atlantic Team
Marit Stromoy (NOR) EMIC Racing Team – L2
Ahmed Al-Hameli (ARE) Emirates Racing Team
Duarte Benavente (PRT) F1 Atlantic Team
Nadir Bin Hendi (ARE) Victory Team – L4
Mike Szymura (DEU) EMIC Racing Team – L6
2016 Grand Prix of France – BRM Qualifying result:
Alex Carella (ITA) Team Abu Dhabi – 44.14sec
Shaun Torrente (USA) Victory Team – 44.56sec
Philippe Chiappe (FRA) China CTIC Team 44.97sec
Thani Al-Qamzi (ARE) Team Abu Dhabi – 45.46sec
Ahmed Al-Hameli (ARE) Emirates Racing Team – 45.67sec
Erik Stark (SWE) Emirates Racing Team – 46.19sec
2016 UIM F1H2O World Championship – Drivers' Championship standings:
Alex Carella (ITA) Team Abu Dhabi – 35 pts
Shaun Torrente (USA) Victory Team – 24 pts
Philippe Chiappe (FRA) China CTIC Team – 20 pts
Filip Roms (FIN) Baba Racing – 17 pts
Jonas Andersson (SWE) Team Sweden – 9 pts
Cédric Deguisne (FRA) Maverick Racing – 9 pts
Duarte Benavente (PRT) F1 Atlantic Team – 8 pts
Ziwei Xiong (CHN) CTIC China Team – 7 pts
Christophe Larigot (FRA) F1 Atlantic Team – 7 pts
Marit Stromoy (NOR) EMIC Racing Team – 5 pts