Christian Carlsen starting from second on the grid won the UIM F2 Saturday final here in Tonsberg, Norway.
He was hunted down by Edgaras Riabko for 18 laps until the Lithuanian's gearbox let go.
Tobias Munthe-Kaas starting from sixth took a brilliant second, with pole sitter, Bimba Sjoholm placing third after a bad start.
However, after the race Munthe-Kaas was DQ'd for not keeping his lane at the start, the Norwegian is currently considering a protest.
Carlsen told me after the race:
I had to have have 100% concentration with Edgaras behind me for most of the race and I couldn't afford even one error.
The final race grid positions were determined by two sprint races that were held earlier.
The results below are as published and do not obviously include the Munthe-Kaas final decision.
Sprint Race 1
Sjoholm won the first of two Sprint Races this afternoon.
Munthe-Kaas broke down when a compressor came loose while in the lead, Edgaras Riabko took second and Frode Sundsdal was third.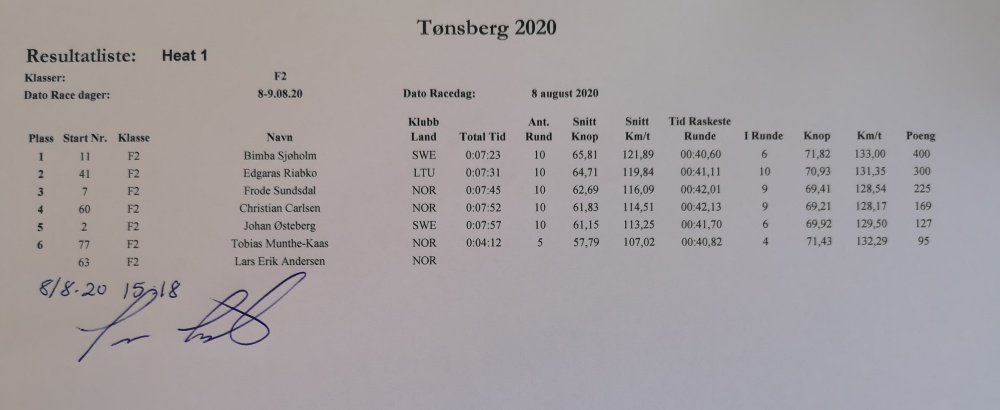 Sprint Race 2
The second Sprint Race started in reverse grid order and Christian Carlsen won the race from Frode Sundsdal and Edgaras Riabko.

Once the points had been collated the grid order for Saturday's final was as follows:
Bimba Sjoholm
Christian Carlsen
Edgaras Riabko
Frode Sundsal
Johan Osterberg
Tobias Munthe-Kaas
Lars Erik Andersen