The 2016 Cowes Torquay Cowes race will surely go down as the roughest ever run.
Only 3 boats made it Torquay within the time limit and only 2 made it back to Cowes.
With a calm ride through the Solent, the 14 starters were then faced with Force 7 westerly winds which made the trip to Torquay more of an endurance than a race.
Early front runners Vector Martini Rosso (Peter Dredge / Simon Powell / Malcolm Crease / Jason McVicar) encountered technical problems at Portland and then Silverline (Drew Langdon / Giancarlo Cangiano) dropped out of the running with transmission failure.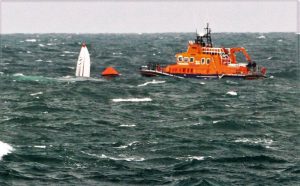 To make matters worse for Langdon and Cangiano, their stricken boat was then swamped by a huge wave and the Mercury powered Outerlimits sunk with only the bow buoyancy keeping it afloat.
The crew were swiftly rescued and a line was attached to the UIM Marathon Class A boat.
With the retirements of Italian entrant Tommy Racing (Maurizio Schepici / Gabriele Giambattista) and Hendricks 55 (Miles Jennings / Markus and Vincent Hendricks) the way was left clear for Cougar 46 throttled by 8 times UIM Class 1 World Champion, Steve Curtis MBE with Richard Carr and Paul Sinclair to push the Mercury powered aluminium mono hull to Torquay at an average speed of 58.42 mph.
Blastoff Racing (Dorian Griffith / Shelley Jory-Leigh / Will Stevens) was second, a full 47 minutes behind with Belgium Buzzi RIB, Biretta Due, (Jean-Pierre Neels / Thomas Vandamme / Marijke D'Hondt / Dmitry Schiller) taking an impressive third, 33 minutes in arrears of the Yanmar powered Fountain.
Incredibly, the 53 year old hull Thunderstreak (Robin Ward / Jeff Hall) finished fourth but sadly didn't complete the course within the stated 3 hour 51 minute time limit.
The depleted fleet meant just 4 boats would start the Torquay Cowes race and then almost immediately after the start Biretta Due experienced oil pressure loss which left just Cougar 46 and Blastoff Racing in with a shout of winning the Beaverbrook Trophy.
Curtis carefully throttled the Cougar through the huge seas and crossed the finish line for a emotional win. The British racer has won nearly everything in the sport but this race had eluded him. Driver / Owner Richard Carr has followed the race since a child and has dreamt of Cowes Glory.
I bet Steve 20 quid that he would get me wet – That's when we lost the trim! Steve is buying the drinks!
A battered and beaten Co-Driver, Paul Sinclair summed up the punishing 190 mile race with,
I quit!
Dorian Griffith has strived for a Cowes Torquay Cowes finish since 2008, with his team, he not only accomplished that but stood on the second step of the podium.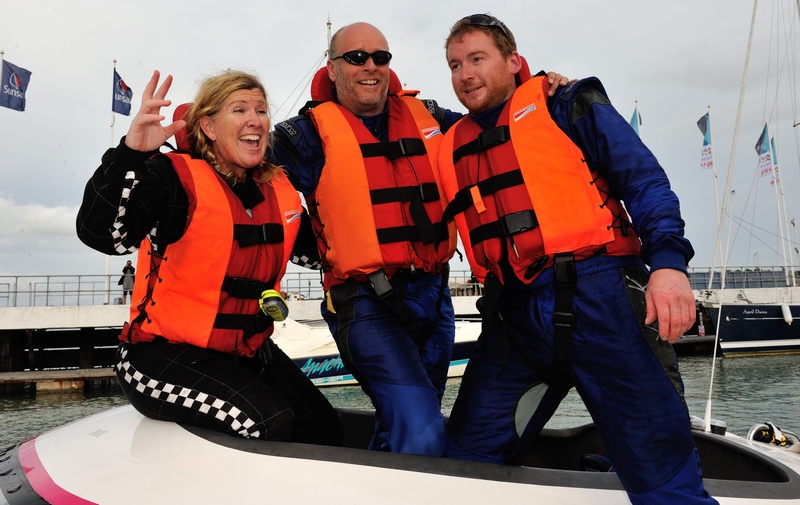 It was an incredible day to add to the 56 year powerboat racing history at Cowes.
Photos: Chris Davies