Quentin Dailly from Rouen in France was fastest in the UIM F4 World Championship Free Practice held on the Saône river in Mâcon this morning.
World Championship points leader Tuukka Lehtonen was third fastest, while Morgan Jernfast was second, carding a time of 44.863 seconds.
Britain's Ben Jelf posted the sixth fastest time before running out of fuel.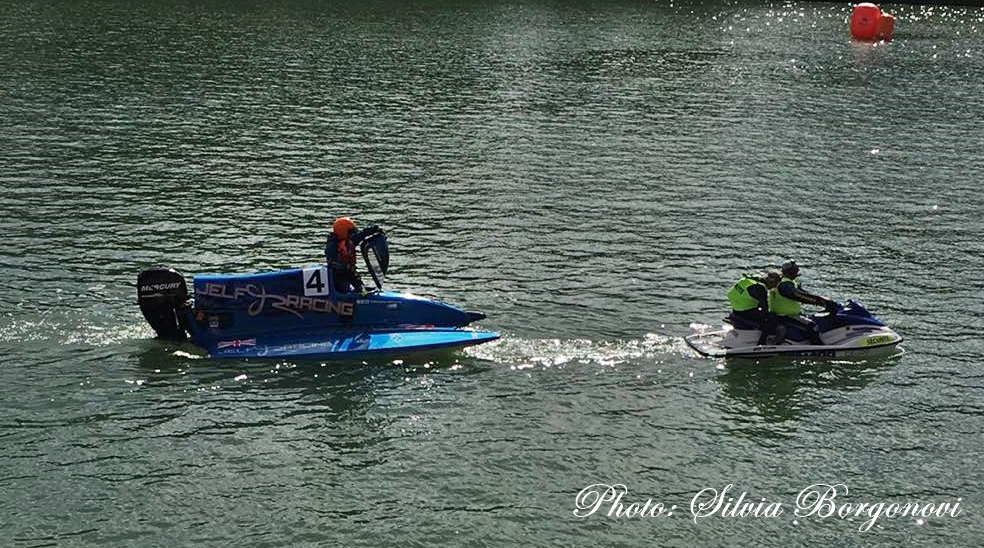 Top Photo: Xavier Bertin
UIM F4 World Championship Free Practice
1) Quentin Dailly FRA 44.347
2) Morgan Jernfast SWE 44.863
3) Tuukka Lehtonen FIN 45.444
4) Nikita Lijcs LAT 45.509
5) Pierre Lambert FRA 45.530
6) Ben Jelf GBR 45.636
7) Paulius Stainys LTU 46..567
8) Rudy Revert FRA 46.799
9) Xavier Autard FRA 46.909
10) Attila Horváth HUN 47.333
11) Camille Broutechoux FRA 50.923
12) Aron Tabori – DNS
2018 UIM F4 World Championship (after 4 rounds)
1st) Tuukka Lehtonen FIN 68 points
2nd) Morgan Jernfast SWE 61 points
3rd) Nikita Lijcs LAT 54 points
4th) Ben Jelf GBR 52 points
5th) Rudy Revert 51 points
6th) Quentin Dailly FRA 46 points
7th) Paulius Stainys LTU 37 points
8th) Attila Horvath HUN 22 points
2018 UIM F4 World Championship Rounds 5 & 6
Saturday 22nd
14:00 – 15:30 : Timed Trials Q1 Q2 Q3
17:15 – 17:35 : Round 5 – 2018 UIM F4 World Championship
18:45 – 19:15 : Podium
Sunday 23rd
09:15 – 10:00 : Free Practice
16:15 – 16:35 : Round 6 – 2018 UIM F4 World Championship
18:15 : Podium