The Dubai Police crew of Nadir bin Hendi and Arif Saif Al-Zafeen led from start to finish at the opening race of the Stresa Grand Prix of Italy, round two of the 2018 UIM XCAT World Championship, on Lake Maggiore in Italy on Saturday.
The contest was fought out over a start lap, 14 race laps, two long laps and 55.43Nm with the race starting with three groups of four boats.
Dubai Police held the lead from Team Abu Dhabi 4 after a strong initial challenge from the Blue Roo (Team Australia).
But Dubai Police managed to edge into a good lead from Team Abu Dhabi 4 and 222 Offshore. The gap was 3.54 seconds between the leading two boats on the next lap, as Team Abu Dhabi 5 held eighth of the 12 boats and the Blue Roo took the first of their long laps on the second tour.
Dubai Police stretched their lead over Team Abu Dhabi 4 to over nine seconds and 222 Offshore retained a distant third position from New Star. Yacht Club Como reportedly hit a buoy after running both their long laps in ninth position, as Swecat Racing began to slow with engine issues and came under pressure from Team Abu Dhabi 5, which snatched fifth on lap six.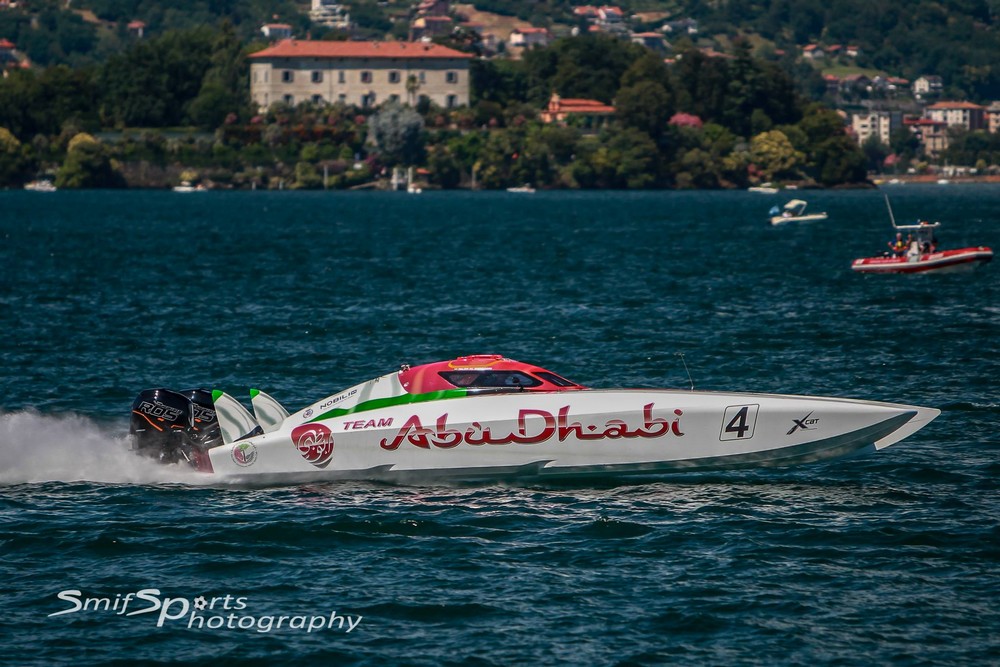 Neither Dubai Police nor Team Abu Dhabi 4 had taken either of their long laps by lap seven, as Swecat Racing retired with engine problems on lap nine and Team Abu Dhabi 4 began their first long lap and Team Abu Dhabi 5 climbed into fourth place and began to feel pressure from the Blue Roo.
Dubai Police opted for a first long lap with a lead of 34 seconds, safe in the knowledge that they would maintain a slight advantage over Team Abu Dhabi 4, although Torrente and Al-Mansoori opted for their second long lap to avoid running in dirty water and slipped to third behind 222 Offshore.
The Blue Roo began to run wide to avoid the wake from Team Abu Dhabi 5 as the race entered its closing stages and 222 Offshore took its second long lap.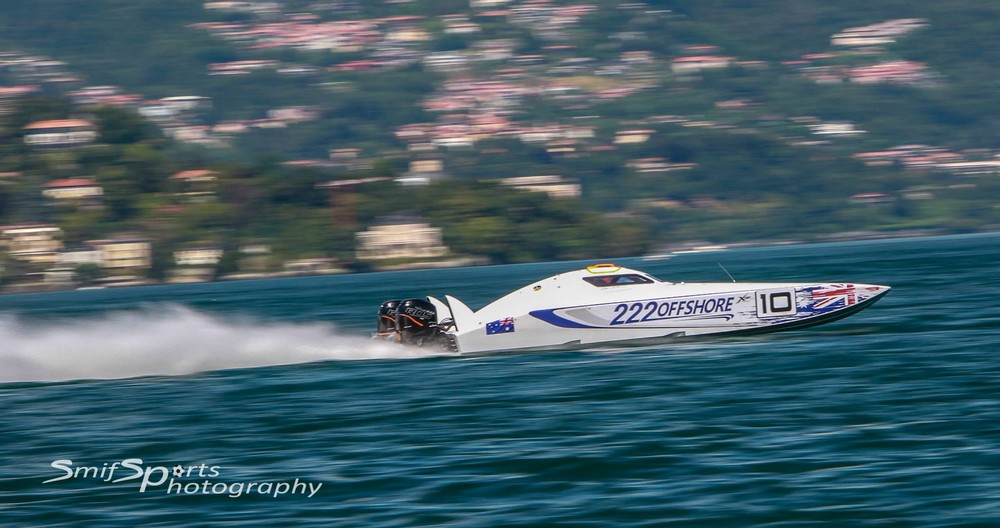 Team Abu Dhabi 4 regained second position but was running 34 seconds behind Dubai Police after 12 of the 16 laps.
There were no changes at the top of the leader board and Team Abu Dhabi 4 and 5 maintained second and fourth positions heading towards the chequered flag.
Dubai Police stayed clear of trouble to confirm the win and extend their lead in the UIM XCAT World Championship, as the Blue Roo survived a heart-stopping moment three laps from the end to finish ahead of Team Abu Dhabi 5 in fourth. New Star also survived a spectacular hook en route to the finish but slipped to 11th.
Photos: https://www.facebook.com/smifsports
2018 Stresa Grand Prix of Italy –race 1 result:
1. Dubai Police 3 – Arif Saif Al-Zafeen (UAE)/Nadir bin Hendi (UAE) 44min 45.9sec
2. Team Abu Dhabi 4 – Shaun Torrente (USA)/Faleh Al-Mansoori (UAE) @3.75sec
3. 222 Offshore 10 – Giovanni Carpitella (ITA)/Darren Nicholson (AUS) @27.39sec
4. Team Australia 8 – Pål-Virik Nilsen (NOR)/Jan Trygve Braaten (NOR) @44.04sec
5. Team Abu Dhabi 5 – Rashed Al-Tayer (UAE)/Majed Al-Mansoori (UAE) @1min 08.52sec
6. Yacht Club Como 20 – Serafino Barlesi (ITA)/Alessandro Barone (ITA) @1min 13.04sec
7. Ribot 22 – Alfredo Amato (ITA)/Daniele Martignoni (ITA) @2min 21.76sec
8. Venus Bali 46 – Andrea Comello (ITA)/Domenico Calderola (ITA) 1 lap behind
9. Kuwait 17 – Abdullatef Al-Omani (KUW)/Mustafa Al-Dashti (KUW) 1 lap behind
10. HPI 96 – François Pinelli (FRA)/Rosario Schiano (ITA) 1 lap behind
11. New Star 9 – Mikhail Kitashev (RUS)/Dmitry Vandyshev (RUS) 3 laps behind
12. Swecat Racing 2 – Mikael Bengtsson (SWE)/Erik Stark (SWE) 10 laps behind – DNF
2018 UIM XCAT World Championship – positions after race 3 (unofficial):
1. Dubai Police 3 105pts
2. 222 Offshore 10 66pts
3. Team Abu Dhabi 5 52pts
3. Team Abu Dhabi 4 52pts
3. Team Australia 8 52pts
6. New Star 9 49pts
7. Fujairah/Venus Bali 46 37pts
8. Kuwait 17 36pts
9. Videx/Ribot 22 28pts
10. CRB Offshore/HPI 96 27pts
11. Swecat Racing 2 26pts
12. Yacht Club Como 20 15pts
13. Maritimo 12 0pts
2018 UIM XCAT World Pole Position Championship – after two rounds:
1. Dubai Police 3 70pts
2. The Blue Roo 8 60pts
3. Team Abu Dhabi 4 37pts
4. 222 Offshore 10 34pts
5. Swecat Racing 2 28pts
6. Maritimo 12 26pts
6. Team Abu Dhabi 5 26pts
6. Yacht Club Como 20 26pts
9. New Star 9 23pts
10. Venus Bali 46 17pts
11. HPI 96 15pts
12. Ribot 22 10pts
13. Kuwait 17 6pts