Flying Frenchman Thomas Favolini lived up to his name yesterday when he set the fastest qualifying time in the Pro Enduro on the opening day of the P1 AquaX Bahamas World Championship, joining him making the headlines was the experienced US rider Johnny Smith in the Sprint class.
The innovative move by AquaX to introduce a qualifying stage for the world-class field of thirty racers was judged to be a great success by both the riders and spectators.
This was the first time in the AquaX series that the international PWC promoter had including qualify in a race schedule, and the response from the riders – representing nine countries – was overwhelmingly positive.
Motor racing fans would have been familiar with the format which has been adopted by Formula 1, involving two qualifying stages where competitors race against the clock for pole position and to score points which are added to their weekend overall.
The fastest lap was produced by Thomas Favolini, the 2018 European Champion, who found the condition in Nassau harbour ideal for his riding style, he was closely followed by US riders Tyler Hill and reigning AquaX World Champion Brian Baldwin.
The young riders, Favolini and Hill are using the Yamaha FXSVHO whereas the default model selection for this class is the Yamaha GP1800, however, their decision Yamaha was clearly the right choice.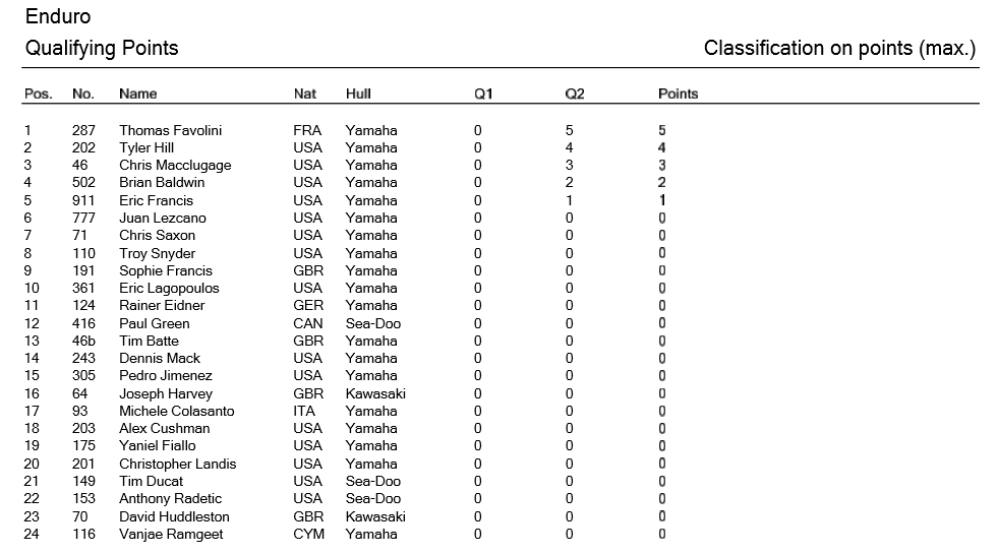 In the Sprint class, after his performance in Q1, Harry Robinson was a firm favourite to take pole but on turn three he pushed to hard and made a mistake resulting in last place position.
Following that Johnny Smith flawlessly produced the fastest time of the day.

Today's races will be live streamed on P1 AquaX Facebook page.