The Guernsey Powerboat Association will be hosting the second round of the 2019 UKOPRA Offshore championship in St Peter Port this weekend,the boats will also be competing for the Guernsey Gold Cup.
Hollie Woodhouse (racing last month in Poole Bay – above) has worked tirelessly to put the event on and she explained about the Gold Cup:
The idea of the Guernsey Gold Cup was conceived during a chance conversation between Edward Fattorini and Richard Ridout.

Guernsey had been awarded the UIM Class One World Championship for 1988 and they thought that we should have a prestigious trophy made to mark the event—something to rival the famous Harmsworth Trophy for powerboats which was first presented in 1903.

Relations of Edward owned the firm of silver and gold medal specialists, Thomas Fattorini & Sons Ltd, in the heart of the Birmingham jewellery quarter.

This firm had designed and made the current FA Cup, first presented to Bradford City in 1911 (the previous cup had been stolen.)

Thomas Fattorini, a great-grandson of the founder of the business came over to discuss the design and a few months later the Gold Cup was delivered.
Although UKOPRA have only been sanctioning Offshore Powerboat races in Britain for 2 seasons, there is already a healthy number of boats competing in 5 classes.
The Guernsey race will have 28 boats crossing the line, and seven of those will be competing in the Offshore 1 class which will be racing over a 119.58 nm course.
Italy's Maurizio Schepici (below) leads the 2019 Offshore 1 Championship after his win at the Poole Bay 100 race.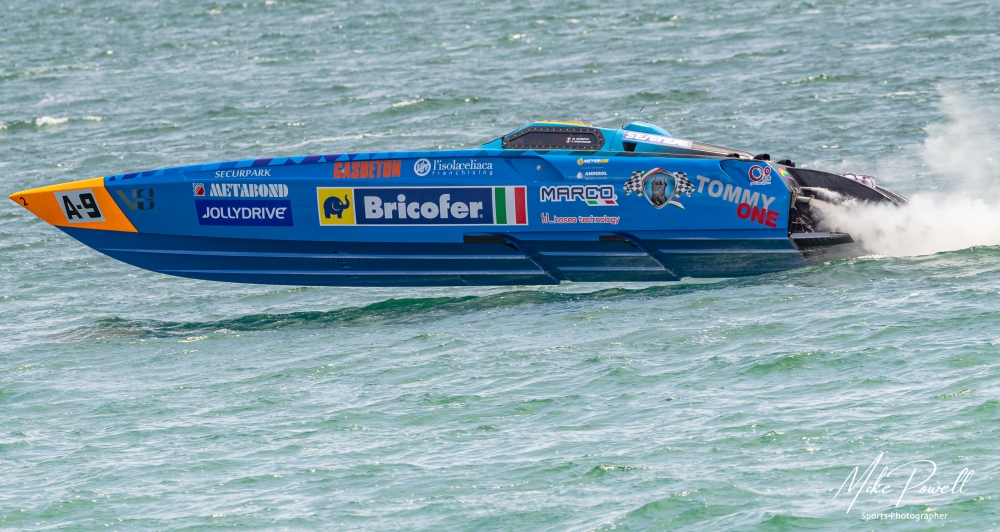 He will be racing with the experienced Giampaolo Montavoci from Venice who first started racing in 1983.
They will be up against the Cigarette hulls of Dry Martini, Wild Eleven and Bubbledeck, 2 FB Design RIB's, Pippa and Birretta Due and the Outerlimits of Drew Langdon and Miles Jennings.
The best supported sub-division in Class 3 is the predominantly Mercury 115 hp powered A/B category with 9 entries.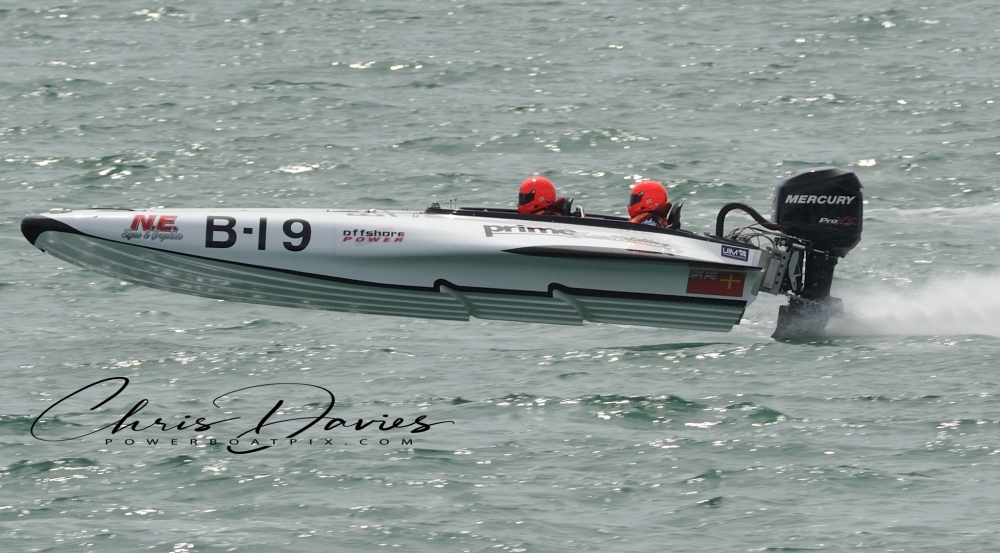 Local drivers fill the top spots in the class, Gareth Keast leads with Frank Le Tissier (above) just behind him.
The race is due to start at 09:45 (GMT +1) on Saturday, 6th July with a 'Decorated Boat Parade' through St Peter Port on Sunday starting at 13:30
Entrants
Offshore 1
A21 Pippa Andrew Smith Jack Weller/Matthew Smith Buzzi 40′ White Seatek 1500
B9 Dry Martini Christian Toll Mike Bontoft/Michael Peet Cigarette 35′ White Chevrolet 1300
B12 Birretta Due Jean-Piërre Neels Thomas Vandamme / Marijke D'hondt FB Design 13.10m White Cummins 1200
A9 Tommy One Maurizio Schepici Giampaolo Montavoci Metamarine srl 12.61m Blue Seatek 1900
A47 Bullet Offshore Racing Drew Langdon Miles Jennings Outerlimits 43 Red/Grey/Black Mercury 1900
B98 Wild Eleven Jerome Brarda Eric Adam/Gordon Compton Cigarette 38 White Mercury 1900
B8 Bubbledeck Richard Carlton Phil Payter/Neil Payter Cigarette 40 White Chevrolet 1500
Offshore 2
E36 Mr Mako David Foa Charles Swales Pascoe 9m White/Grey Mercury 400
C1000 Blastoff Dorian Griffiths Will Stevens/Paul Etasse Fountain 38 White Yanmar 880
E54 Grip-O.co.uk Nick Gilley Jon Fuller XS-IF Marine 32 White Steyr-Motors 600
Class 3N
N10 Beaver Returns Thomas Pelham Brian Pelham Revenger 25 White Chevrolet 700
N13 DB Marine Brian Peedel Andy Yeo Pascoe 24 White/Red Volvo 350
N31 Warlord Stewart Eyre Lawrence Philp Phantom 31 White Mercruiser 525
N111 Flashback Steve Roussel Ryan Woodhouse Cougar 25 Black Yamaha 400
Class 3X
X51 Jupiter Rob Lister Nick Crouch Forgecraft 23′ White Mercury 230
X199 Sledgehammer Jordan Le Page Anthony Gillespie Bernico 21′ White/Black Mercury 150
X50 Southampton Dry Stack Dennis Clemson Lee Katterhorn Forgecraft 23 Blue/Gold/White Mercury 200
X6 The Chiseler Jamie Owens Chris Owens Phantom 21 Yellow Mercury 200
X46 E-Marine Racing Glyn Norvall Charlotte Camsey Marshan 21 White/Blue Mercury 200
Class 3A/B
B19 Prime Suspect Frank Le Tissier Pierre Le Tissier Ocke Mannerfelt 19′ White & Black Mercury 115
B121 Me Too! Hollie Woodhouse John Vaudin Phantom 21′ Blue/Grey Mercury 150
B88 Dirty Deeds Sue Cosgrave Rick Turville Backdraft 22′ Fluorescent Yellow Evinrude 115
B92 Lovely Jubbly Bubbly Gareth Keast Dave Corbet Argo Cat 21′ Yellow Mercury 115
B52 Kermit Peter Clarke Rich Comben Marshan 19′ Green Mercury 135
A26 Motorvated Kerry Bobin Barry Culver 19G 19 Grey Mercury 115
A27 Motorvated Racing Bermuda Jason Briggs Errin Butterfield 19G 19 Blue Mercury 115
A66 A66 Racing Malc Dopson Andy Hiscox 19G 19 Black Mercury 115
A22 Multispark Dave Sheldon Chris Bailey 19G 19 White Mercury 115