This weekend Stewartby Powerboat Racing club will host 3 UIM European Championships.
Powerboat GP will be running international competitions for F2, F4 and GT15 classes where racers from 10 nations from across Europe are expected to make the journey to the Bedfordshire village of Stewartby.
Erik Edin from Sweden has now confirmed that he will be making the trip to Britain.
The young Swede had his 2016 UIM F2 World Championship hopes wiped out in Macon recently when Abu Dhabi Team driver Rashed Al Tayer shut the door on him causing Edin to roll out of contention.
Boat builder Molgaard have worked flat out to repair the hull and ready it for Stewartby.
Lying 4th in the 2016 UIM F2 World Championship is Austrian Rup Temper, he will bring with him to Britain his undoubted speed, flair and engineering guru Michael Werner.
Frode Sundsdal has enjoyed a return to racing action this year, the experienced Norwegian with support from his sponsor EDH will be aiming to take a medal back to Tonsberg as a springboard for the 2017 season.
15 F4 competitors will come from 8 countries, UIM F4 World Champion Matti Juho-Manninen from Finland and Latvia's Nikita Lijcs will renew their season long rivalry.
In GT15 Sweden's Adam Wrenkler who placed fourth at the World Championships looks to be the main threat from Europe in a class with a strong British contingent.
Powerboat GP's Jason Brewer Commented;
We are extremely proud to host an event of this magnitude in Britain.
All of the Powerboat GP staff have worked very hard to make this event happen and we are looking forward the challenge ahead.
RYA Powerboat Racing Manager Jeni Jelf is looking forward to welcoming overseas competitors to Britain for the European Championships;
We have some World class home grown talent here in Britain that don't always have the funding or time off from jobs to compete on the international powerboat scene.
It will be a great opportunity for our competitors and the sport here in Britain to have these 3 European Championships fought out at Stewartby.
Jeni will also be watching her husband Colin and brother-in-law Owen racing in UIM F2 and son Ben in UIM F4;
The action will be fast and furious and at the end of the weekend three European champions will have been crowned. Britain has strong contenders in each of the 3 classes and hopefully we can secure some medals.
Tickets for the event can be purchased from here.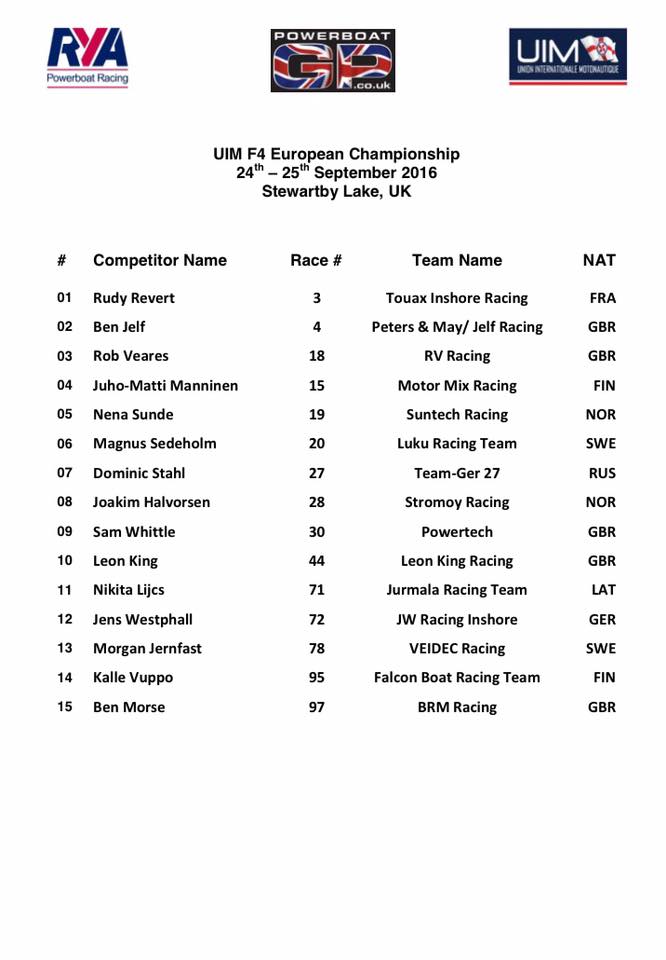 Main Photo: Chris Davies / F2 Drivers Association