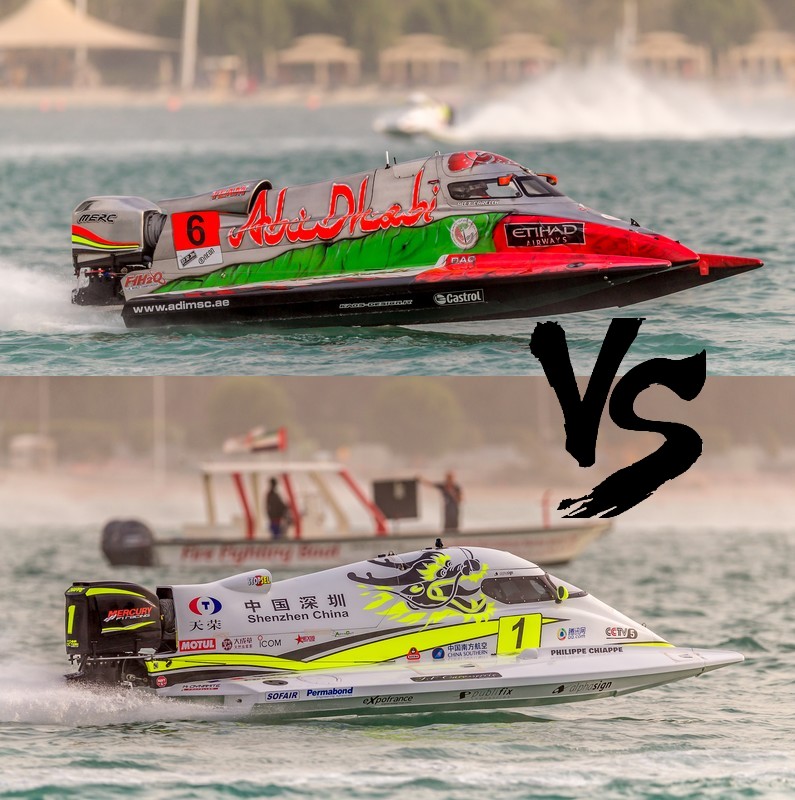 Team Abu Dhabi's Alex Carella and Philippe Chiappe of the CTIC Shenzhen China Team are both triple World Champions and they go head-to-head in Friday's Grand Prix of Sharjah showdown to determine who joins American Scott Gillman in the UIM F1 H2O World Championship's Hall of Fame with four titles.
The scene is set for an epic contest on Khaled Lagoon, as Carella's lead in the championship standings was pegged back to just 11 points by Chiappe's win in Abu Dhabi last weekend. If Carella finishes inside the top three, he is the champion regardless of whether the Frenchman wins the race. Should Chiappe – winner here in 2014 – finish second, sixth place would be sufficient for Carella to snatch the title.
If Chiappe were to finish third, the Italian would only need to cross the line in ninth overall to secure the two points he needs to take the crown for the first time since 2013. A finish outside the top three for Chiappe would hand Carella the title regardless of the Italian's progress.
But recent F1 H2O races have been nervy experiences for all the drivers and, with a 19-boat line-up expected this weekend, at least eight of those drivers are more than capable of springing a surprise and turning the formbook upside down.
There is also the small matter of the prestigious UIM Teams' Championship to fight for: Team Abu Dhabi arrives at Khaled Lagoon with a 33-point advantage over Team Sweden and a 35-point lead over Chiappe's Chinese team. Three points for Carella or Thani and Rashed Al-Qemzi would ensure that the Abu Dhabi International Marine Sports Club (ADIMSC) earned the title. Thani and Rashed Al-Qemzi have both played a vital role in the team's success this season.
Carella, who won this race in 2013, said:
It's going to a big fight, for sure, and I guess we are going to have to drive flat out to ensure we get the points to win the title. The team is ready, I am focused and I know that winning the championship for the fourth time is in my hands.
Other drivers will be out to spoil the local party. The Victory Team's Ahmed Al-Hameli (winner here in 2010 and 2011) and last year's winner Shaun Torrente have nothing to lose and are sure to adopt a flat-out strategy to try and win the last race of the year. Norwegian Marit Stromoy was in superb form last weekend at the Abu Dhabi Breakwater and is a former winner (2015) on Khaled Lagoon. Team Sweden's Erik Stark cannot now challenge for the title and he and team-mate Jonas Andersson will also be pushing hard for the win.
Sami Selio has been advised on medical grounds to give the race a miss – after his pair of Abu Dhabi crashes – but the Finnish double World Champion will be determined to find a way to race. The likes of Poland's Bartek Marszalek and Grant Trask ran well in Abu Dhabi and could threaten the top five this weekend.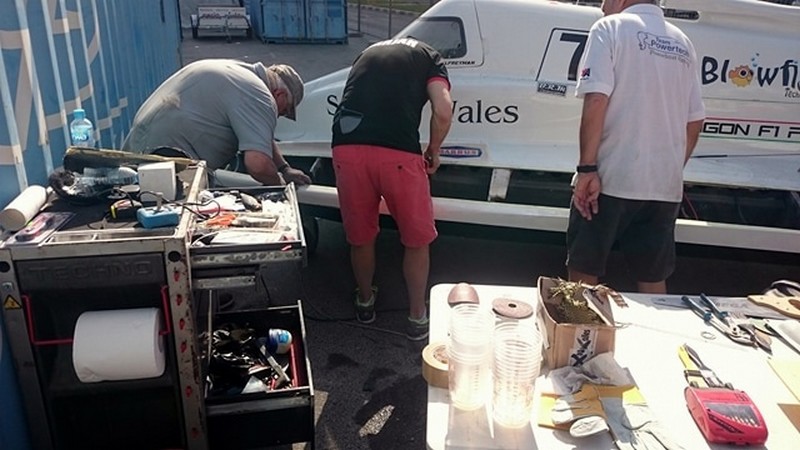 A red card for alleged dangerous driving has sidelined Cédric Deguisne, while Matthew Palfreyman's Spirit of Wales team (above) is racing against the clock to repair a damaged Dragon boat to enable the Liverpudlian to claim his first Grand Prix start.
On-water action organised by the UAE Marine Sports Federation gets underway on the 2.057km course with free practice on Khaled Lagoon from 11.00 GMT on Wednesday afternoon. F4-S practice and timed trials precede official F1 practice on Thursday morning and BRM qualifying takes place from 11.30 GMT after the first of the two F4-S races (10.30 GMT).
Further F4-S practice and timed trials are planned for Friday morning, before a second practice session for the F1 boats and the final F4-S race of the season at 14.30hrs.
The 2017 Grand Prix of Sharjah fires into life at 12.00 GMT.
Photos: Mike Powell