Detroit-based Sixteen Power (XVI) opted for that laid-back island with a big reputation for throttles-forward action, using the 2021 Race World Offshore-produced Key West Worlds to usher in its daring 14-liter, 16-cylinder 1,100 horsepower monster motor combo.
Story and photos by Dinarella Ibiza / Additional photos from XVI Power, JBS Racing, Ryan Walker and Tomas Velazquez
Originally published by riverdavesplace.com
The chosen twin-hull test-bed, specially developed to be on par with Powerboat P1's premiere Class 1 code book, is racer Jeff Stevenson's 2006 MTI JBS Racing.
Wicked, as the boat was previously named, is what it was. And wicked is, what presently it is… unleashing a combined 2,200 horsepower through its new naturally aspirated V16 architecture.
The first glimpse of the mega mills, which are honestly something you'd expect to see propelling a plane or locomotive, surfaced in the Truman Annex dry pits prior to the yellow and blue beast getting the green light to close out the Sunday finale, evincing its awesomeness in a set of Extreme Class exhibition laps.
Upping the ante from its November cameo, this season Stevenson who not only owns and drives the 42-footer but doubles as a Sixteen Power financial backer, and veteran throttleman Micheal Stancombe (his former racing partner from the turbine-powered Mystic) joined the international roster of race-aces to compete in the globally broadcast six-race Class 1 series pitted against a field full of screaming Merc 1,100s.
Fundamentally embedded in Cadillac roots before catamaran engine compartments, General Motors first debuted the V16 set-up in the prewar 1930s, preceded by a century-later revival as the celebrated albeit short-lived "Sixteen" concept car in 2003.
Car-wise, the 16-cylinder heritage continued beneath the hoods of Bugatti's Chiron and Veyron (sporting W16s with four banks of four), and the boutique Italian supercar Cizeta-Moroder V16T from automobile engineer Claudio Zampolli and his business partner, the "father of disco music" producer Giorgio Moroder. (On a side note: For the Sammy Hagar fans out there, the Italian-born, California-based Zampolli was the rocker's personal mechanic and showed up at the beginning of his entertaining classic "I Can't Drive 55" video.)
Obscene Power – Extreme Reliability​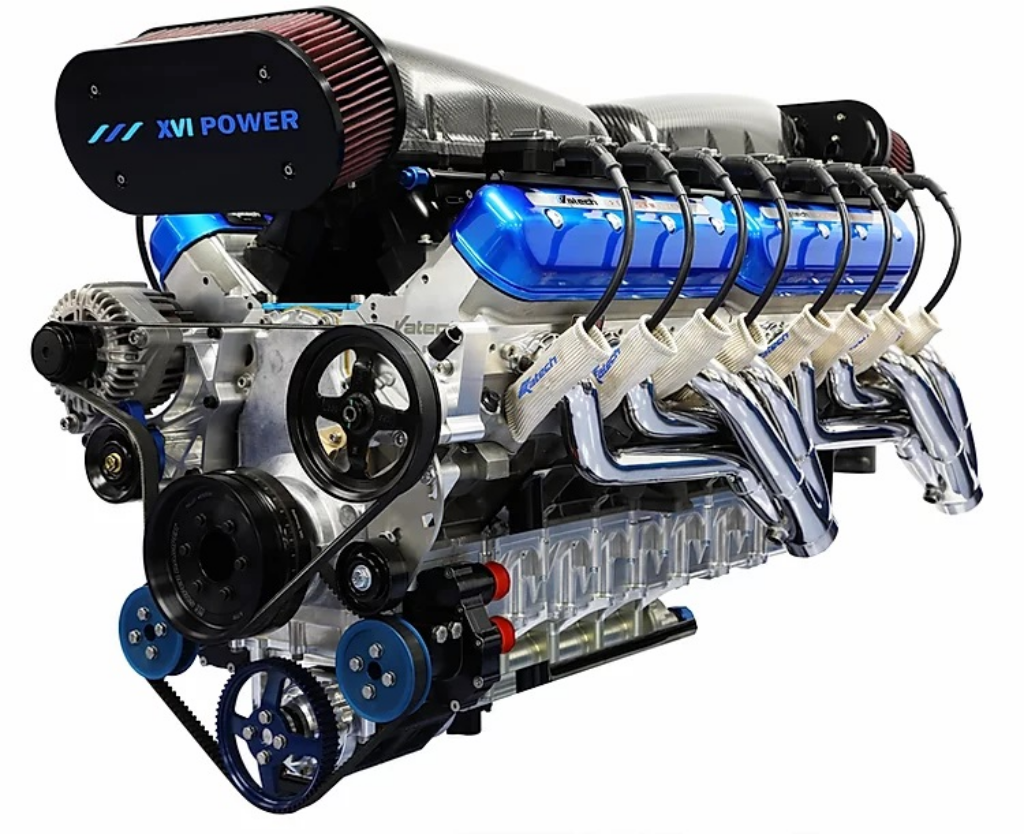 Getting back to the marine-specific modification – prior to its triumphant coming out party at the 2017 Miami International Boat Show, it was actually in the works since 2013 when the company began meshing, marinizing and monsterizing the LS platform-based powerhouse.
Then, following a two-year evolution under the direction of project leader Tom Robinson, trumping the South Florida debut, XVI Power earned the prestigious 2019 PRI Masters of Motors trophy in the Naturally Aspirated class at the Performance Racing Industry Trade Show.
Combining Robinson's credentials in high-performance marine engineering with his equally high regard for the GM "Sixteen" jaw-dropper of 2003… a nautical bombshell began brewing in his head!
How to develop an engine format with more cylinders that distributes horsepower by 16 channels? It was believed that by bumping up the cylinder count, the formula for higher outs and improving power numbers would in turn, eliminate engine stress (aka the culprit responsible for causing blows ups) by spreading it out more.
Conditions supporting the steadfast, cost-effective solution included:​
1-The reduction in bespoke parts needed across the board.
2- The use of higher reliability production parts with a longer life.
3- The V16 runs on regular gasoline versus high-octane race fuel.
4 – Components can be locally sourced avoiding supply chain chaos.
5- A massive weight reduction from using an all-aluminum structure combined with the lack of a supercharging system from the cast iron big block.
In essence, the Sixteen Power platform stems from a LS engine with eight additional cylinders (from four separate heads), but it is NOT just slapping two V-8s together as many engine experts and non-experts expect to be the case.
It's built from scratch, as Robinson tells me:
All integral components are unique proprietary parts combined to produce a single 16 cylinder short block with 854 cubic inches, with the only foreseeable limitation being… you need to have a bigger sized boat due to the increased length which is about 14″ longer than a big block V8.
However, with Stevenson's MTI, all concerns were squashed thanks to the enormous engine bay.
From Kinks to US Patent Kudos​
Unexpected design challenges come with the territory of any new build; and as expected, the Sixteen Power engineering team masterminded sensible solutions fixing the kinks with efficacy and flair.
One hurdle at the onset centered around the initial basing of estimates for the thermal expansion when dialing in the main bore housing.
Due to the engine's aluminum construction, the main bores grew more than when a steel cap is on the cast iron block, and because of this, a series of changes to the block and crankshaft machining were necessary.
Another crucial feature was the variance in bore spacing between the middle cylinders.
It not only played a key role, but also an intended one, reason being… the Sixteen Power brand has a 2" increase from the Caddy's original 4.4" and as a result, it has the capacity to be fitted with basic LS production or extreme race heads, as well as aftermarket injection heads, rather than requiring specially adapted ones.
Robinson says:
The rationalization behind this was so we could bolt on four LS cylinder heads and two LS intake manifolds.

That's where the 6.4″ spacing comes into play. This too allows us to bring the oil and water into and out of the middle of the block.
Further elaborating on those systems, he explains:
Such a large engine with the potential to make over 2,000 hp needed very large capacity oiling and cooling systems.

The dry-sump oil pump is the largest that Dailey Engineering makes, and there are two thermostatically controlled oil coolers.

The system is off the shelf high-capacity driven by an output shaft from the sea water pump, which is a 120 gpm two-stage design based on impellers and housing developed by Keith Eickert.

There are two at 75 gpm circulating pumps for closed cooling, each with its own heat exchangers and both are located under the oil pan. High flow rates were also required upgrades in all hoses and fittings.
The technical nuggets are so significant in function that two years ago Sixteen Power was granted a US patent for: The system and method for the delivery and recovery of cooling fluid and lubricating oil for use with an internal combustion engine.
More specifically, for the development of the block's center cavity used to direct oil from the top of the engine to a dedicated scavenge section in the dry-sump pump.
Digging deeper, the official website on granting patents explains:
Located near the mid-point of each bank of cylinders is a section formed with passages that are configured to provide distribution and recovery of cooling and lubrication fluids.

This section is located such that, the path of these fluids begins and ends at a mid-point so as to provide a shortened path across each half of the bank of cylinders within which the section is located.
Also notable apart from the patented systems, cylinder heads and intake systems hail from the Chevrolet LS3.
The single nitrided billet steel crankshaft is driven by three-ring pistons working through steel con rods and runs in 10 plain bearings developed with the assistance of Daido Metal bearing company.
From each cylinder head, the exhaust is four into one with four separate exits because it's difficult to combine eight pipes on each side due to the water jacketing.
Dyno Details and Throttle Response
Robinson states:
Since the 2017 debut, much of our development has been on engine durability on the dyno to help extract every ounce of horsepower.
Assembly and testing happens in Clinton Township at Katech Engines, Inc., the longtime Tier 1 engine development collaborator with GM, which has the necessary means and mechanisms for the data extraction.
Also monumental is having Caleb Newman as Sixteen Power's lead engineer, considering that he brings to the table countless years of experience from his days at Katech overseeing the Cadillac concept car engine project.
One of the main building blocks in crafting the engine was that it needs to provide plenty of torque as low as possible in the operating range for the boat to plane; hence, the objective was always to mimic the torque of a supercharged V8 using natural aspiration.
The two videos below released on YouTube and Facebook demonstrate the first firing on the dyno making 1,103 hp and 1,115 pound-feet of torque.
Addressing the weight inquiries, a running block is 800 pounds as tested on the dyno; whereas, completely dressed with four double-wall, stainless steel, water-cooled headers, all heavy copper heat exchangers and fluids, it increases to 1,200 pounds.
Particular attention has also been given to the essential Spintron machine and its "Low Shock Technology" testing exercises to ensure the valves correctly follow the camshaft lobe's intended profile.
(If you're not familiar with a Spintron, it's the machine that helps perfect the valvetrain for maximum power and resilience, and improve performance by making modifications based on sound engineering and not theories.)
A naturally aspirated engine has the advantage of a more linear throttle response than the supercharged equivalent with a smaller displacement, and Robinson is beyond pleased with the response.
He attributes it to the firing of a cylinder every 45 degrees instead of every 90 degrees as found on a V8 adding:
It also makes for a very smooth running engine from the instantaneous crank torque and velocity profile from the 45 degree timing.

We also do not fire two cylinders at once, as people have asked.
8 V-16 Building blocks.jpg 9 V-16 Oil filter housing and thermostat.jpg 10 V-16 Sea water pump.jpg 12 V-16 Dry sump.jpg 13 V-16 Power to dash display.jpg
Hometown DNA​
As a fellow advocate for the Sixteen Power high-performance package, when interviewing JBS Racing team manager Julie Lahr, she emphasizes the importance of using local resources and services.
Since its origin, the company's focus was always on sourcing components from nearby Michigan communities, and when not possible, making sure to stick with United States-based suppliers.
With respect to manufacturing – the block is cast using the Cosworth low pressure method at Wolverine Bronze in Detroit, and machined by RMC in Saginaw, which also handles the billet oil pan and scavenge manifold.
The crankshafts are machined by Moldex in Detroit and by Scat Enterprises in California, whereas, the camshaft cores are coming from Callies in Ohio and the finish grinding process is done by Comp Cams in Tennessee.
Under the command of Jim Stykes, all rigging took place at Jimkid Motorsports in Detroit with the personal involvement of Robinson, who shares:
It was important for Sixteen Power to understand what boat manufacturers and riggers will experience when installing the V16 and develop tools and methods that will make their job easier.

Stykes and Robinson also join teammates Brian Reeves and Julie Lahr on the JBS Racing team crew.
The Future Looks Bright… and Fast​
Starting around $110,000 a pop, the Sixteen Power V16 vipers are in a league of their own.
The same can be said for JBS Racing! At the time of publishing, the boys sit in third place points wise trailing Huski Chocolate and 222 Offshore Australia and have already stepped on stage nabbing second place finishes in Cocoa Beach and Sarasota with their Sixteen Power-propelled pachyderm.
Slated to compete in the Lake of the Ozarks Shootout at the end of August, the flat water, three-quarter-mile course will be a welcome change from the chop and slop on all the Class 1 tracks to date this season.
Gauging from Robinson's response about the future, I'd have to say, "It looks bright!"
Sixteen Power's strong showing at SEMA and PRI has created an even greater fanfare riling up revheads with its multi-configuration (naturally aspirated, supercharged and turbocharged) crate motor creation.
At this time, the naturally aspirated alternatives range from 1,100 hp to 1,400 hp, with the latter being accomplished by switching from the LS3 to the LS7 components and increasing camshaft duration.
As for the twin supercharged 1,600 hp and quad-turbocharged options producing over 2,000 hp, both will be tested on a low compression dyno mule, and then the company will evaluate which way to go.
No matter its chosen path of speed and supremacy – Sixteen Power is "in it to win it."
Whether charging down the aquatic track or on the black top, the powerplants are certain to be leading the pack.