Morgan Jernfast easily won the fifth round of the 2018 UIM F4 World Championship here in Mâcon this afternoon and charged into the lead of the championship.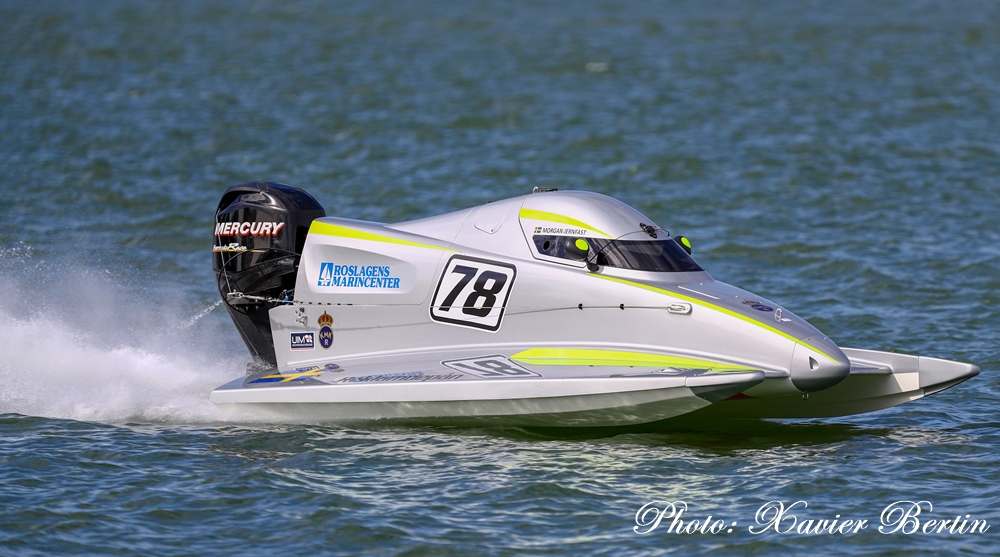 His main championship rival, Tuukka Lehtonen, had a bizarre accident after the qualifying session, he hit the pontoon and severely damaged his boat and it was not able to be repaired for the race.
Latvia's Nikita Lijcs took the runners up slot and in the process elevated himself to second in the World Championship.
After finishing third, France's Rudy Revert was omitted from the results after failing a technical inspection after the race, which gave Lithuania's Paulius Stainys the final spot on the podium.
Britain's Ben Jelf finished third on the water but was docked a lap for hitting a turn mark, his one lap penalty put him into seventh position.
Tomorrow will be the 6th and deciding round in the championship.
Sunday 23rd
09:15 – 10:00 : Free Practice
16:15 – 16:35 : Round 6 – 2018 UIM F4 World Championship
18:15 : Podium
2018 UIM F4 World Championship – Round 5 Results
1st) Morgan Jernfast SWE 16:03:005
2nd) Nikita Lijcs LAT 16:06:294
3rd) Paulius Stainys LTU 16:32:866
4th) Pierre Lambert FRA 16:35:791
5th) Xavier Autard FRA 16:41:597
6th) Quentin Dailly FRA 16:45:554
7th) Ben Jelf GBR L1 (hit buoy)
8th) Attila Horvath HUN L1
9th) Camille Broutechoux FRA L2
Rudy Revert FRA DQ – Technical Infringement
2018 UIM F4 World Championship (after 5 rounds)
1st) Morgan Jernfast SWE 81 points
2nd) Nikita Lijcs LAT 71 points
3rd) Tuukka Lehtonen FIN 68 points
4th) Ben Jelf GBR 61 points
5th) Quentin Dailly FRA 56 points
6th) Paulius Stainys LTU 52 points
7th) Rudy Revert FRA 51 points
8th) Attila Horvath HUN 30 points