Heading into the first Temora event of the Penrite V8 Superboats season, local hero Scott Krause led the championship points in the Unlimited Class, with mounting pressure on the KAOS pilot to deliver a similar result at home.
Unphased by the possibility of a fairy-tale result in front of his local fans and family and a resurgent 'Frankensztain', Krause weathered all storms to calmly deliver his third consecutive victory, and with it a consistent run through the finals that presented he and navigator Rachel Parsons the coveted Colin Parish Memorial Trophy.
Whilst Krause's ongoing domination of the Unlimited field had the record Temora crowd on their feet, 400-Class title contender Jody Ely delivered a knockout blow in the final of the hotly contested international category, defeating former champion Mark Garlick and Keith winner Paul Kelly for a second crowd-pleasing result, a result which blows the 400-Class championship wide open at the mid-point of the 2018 season.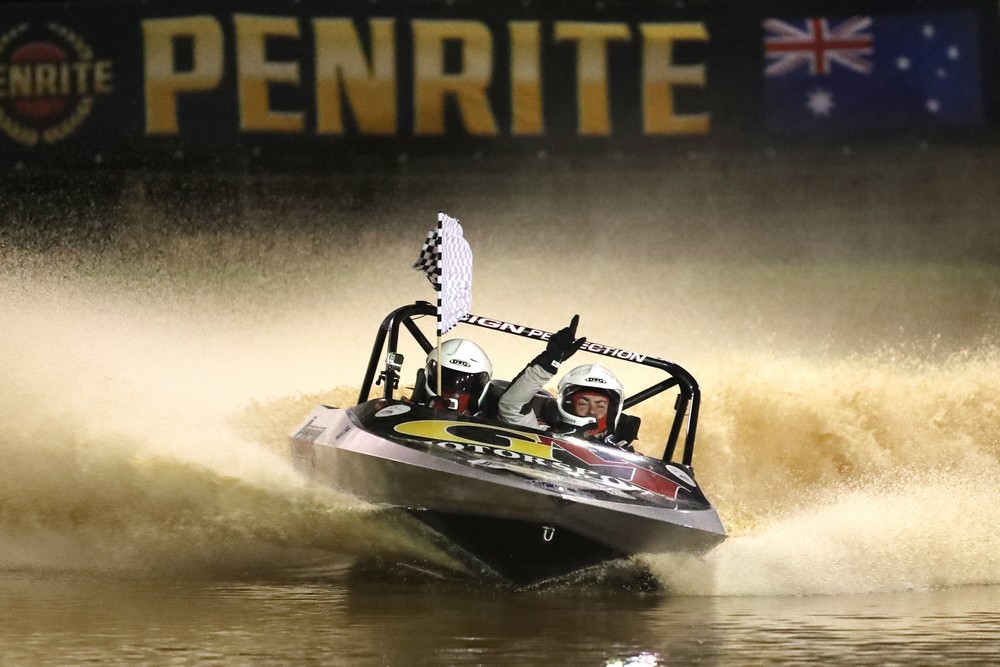 Weather conditions were perfect across the day, despite high winds around ahead of opening practice, but as the day wore on, a record crowd continued to flow through the gates, filling the public viewing area to capacity as Australia's best drivers did battle well into the night.
QUALIFYING
Unlike Keith, there were no failures in practice, with both the Sygidus brothers and Paul Gaston back in action after their technical issues in South Australia, although for Ted and Darek Sygidus there were some nervous moments early in the day with a violent vibration issue in the drive-line causing some concern. Ultimately – with the assistance of their rivals, including Tremayne Jukes (who was sitting out the Temora event) they resolved the problem, and were ready for action with their naturally-aspirated 510ci machine and had their new Sprintec hull right in the thick of the action from the get-go.
Reigning champion Phonsy Mullan was another having a few anxious moments, the six-time national title holder electing to campaign his twin-turbo machine for Temora, but he too was chasing niggling issues ahead of practice, although he was ultimately able to hit the water and pump out some of the quickest times of the day.
Sadly there was one team missing-in-action, with new LS-Class graduate Kyle Elphinstone working feverishly all day to get his boat into the water and ready for action, sadly though the 'Blackout Racing' team were unable to get the new LS powerplant operational and were forced to watch the finals from the bank.
As he had done in both Griffith and Keith, Scott Krause had the big local crowd on their feet pumping out some impressive laps, his 40.195 first up all but matched by his second (40.362) and third (40.082) qualifying laps, before a blinder in Q4 (39.313) thanks to pressure from a resurgent Phonsy Mullan.
The opening qualifier again saw LS-Class points leader Ivan Safranek in the mix, his 43.929 putting him ahead of all but Krause, adding strength to the performance that saw him finish on the Unlimited podium at Keith, although sadly he was forced to pull the pin after Q2 with an electrical issue that sidelined him for the remainder of the night.
After some setbacks in the opening qualifiers, it was clear to the fans and assembled teams Phonsy Mullan wanted the top spot, although he did admit that he is focussing all his attention on preparing for the forthcoming World Series, and was treating every Australian round as an extended test session – his Q4 time of 39.557 just 15 one hundredths slower than Krause, promising a world-class fight for the top step of the podium..
By that stage all were left in the wake of the leaders, the laid-back and affable Krause, seemingly undeterred by Mullan's increase in pace, although both would very quickly discover the fight for the top step would be a four-way battle, with the recovering Sygidus brothers moving into the equation by the first final.
For two-time champion Daryl Hutton, things were also starting to look up, additional changes to the dynamics of the 'Victorian American Imports' Stinger were starting to see forward gains, although 'Nutsy' was forced to continue living life on the knife-edge, with the boat often completely out of the water on the cross-wash, something which the former New Zealander admitted was keeping him honest.
Another more than making his presence felt was Paul Gaston in the machine that took Tremayne Jukes to a season high four wins in the 2017 championship, 'Heatseeker' mere tenths off the pace of the Sygidus brothers, although he would ultimately miss a berth in the finals with a technical issue in the Top 12.
Glenn Roberts too was making his presence felt, the tall Victorian suffering a DNF in the final qualifier, admitting that darkness was not his forte, whilst Michael Cunningham's constant improvement under the watchful gaze of Phil Dixon and Greg Mercier was not gaining the attention the Sprintcar driver perhaps deserved, such was the performance of the full field of Unlimited drivers – it was a hot night of action!
In 400-Class the action was perhaps even more intense than the Unlimited field, with a tight battle for the top qualifying time between reigning champion Ben Hathaway, former champion Mark Garlick, Keith winner Paul Kelly and Victoria's Jody Ely, whilst former Temora winner Mitchell Roylance and brother Justin were also making their presence felt.
Garlick used his immense experience to top the opening qualifier from Mitchell and Justin Roylance, but Hathaway fired back just as quickly in 'Weapon' to lower the benchmark in Q3 to a 43.370, the fastest qualifying time of the night to that point. Ultimately Garlick would find some more pace in 'Grumpy' to go into the finals second fastest, ahead of Kelly (4Zero Racing) and Ely (Rampage).
Mitch Roylance was clearly wringing the neck of 'Black Jack' his Q2 and Q3 times just two one thousandths of a second apart, the former 'Rookie of the Year' wearing a broad smile after missing the top spot in Q2 by just four one thousandths. Sadly though he was able to find little more, and had to settle for a berth in the bleachers watching the points leaders battle over the top step of the podium.
Behind the top six – which included both Roylance brothers – Shane Loughnan continued his forward progress on his return to the sport to be running at times in amongst the leaders and comfortably into the finals, whilst Greg Harriman and Brad Marsden were also well inside the top ten, Harriman aided by some recent changes to the hull aided by Mark Garlick, whilst Harriman's team-mate Hugh Gilchrist was also reaping the benefits.
The returning David Moodie made his way back into the finals in 'Jackhammer', as did Andrew Medlicott, whilst for Darrin Kesper, a tough day saw the Queenslander back on the trailer ahead of the finals.
FINALS
With lights blazing overhead and some boats campaigning LED running lights, the finals began in earnest with the fans looking for the battle to intensify between Krause and Mullan. It did just that, although with Krause able to comfortably weather the storm from Mullan, the first final seeing the points leader fall just a tenth of a second shy of his best (39.445), whilst Mullan dropped half a second in the cool night air, conditions which were well suited to the twin-turbo LS powered machine.
Darek Sygidus was next quickest, although more than a second slower than Mullan, and more than a second quicker than brother Ted who narrowly defeated Daryl Hutton. Glenn Roberts was next, still battling his challenges in the darkness, but through to the second final after both Cunningham and Gaston failed to finish their runs, forcing them back onto the trailer earlier than planned.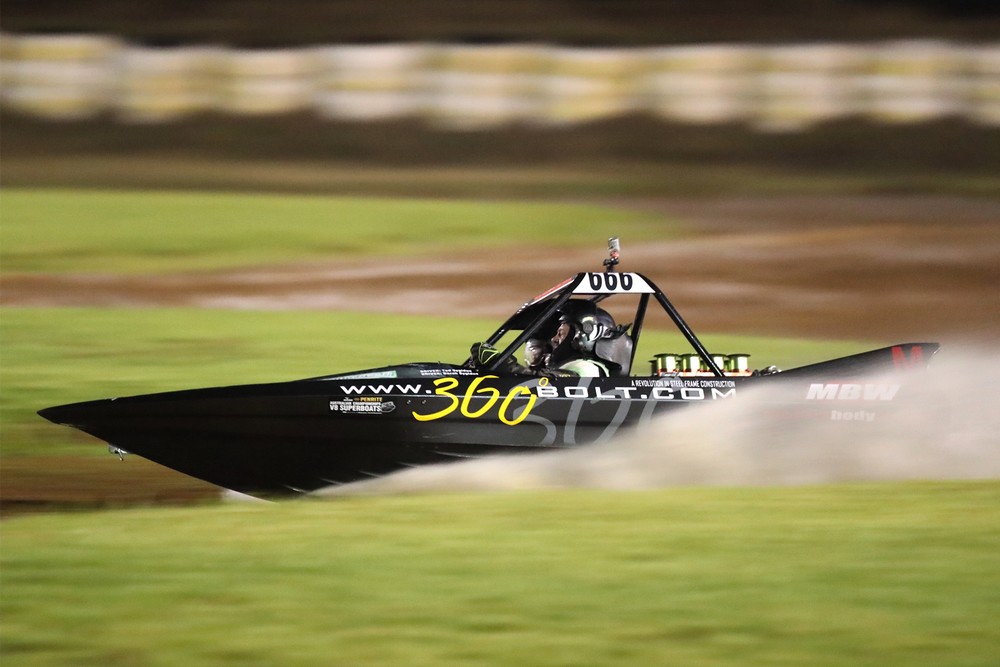 The expectation intensified again by the time the boats rolled out for the second final, with Darek Sygidus stunning his rivals with a 40.810, Ted Sygidus also making a big forward step to find almost two seconds on his Top 12 time to shadow his younger brother and apply maximum pressure to Mullan.
Sadly the winner of the last five consecutive Unlimited crowns was going to have a tough time making the final after 'RAMJET' was clearly off-song in what would be his final run, an audible misfire seeing him cross the line with a 41.439 to sit out the final, with Krause and the two Sygidus brothers set to do battle.
Daryl Hutton ultimately claimed the fifth fastest time overall, with Glenn Roberts happy to have brought 'Blown Budget' home in one piece for more valuable championship points, comfortable in the thought that round four would be in daylight conditions at his favourite circuit – Cabarita.
Ultimately the final was somewhat of a foregone conclusion, the Sygidus team admitting early that their 'little' 510ci machine was no real match for Krause or Mullan, however they revelled in their finals appearance and return to the podium, Ted claiming second over Darek with a 41.120 to Darek's 41.329, but neither could stall Krause, the 'KAOS/Penrite' driver punching out a super-consistent 39.445, his three finals runs spread across just 38 one thousandths of a second.
As a result of that, he would be presented the Colin Parish Memorial Trophy by former Superboats star, Teresa Parish.
Whilst the Unlimited teams celebrated, the action in 400 Class was no less impressive, with a berth in the final three no guarantee for any of seven boats..
Ben Hathaway continued his impressive performance to top the first final with the quickest run of the night (43.298), but he was only just a tenth of a second faster than the ever-present Garlick, whilst Paul Kelly and Jody Ely made it six boats within six tenths of a second heading into the second final.
With the pace so fast, even a minor slip would see you eliminated, and that ultimately claimed Justin Roylance, the 'Spitwater Team Outlaw' driver battling to record a competitive time in his final run, to be just seventh, although with some clarity as to why after reviewing data post-race pointed to a problem with the hull. A closer inspection revealed damage sustained at Keith had weakened the front of the boat, which was deforming during each run, a problem the team will soon rectify, but a frustration that it hadn't been discovered earlier..
Justin Roylance's departure was a boost for brother Mitch who crept back inside the top six, just clear of Loughnan who was finding a better setup in the cooler conditions for 'Viscous'.
As had been the case in the Unlimited class, there was little respect for the reigning champions come the heat of battle, with Ben Hathaway incredibly missing a berth in the final, the 'Weapon' pilot managing a faster time than his first finals run, but amazingly, the pace at the top had improved so much, that he was back on the trailer having failed to advance.
Ultimately it was the grit and determination of Mark Garlick that saw the Queenslander back on top with an impressive 42.991 (just four tenths slower than Daryl Hutton's Unlimited time!), although he had competition, with Jody Ely (43.189) and Paul Kelly (43.218) breathing down his neck, the top four in the end covered by less than three tenths of a second!
Mitch Roylance too threw out one of his best of the night to be fifth, but a second down on the leaders, whilst Shane Loughnan crept across the line for a good haul of points to complete the second final.
It had all come down to one final run, and it was anyone's guess as to who would take the top spot.. the cagey veteran, the hot new star, or the man who had been sitting in the wings with arguably the quickest package of the lot..
In the end it was Ely who went on to claim his second ever win in the category, taking 'Rampage' to an event best of 42.598 to comfortably upset his rivals, Paul Kelly extending his championship points lead with second, whilst Mark Garlick was the only one of the trio not to improve, his 43.613 giving him third.
The Penrite Australian V8 Superboats Championships now moves north with the fourth round of the year at the Tweed Coast Jetsprint facility near Cabarita Beach on the north coast of New South Wales for a two-day event on June 2-3.
Photos: Russell Puckeridge (Pureart Creative Images)
————————————————————
Rnd#3 2018 Penrite Australian V8 Superboats Championships
Kennard Hire Park, Temora, NSW
28 April, 2018
FINAL RESULTS
TOP 3 FINAL
Unlimited Superboat
1. 37. Scott Krause/Rachel Parsons (KAOS/Penrite) – 39.445
2. 666A. Ted Sygidus/Brayden Munro (Frankenzstain) – 41.120
3. 666B. Darek Sygidus/Scott Munro (Frankenzstain) – 41.329
TOP 3 FINAL
400-Class (Group A)
1. 33. Jody Ely/Greg Blaz (Rampage) – 42.598
2. 40. Paul Kelly/Naomi Gow (4Zero Racing) – 43.151
3. 95. Mark Garlick/Angel Brennan (Grumpy) – 43.613
TOP 6 FINAL
Unlimited Superboat
1. 37. Scott Krause/Rachel Parsons (KAOS/Penrite) – 39.483
2. 666B. Darek Sygidus/Scott Munro (Frankenzstain) – 40.810
3. 666A. Ted Sygidus/Brayden Munro (Frankenzstain) – 41.229
4. 1. Phonsy Mullan/Kelsie Gill (RAMJET) – 41.439
5. 28. Daryl Hutton/Mick Parry (American Automotive) – 42.505
6. 888. Glenn Roberts/Tiarna McGifford (Blown Budget) – 43.866
400-Class (Group A)
1. 95. Mark Garlick/Angel Brennan (Grumpy) – 42.991
2. 33. Jody Ely/Greg Blaz (Rampage) – 43.189
3. 40. Paul Kelly/Naomi Gow (4Zero Racing) – 43.218
4. 1. Ben Hathaway/Michelle Hodge (Weapon) – 43.280
5. 21. Mitch Roylance/Matt Cullen (Black Jack) – 44.342
6. 34. Shane Loughnan (Viscous) – 46.577
——————————————————————————-
2018 Penrite Australian V8 Superboat Championships – Series points
Unlimited Superboat (after round three of six)
1. Scott Krause (KAOS/Penrite) – 108-points, 2. Phonsy Mullan (RAMJET) – 91, 3. Glenn Roberts (Blown Budget) – 80, 4. Daryl Hutton (Victorian American Imports) – 79, 5. Michael Cunningham (AusPro Logistics) – 66, 6. Daniel deVoigt (Devo Racing) – 54, 7. Paul Gaston (Heatseeker) – 50, 8. Jeremy Kincaid (Rogue) – 38, 9. Ted Sygidus (Frankenzstain) – 33, 10. Darek Sygidus (Frankenzstain) – 30, 11. Tony Giustozzi (Excalibur) – 24, 12. Tremayne Jukes (Rogue) – 20, 13. Cheryl Welch (Quality Time) – 18, 14. Mick Carroll (Excalibur) – 0
400-Class (Group A) (after round three of six)
1. Paul Kelly (4Zero Racing) – 103-points, 2. Ben Hathaway (Weapon) – 92, 3. Mark Garlick (Grumpy) – 91, 4. Jody Ely (Rampage) – 82, 5. Justin Roylance (Spitwater Team Outlaw) – 74, 6. Mitch Roylance (Black Jack) – 74, 7. Brad Marsden (Allcott Transformer) – 52, 8. Brett Thornton (2Obsessed) – 50, 9. Shane Loughnan (Vicious) – 50, 10. Hugh Gilchrist (Pink Boots Racing) – 46, 11. Greg Harriman (Pink Boots Racing) – 46, 12. Andrew Medlicott (Gone Nutz Again) – 40, 13. David Moodie (Jackhammer) – 32, 14. Darrin Kesper (Let's Boogie) – 28, 15. Sam Everingham (Arkham Asylum) – 24, 16. Daniel James (0)
LS-Class (after round three of six)
1. Ivan Safranek (Katana) – 36-points
————————————————-
2018 Penrite Australian V8 Superboat Championships
Rnd#1 Griffith, NSW – 24 February – (day/night)
Rnd#2 Keith, SA – 24 March (day)
Rnd#3 Temora, NSW – 28 April (day/night) – Colin Parish Memorial Trophy
Rnd#4 Tweed Coast, NSW – 2-3 June (day)
Rnd#5 Tweed Coast, NSW – 17-18 August (day)
Rnd#6 [FINAL] Temora, NSW – 22 September – (day/night)
2018 Penrite UIM World Championships
UIM World Series – Rnd#1 Keith, SA – 27-28 October
UIM World Series – Rnd#2 Tweed Coast, NSW – 3-4 November
About Penrite
Founded in Melbourne in 1926 by – then – 16-year old Les Mecoles, Penrite Oil utilised high-quality lubricants from Pennsylvania [USA] base stocks, hence the name 'Pen' from the base stock and 'rite' for the right oil.
In 1979, due to ill health, Les sold the company to John and Margaret Dymond. A mechanical engineer by trade and a car enthusiast at heart, John rapidly expanded the Penrite range of products. His technical background and commitment to quality ensured that Penrite continued to produce the highest quality products becoming the market leader in Australian oil and lubricants.
90 years on from those early beginnings the Dymond family have built Penrite into one of Australia's most prominent and recognised brands.
The iconic Australian-made and owned lubricants company has a simple philosophy: 'the right product for the right application'.
Penrite Oil Company produces a large range of high quality products suited to the Australian conditions including the exciting 10 Tenths Racing Oils range which offers a superior package of performance and protection for both competition and high performance engines.