Tonight, as the teams head away from the WMT Rother Valley International Grand Prix, there's a new name at the top of the UIM Formula 4 World Championship points table and it's Tuukka Lehtonen.
The Finnish racer had arrived at the Rother Valley Country Park just a point adrift of Morgan Jernfast in the title hunt but after taking a third place in round three and winning round four he now moves seven points clear of his title rival:
It's very important to go to the next rounds in Macon, France sitting at the top of the championship table, it might only be a small points gap, but it could be a crucial one as this series is very competitive.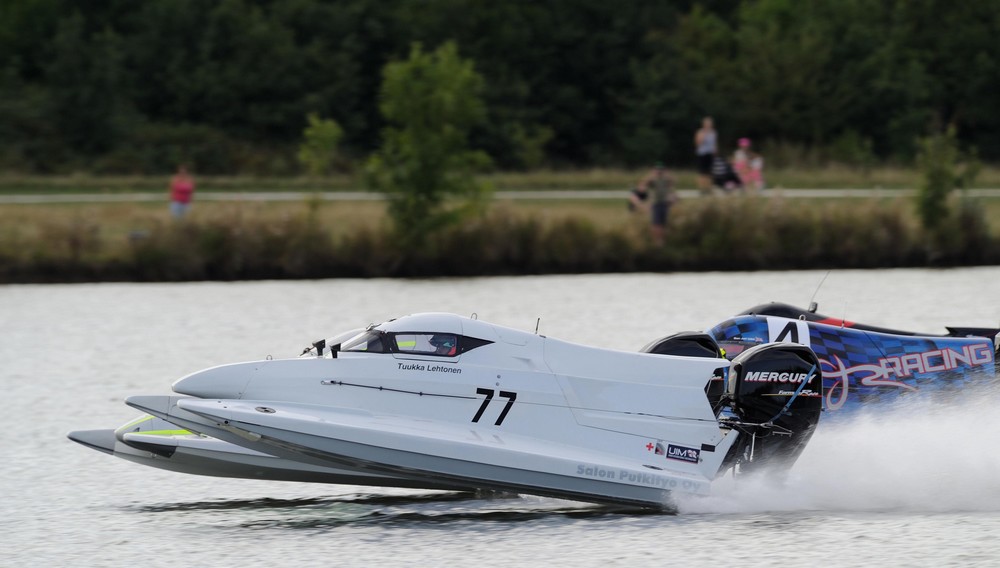 Lehtonen had been quick all day, posting the fastest lap time in 'Free Practice' then claiming the all important 'pole position' spot in the top six 'shoot out'.
Over-night we modified a propeller that we used yesterday based on what we learnt in those conditions and today it went really well.
Lining up alongside the Finnish driver on the Grand Prix start jetty would be Morgan Jernfast, who admitted that during qualifying he just couldn't find the perfect lap but having beaten Lehtonen off the start line at the recent European Championships felt confident that he could do the same here.
As the start light went out it was Lehtonen that got the best get away and quickly set about defending his early lead, the race would be short lived though when Britain's Jonny Brewer barrel-rolled out of contention.
He was up in fourth place on the second lap when he rounded turn one and hit the wash of Nikita Lijcs.
That was enough to unsettle his Molgaard and over he went:
It's not been the best of weekends, ironically our focus had been on the GT30 World Championships and not F4.
Just making the top six in F4 qualifying was my goal, so you can imagine all our surprise when I took pole yesterday. It's been a good experience though, with a lot to reflect on.
With all the competitors back on the start jetty for the re-start it wasn't long before the Osprey Rescue teams had cleared the course ready for the off.
Once again Lehtonen made the best possible start, with both Jernfast and Britain's Ben Jelf (below) in hot pursuit.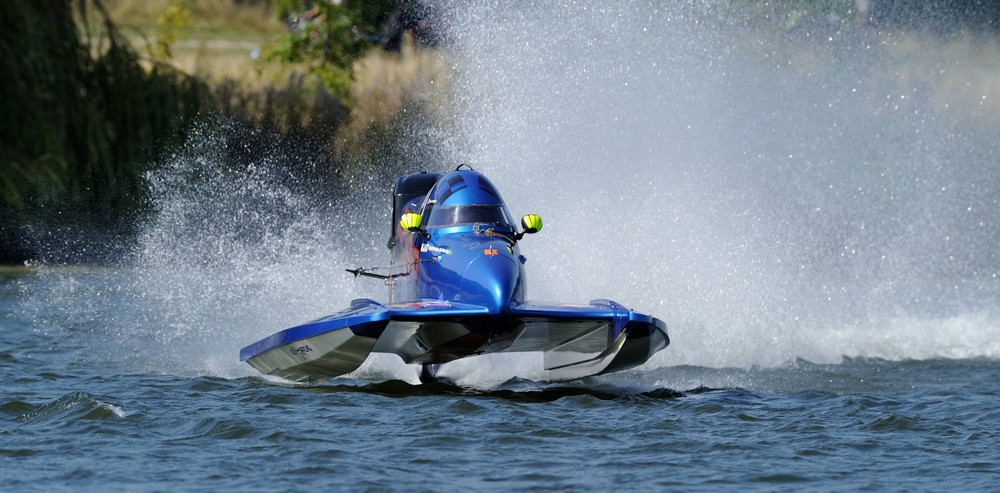 As he rounded turn one he once again squeezed the following pack over towards the pit entry lane markers in an attempt to slow their charge. Although not technically braking any rules the Race Officials thought this manoeuvre 'broke the spirit of the rules' and he was later given a yellow card for 'Bad behaviour on the water'.
Now with a comfortable distance behind him the race leader started to relax:
I saw Jernfast in my mirrors but then I also saw Jelf fighting with him, so I thought that works for me and just settled on my race pace.
Having sorted out the balance issues that he was having with his boat the previous day, Jelf knew that a podium position was comfortably within his grasp, but which step of it was unclear.
As the race went on he quickly realised that what was missing was top speed, well enough to catch Jernfast who was also defending his second position extremely well:
It was a little frustrating today because I know this boat goes well on this type of course.

We showed that in Italy for round two where I had the speed to win on a similar type circuit. Now we need to rediscover that before the next rounds.
As Lehtonen crossed the finish line he knew that he had taken a huge step in securing the UIM F4 world title:
This weekend has been massive for us.
Once we got that propeller working I knew we had a good chance of securing that top result.
For Jernfast though he felt extremely unhappy:
Ok, todays race was fine, my battle with Jelf was in control, as long as I didn't make a mistake, but this weekend has not gone at all to plan and has left us with a lot do at the next rounds in France.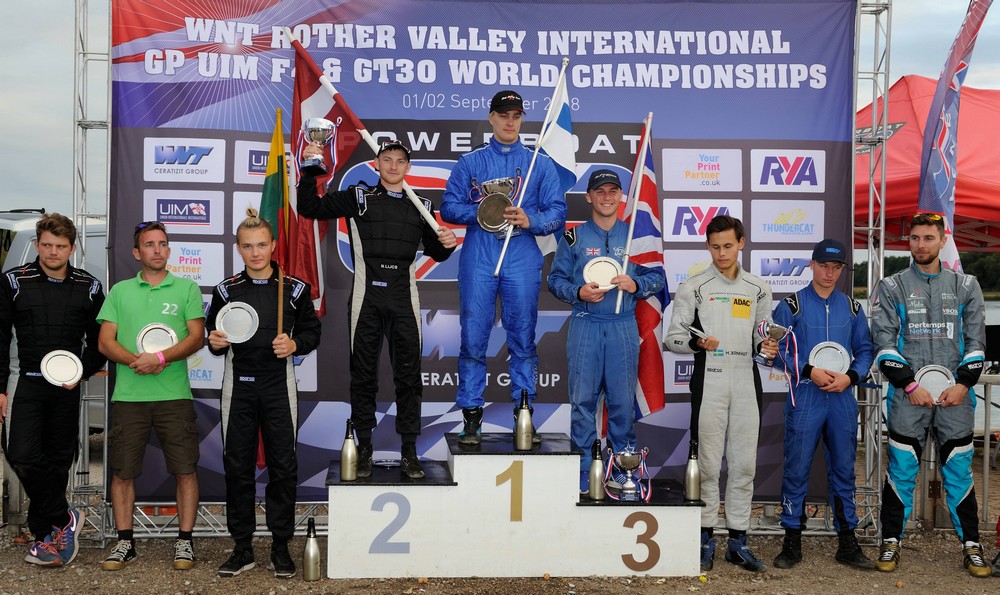 UIM Formula 4 World Championship Round 4 Results
1st) Tuukka Lehtonen FIN
2nd) Morgan Jernfast SWE 0:06:03
3rd) Ben Jelf GBR 0:07:89
4th) Nikita Lijcs LAT 0:11:39
5th) Paulius Stainys LTU 0:25:97
6th) Rudy Revert FRA 0:34:20
7th) Quentin Dailly FRA 0:38:70
8th) Leon King GBR L2
9th) Sam Coleman GBR L2
10th) Jonny Brewer GBR DNS
11th) Attila Horvath HUN DNS