The young Italian, Alberto Comparato took an impressive pole in Lithuania this afternoon and proved that his winter testing had paid off.
The qualifying was split into three groups with the fastest five from each group moving into Q2 and the top 10 heading into a Q3 shoot-out.
World Champion Rashed Al-Qemzi found himself drawn in heat one alongside some potent opposition that included Benavente, Sanz and Ivan Brigada.
The Emirati was patient for the first few laps, while Pettersson set the early target of 56.01sec and then the defending champion put in a blistering run of 54.96sec to move to the top of the rankings. After a short delay to replace a turn buoy, racing resumed in rough conditions and Al-Qemzi held on to win the heat with a best lap of 54.69sec.
Victory Team's Mansoor Al-Mansoori left it until the dying seconds to post a second fastest lap of 55.12sec, while Benavente, an inspired Frode Sundsdal and Ferdinand Zandbergen also qualified.
Brigada was one of five drivers to miss out with propeller and balance issues.
Hagin, Samuelsson and Comparato were three of the fancied racers in heat two.
The German didn't disappoint and won the heat with a lap of 54.88sec to qualify for Q2 along with Samuelsson, Riabko, Comparato and Österberg.
Abu Dhabi's Rashed Al-Tayer lined up alongside eight rivals in heat three, including Owen Jelf, Munthe-Kass, Ustinov and Philippe Tourre.
Six of the nine posted 57-second lap times in the first few minutes and then Al-Tayer was the first to lap in under 57 with a time of 56.44sec.
Brent Dillard (above) then carded an impressive 55.84sec lap to move to the top of the rankings and Munthe-Kass improved the target with a 55.44sec run halfway through the stint. Dillard went even quicker with a 55.25sec lap and was joined in Q2 by Munthe-Kaas, Al-Tayer, Bimba Sjöholm and Segenmark.
Fifteen boats lined up in Q2 and Dillard was the fastest after five minutes with a lap of 56.35sec.
Al-Qemzi played a similar strategy to Q1 and quietly waited for his opportunity to strike before carding a fastest tour of 55.86sec to move to the top of the leader board. Victory Team's Al-Mansoori crashed out soon afterwards and the yellow flag was raised while the boat and the unharmed driver were removed from the water.
Al-Tayer then stormed to the top of the rankings with a run of 55.72sec to almost certainly book his place in Q3, although Hagin ran a 55.19sec towards the end of the session. Zandbergen, Samuelsson, Österberg and Sundsdal were eliminated alongside Al-Mansoori.
Benavente set the target time of 54.53sec on his first lap at the start of Q3. Segenmark matched the Portuguese on his first run and went faster with a 54.19sec run on his last attempt. Riabko opened his account with a 53.75sec to gain the lead before Dillard took to the course and ran a first lap of 53.38sec to scorch to the front. Comparato, however, ran an opener of 53.44sec and then moved ahead of Dillard into provisional pole with a 53.25sec flyer.
Team Abu Dhabi's defending champion Al-Qemzi was next to run and he carded a first tour of 53.84sec to move into a provisional fourth position with four drivers still to run. A first run of 54.06sec was not quick enough for Munthe-Kaas, although the Norwegian did improve by 6/100ths of a second on his last lap. Al-Tayer began with a 54.09sec lap and improved with a 53.97sec second run but could not match his team-mate.
Hagin carded a best lap of 53.50sec and that left Sjöholm to try and prevent Comparato from claiming pole.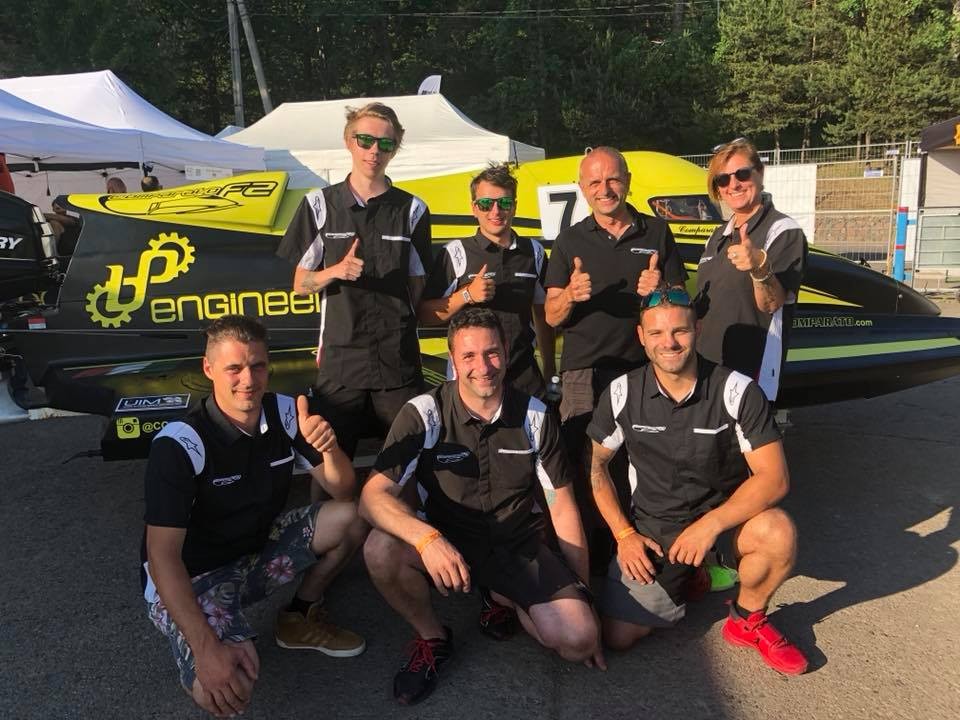 But the Swede missed out on the session with engine issues and the Italian claimed pole.
2017 Grand Prix of Lithuania – Q3 qualifying times:
Q3
1. Alberto Comparato (ITA) 53.25sec
2. Brent Dillard (USA) 53.38sec
3. Stefan Hagin (DEU) 53.50sec
4. Edgaras Riabko (LIT) 53.75sec
5. Rashed Al-Qemzi (UAE) 53.84sec
6. Rashed Al-Tayer (UAE) 53.97sec
7. Tobias Munthe-Kaas (NOR) 54.00sec
8. Daniel Segenmark (SWE) 54.19sec
9. Duarte Benavente (PRT) 54.53sec
10. Bimba Sjöholm (SWE) DNS
Q2
11. Ferdinand Zandbergen (DEU) 56.80sec
12. Oskar Samuelsson (SWE) 56.90sec
13. Johan Österberg (SWE) 57.09sec
14. Frode Sundsdal (NOR) 57.31sec
15. Mansoor Al-Mansoori (UAE) 58.86sec
Comparato photos: Emanuela Procaccini