Pierre Lundin from Sweden took the UIM F2 win in Tønsberg, Norway this afternoon.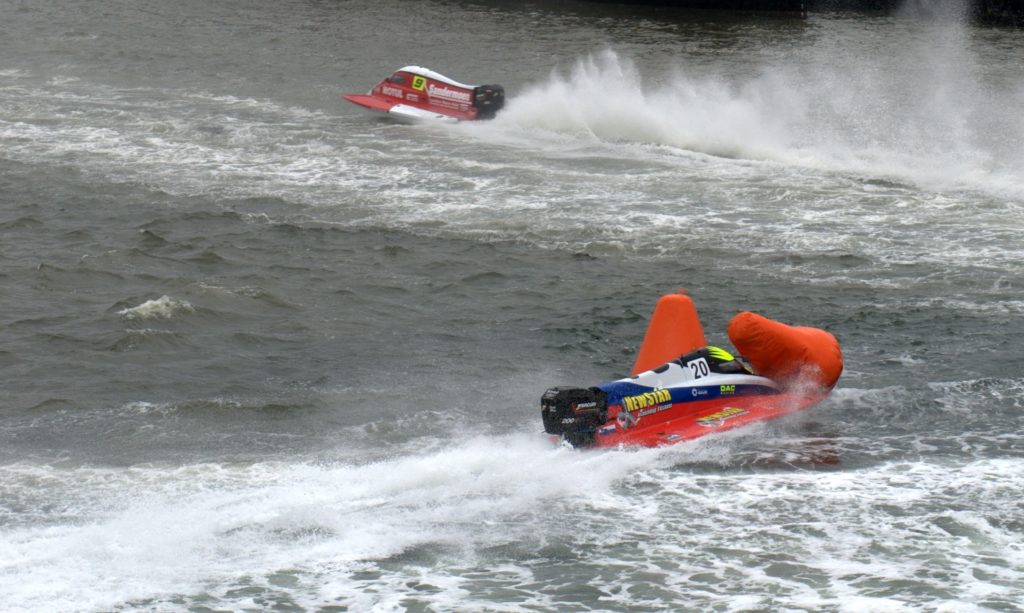 In a frenetic 44 lap battle the lead changed 3 times and saw yellow flags being flown for incidents various. The first time after Konstantin Ustinov took out one of the turn buoys opposite the harbour side restaurants and a slightly longer period following Christian Carlsen's barrel roll.
Pole sitter Erik Edin led for half the race until he made a spectacular somersault. Even more spectacularly the Swede hit the throttle as the boat landed the right way up and continued on his way, minus cowlings to finish in third.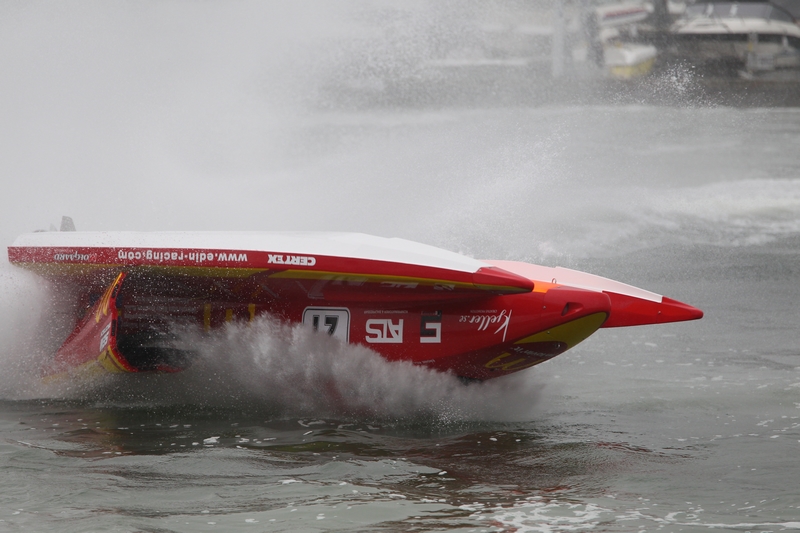 Edin said afterwards;
I just hit a hole and the boat fell over to one side,  It happened so quickly and then I just got back to full speed!
Britain's Matt Palfreyman was back to his best, pleasing the crowds with a bravado performance of driving. He briefly lead the race from Lundin but eventually had to settle for second.
This result is dedicated to my team. They have all put so much work in to help me get on to the podium today. I did actually think I could have won it, now we have my BaBa boat working, I'm looking forward to racing Pierre in Lithuania at the end of the month.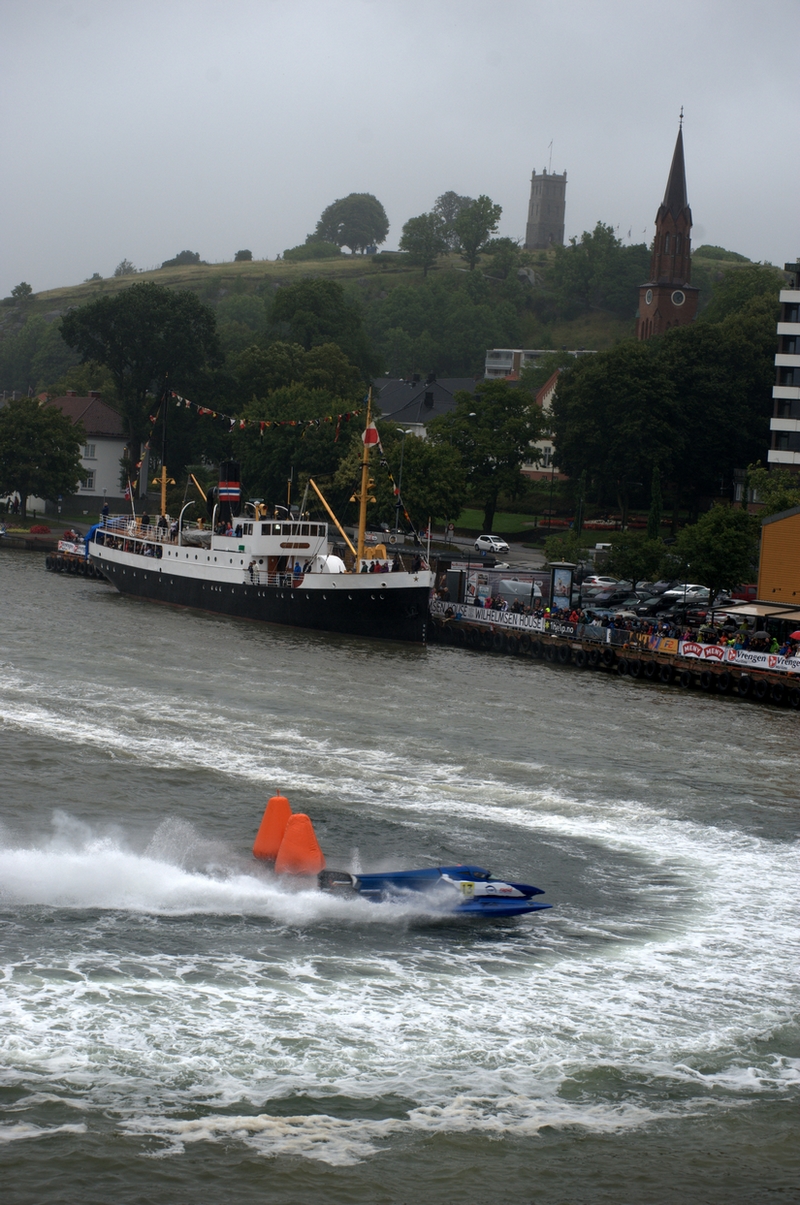 As for the quietly determined Lundin, he described his win as;
That win was much tougher than last year. The poor visibility just made it really difficult to see the water conditions and I nearly got caught out a lap before Rupp Temper crashed out.
A little bit lucky really, things went my way today. For both drivers to crash out ahead of me was really not what I expected.
For the Tønsberg Event Director and UIM F2 competitor, Frode Sundsdal, the fairytale home win didn't materialise today but he certainly gave it his best shot. In the run down to the first turn on the opening lap he was squeezed out and had to back off, dropping almost to rear of the field. Mechanical issues then meant he was unable to mount any significant challenge and had to settle for fifteenth place.
My drive of the day goes to Mette Brandt Bjerknæs.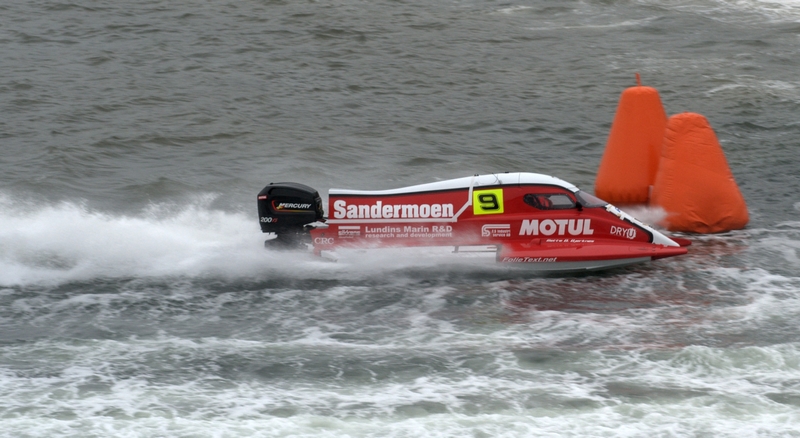 The young English School Teacher from Oslo, drove the race of her life to finish in the best UIM World race position of her life, 6th.
Tønsberg once again proved to be an exciting and unpredictable race course.
Who could have predicted that the 2016 podium positions would be the exactly the same as last year?
| | | | | | | | |
| --- | --- | --- | --- | --- | --- | --- | --- |
| 1 | 1 | Pierre Lundin | Moore | SWE | 45 | 00:48:21:15 | 20 |
| 2 | 13 | Matthew Palfreyman | BaBa | GBR | 45 | 00:48:24:59 | 15 |
| 3 | 21 | Erik Edin | Molgaard | SWE | 45 | 00:48:53:57 | 12 |
| 4 | 6 | Ola Pettersson | Molgaard | SWE | 45 | 00:48:55:39 | 9 |
| 5 | 51 | Uvis Slakteris | Molgaard | LAT | 45 | 00:49:00:95 | 7 |
| 6 | 9 | Mette B. Bjerknæs | Moore | NOR | 45 | 00:49:03:70 | 5 |
| 7 | 5 | Rupert Temper | DAC | AT | 45 | 00:49:09:48 | 4 |
| 8 | 20 | Konstantin Ustinov | DAC | RUS | 44(a) | 00:48:38:45 | 3 |
| 9 | 35 | Rashid Al Qamzi | DAC | UAE | 44 | 00:48:28:09 | 2 |
| 10 | 2 | Johan Österberg | Molgaard | SWE | 44 | 00:48:31:87 | 1 |
| 11 | 77 | Tobias Munthe-Kaas | BaBa | NOR | 44 | 00:48:41:82 | 0 |
| 12 | 22 | Andrey Panyushkin | DAC | RUS | 44 | 00:48:44:95 | 0 |
| 13 | 41 | Edgaras Riabko | DAC | LT | 44 | 00:48:46:26 | 0 |
| 14 | 55 | Frode Sundsdal | DAC | NOR | 42 | 00:48:32:73 | 0 |
| 15 | 44 | Alberto Comparato | DAC | ITA | 30 | 00:35:54:56 | DNF |
| 16 | 60 | Christian Carlsen | DAC | NOR | 13 | 00:13:50:73 | DNF |
Legend: (a) One Lap Penalty – Destroyed One Buoy;
Photos: Kristian J Vabo and Chris Davies