Tom Barry-Cotter and Ross Willaton's Maritimo was the class of the field during the XCAT Pole Position session held at Stresa this morning.
The Aussie team posted a fastest lap of 2.24.461 in the Shoot-Out, Giovanni Carpitella and Darren Nicholson, driving 222 Offshore, were second best with a 2.25.439.
The defending XCAT World Champions, Shaun Torrente and Faleh Al Mansoori (below) put Team Abu Dhabi #4 third on the grid with a 2.25.902.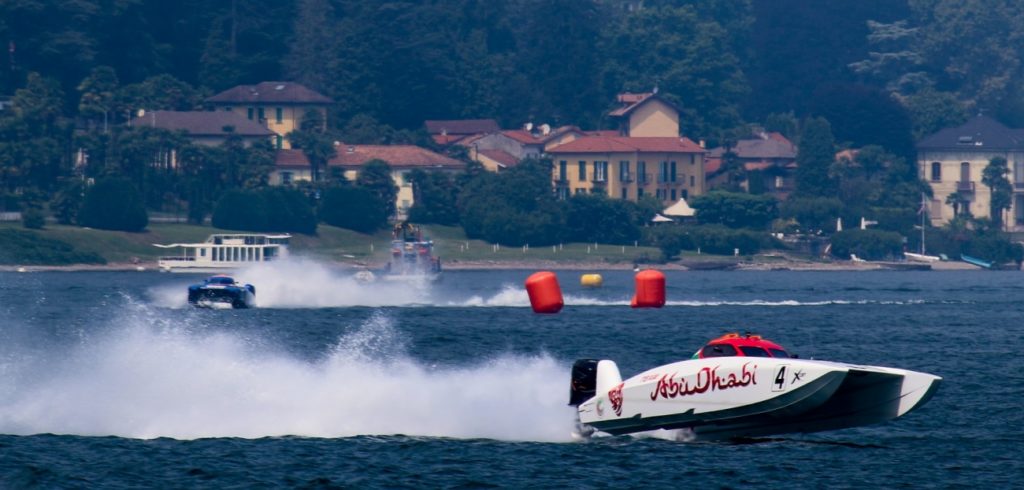 2019 UIM XCAT World Championship - Round 1 - Stresa, Italy - Pole Position
| # | Country | Boat Name | Hulll | Driver | Co-Driver | Fastest Lap |
| --- | --- | --- | --- | --- | --- | --- |
| 12 | AUS | Maritimo | Maritimo | Tom Barry-Cotter | Ross Willaton | 2.24.461 |
| 10 | ITA / AUS | 222 Offshore | Victory | Giovanni Carpitella | Darren Nicholson | 2.25.439 |
| 4 | UAE | Team Abu Dhabi | Victory | Shaun Torrente | Faleh Al Mansoori | 2.25.902 |
| 8 | AUS | The Blue Roo | Victory | Pål-Virik Nilsen | Jan Trygve Braaten | 2.26.142 |
| 3 | UAE | Dubai Police | Victory | Arif Al Zaffain | Nadir Bin Hendi | 2.26.783 |
| 5 | UAE | Team Abu Dhabi | Victory | Rashid Suhail Al Tayer | Majed Saeed Al Mansoori | 2.28.109 |
| 96 | ITA | HPI Racing Team | Doug Wright | Rosario Schiano Di Cola | Giuseppe Schiano Di Cola | 2.28.509 |
| 2 | SWE | Swecat Racing | Victory | Erik Stark | Sebastian Groth | 2.28.747 |
| 46 | ESP | Consulbrokers | Victory | Andrea Comello | Luca Betti | 2.31.810 |
| 17 | KUW | Kuwait | Victory | Abdullatif Al Omani | Moustafa Al Dashti | 2.31.976 |
| 22 | ITA | Videx | Victory | Alfredo Amato | Joakim Kumlin | 2.32.037 |
| 9 | RUS | New star | Victory | Mikhail Kitashev | Dmitriy Vandyshev | 2.33.414 |
| 20 | ITA | De Mitri | Victory | Roberto Lo Piano | Andrew Willaton | 2.38.655 |