We continue with the history of Offshore Class 3 as experienced by Ray Bulman.
Part 1 is here.
---
Twelve months later a second Putney Calais race with almost 40 entries was joined by a second offshore contest held two months earlier at the South Coast port of Newhaven, again both supported by the Regent Oil Company as regards fuel.
By now a set of rules had been formulated with the class broken down into three outboard sub-divisions in line with the individual horsepower stated in manufacturer's catalogues.
The new offshore sport began attracting wider media exposure and as all craft had to be less costly standard off, the shelf production hulls using regular outboard engines; UKOBA began gaining more and more trade members keen for publicity.
As soon as the new British national powerboating authority was established (RYA) in 1963 the new sport gained recognition by the international powerboat authority Union Internationale Motonautique (UIM).
It was given the title of Offshore Class III with a maximum engine capacity four litres, 50 per cent of Class II (8 litres). The new UIM ruling also allowed all engine types, both inboard and outboard.
This caused problems on the British scene as Class III races held by UKOBA – now the major UK organiser – were restricted to available production outboards. As the RYA ruling stipulated a maximum of three litres for the largest class sub-division the UIM ruling was ignored.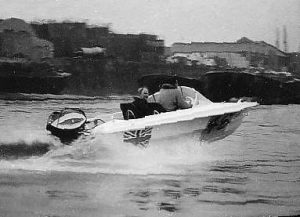 Britain was still the main organiser of Class III and while Scandinavia was also taking notice few competitors seemed keen to seek larger engines.
It was about four years after UKOBA was launched that the club was opened up to all offshore enthusiasts regardless of any trade connections.
By the mid-1960s the racing calendar for Class III had overtaken events organised for the international Class I and II categories. It was becoming difficult to maintain the outboard aspect of the sport.
Demand to open up Class III to all types of power unit could no longer be ignored and sterndrive inboards were allowed to compete.
With this in mind the UKOBA committee decided to drop 'outboard' from its title in favour of 'offshore'.
Another change took place when it was discovered that the given horsepower stated by some outboard manufacturers was widely ranging.
What was claimed as 50hp by some was actually 45hp and 55hp with others. It was therefore decided to drop the manufacturers stated output in favour of the cubic cylinder capacity.
The three original sub-divisions of 50, 75 and 100hp now became 1,000cc, 1500cc and 3,000cc with outputs obviously varying according to preparation and tuning.
By 1965 special one-off craft began creeping into Class III all claiming to be production boats. These had been designed and built as pure racing hulls they were extremely competitive and began annihilating competition offered by the standard glass-fibre off-the-shelf waterskiing types.
Perhaps the best example was the Sonny Levi designed Mongaso owned and driven by Mike Beard.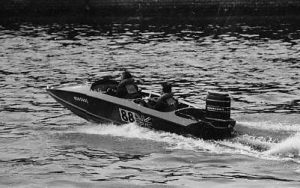 Mongaso (left) virtually dominated Class III in 1965 and from then on a chink appeared in the rules. Within two years standard production craft were in the minority.
With costly pedigree hulls such the Don Shead designed Avenger together with outfits such as Mongaso it was becoming difficult to maintain the production aspect of UKOBA's rules.
Later still the arrival of the first Cougar catamaran in 1968 was the final death knell of the racing ski-boat.
Photos: Ray Bulman / powerboatarchive2.co.uk