A press conference launching P1 Superstock's Nexa P1 Powerboat, Indian Grand Prix of the Seas event in Mumbai, India yesterday was overshadowed by a bureaucratic nightmare.
The Grand Prix of the Seas has been organised by Powerboat P1 in partnership with Procam International a leading sports management company founded by Anil Singh and Vivek B. Singh and P1 Panthers are being shipped from the UK and US for racing in India over the March 3rd – 5th weekend for 'The Nexa P1 Powerboat, Indian Grand Prix of the Seas'.
During an upbeat press conference, P1 Chairman Asif Rangoonwala was asked, 'Why hold a race in India'?
'Why India? I am a son of this land. And Mumbai's shoreline provides us with a lucrative opportunity'.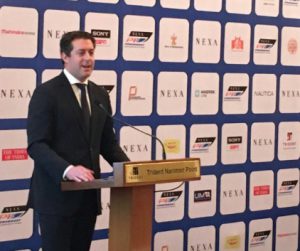 'We are building a global structure to propel the sport to the next level and it starts in Mumbai,' commented James Durbin, CEO of Powerboat P1.
However, the Brihanmumbai Municipal Corporation (BMC) armed with a JCB and a plethora of workers tried to be party poopers in chief and close down the proceedings earlier in the day at the intended launch location.
According to the BMC, Procam International, which had organised the recent Mumbai Marathon, still owed them Rs 2.74 crore.
A BMC official told India's Mid-Day.com, 'Because previous dues were pending, no permission was given to host this event. The company has only paid R23 lakh of the total Rs 2.98 crore it was supposed to pay'. He added, 'The ward office wasn't approached for permission for the event, and the company only sent a letter on Thursday'.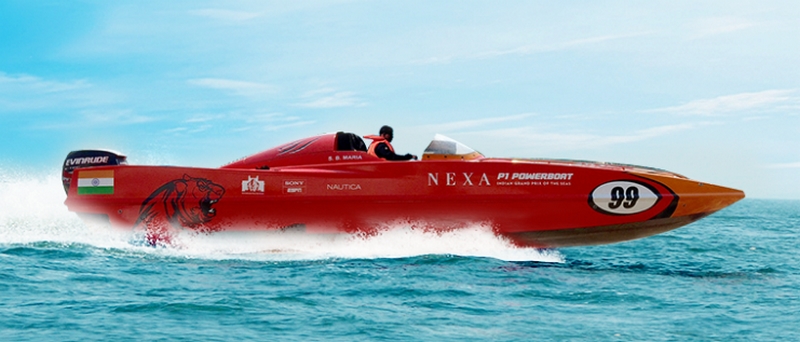 In a statement from Procam International sent to Powerboat Racing World, the company said, 'We are extremely disappointed by the unjustified action by the MCGM today to stop the launch of a global sport from the city of Mumbai.'
'We have cleared all dues to MCGM related to the Mumbai Marathon. There are additional charges that are in dispute with the MCGM for which we are following the due processes'.
'In such a scenario, today's action was uncalled for as MCGM have been an integral part of the Procam journey. We intend to take up this matter at the highest level and address the issue'.
Let's hope this issue is resolved quickly, as those P1 Panthers from the UK and US are nearing the end of their Passage to India.
Main Photo: Mid-Day.com
Other Photos: P1 India