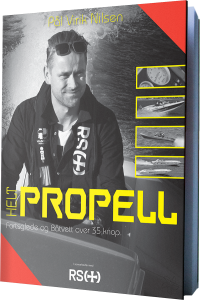 Pål Virik Nilsen from Sandefjord, Norway grew up by a lake and has vast experience with fast boats.
He has competed in most classes of Offshore and Circuit Racing, participating in over 250 races.
A World Cup title, two Norwegian championships, three Australian championships sit with six UIM European and World Championship medals in his trophy cabinet.
In 2009 he was named Norwegian Motorsport athlete of the year.
He currently throttles for Team Australia in XCAT Racing.
Last year he published a book Helt-Propell, an incredible read that teaches high speed boat handling and safety on the water.
There is no better feeling than driving fast ona lake, understanding the G-forces on the turns and feeling like a butterfly in the boat when taking on big waves!
However, there is no worse feeling than being in an accident, and lying helpless in the water and wondering what happened to your fellow crew.
Helt-Propell will help to give you confidence and knowledge, so that you can experience the G-forces and flights of waves, without putting your or others' lives at risk.
Virik Nilsen, using the book as a training manual, embarked on Step two, to set-up a fast boat driving course.
It's part theoretical and part practical, where we go out and drive our Goldfish 28′ Tender with twin Evinrude 300 hp motors.
This concept has been well received here in Norway.
I look forward to working and teaching people about this, so they can have a better time with their boats and more safe for their passengers.
I am proud to have the Norwegian sea safety company AS a partner among many other good maritime companies.
You can purchase a copy of Helt-Propell from the web site, Chris Davies took the photograph of Pål Virik Nilsen in his Goldfish last weekend at the Tønsberg Boatshow.