Pole sitter Erik Edin led from start to finish on a warm summer Saturday evening in Tvedestrand, Norway.
The top four positions were 'as you were' from the previous day's qualifying.
Frode Sundsdal who came in fourth, put in his best UIM F2 position since coming out of retirement, the ageing Norwegian was delighted.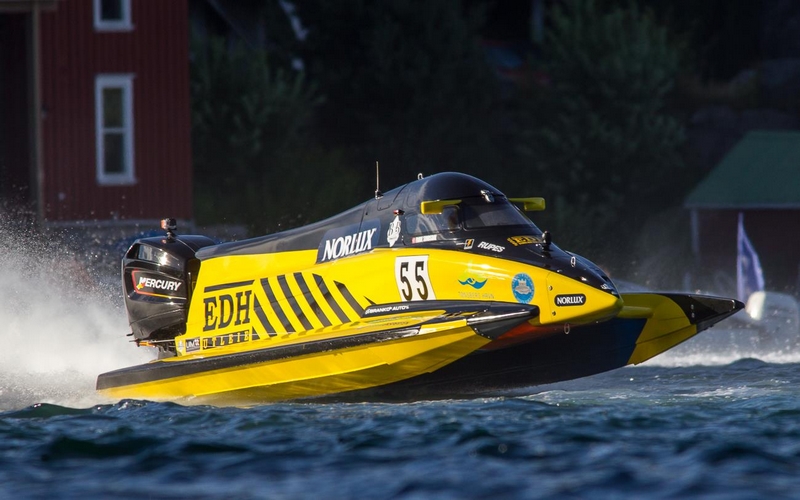 We are 'over the moon' with our 4th place and 9th overall in the F2 World Championship. We can't wait for the next round in Tønsberg! Watch out for the yellow lightning!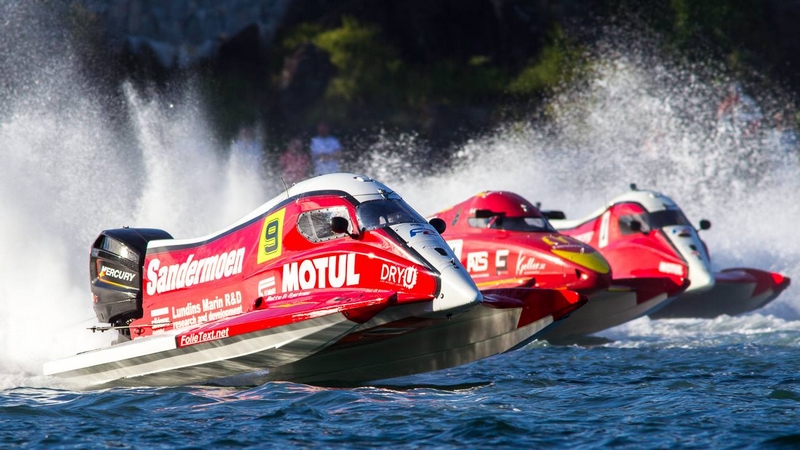 Mette Brandt Bjerknæs was having a great drive in her new Moore hull until she was cruelly robbed of 50% of the blades from her propeller, which in turn forced the gutsy Norwegian school teacher to retire.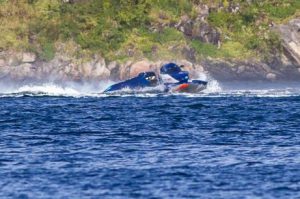 The race was fairly uneventful apart from one big incident before the second turn on the first lap.
Matt Palfreyman added a Somersault to his talented repertoire after being hit whilst on an amazing surge through the fleet, we'll cover this incident in a separate article this week.
The UIM F2 circus hasn't got far to travel for Round 4, staying in Norway, they head to Tønsberg to race over the 5th to 7th of August.
| | | | | | | | |
| --- | --- | --- | --- | --- | --- | --- | --- |
| 1 | 21 | Erik Edin | Molgaard | ENG | 40 | 00: 35: 56: 27 | 20 |
| 2 | 1 | Pierre Lundin | Moore | ENG | 40 | 00: 35: 58: 92 | 15 |
| 3 | 5 | Rupert Temper | DAC | AT | 40 | 00: 36: 36: 71 | 12 |
| 4 | 55 | Frode Sundsdal | DAC | NOR | 40 | 00: 36: 47: 46 | 9 |
| 5 | 54 | Daniel Segenmark | DAC | ENG | 39 | 00: 36: 02: 30 | 7 |
| 6 | 3 | Owen Jelf | BaBa | GBR | 39 | 00: 36: 04: 52 | 5 |
| 7 | 60 | Christian Carlsen | DAC | NOR | 39 | 00: 36: 06: 17 | 4 |
| 8 | 41 | Edgaras Riabko | DAC | LT | 39 | 00: 36: 13: 21 | 3 |
| 9 | 10 | Oskar Samuelsson | Molgaard | ENG | 39 | 00: 36: 28: 96 | 2 |
| 10 | 44 | Alberto Comparato | DAC | ITA | 39 | 00: 36: 32: 83 | 1 |
| 11 | 11 | Bimba Sjöholm | Molgaard | ENG | 38 | 00: 36: 19: 21 | 0 |
| 12 | 2 | Johan Osterberg | Molgaard | ENG | 28 | 00: 26: 44: 14 | 0 |
| 13 | 77 | Tobias Munthe-Kaas | BaBa | NOR | 24 | 00: 23: 28: 22 | DNF |
| 14 | 9 | Mette B. Bjerknæs | Moore | NOR | 16 | 00: 16: 21: 92 | DNF |
| 15 | 88 | Pal Virik Nilsen | Molgaard | NOR | 15 | 00: 15: 54: 42 | DNF |
| 16 | 13 | Matthew Palfreyman | BaBa | GBR | 0 | | DNF |
| 17 | 6 | Ola Pettersson | Molgaard | ENG | 0 | | DNS |
| 18 | 46 | Stian Slaattedalen | DAC | NOR | 0 | | DNS |
Photos: Kristian J. Vabø Photography