The second round of the RYA Powerboat GP British Championship, the 'Lancashire Grand Prix' will take place this weekend, 28th – 29th May.
To be held at Carr Mill Dam, St Helens, over the Bank Holiday weekend,  5 classes ranging from the junior categories with racers as young as 9 years old up to the thrilling 120 + mph F2 catamarans will be all be competing for British National points.
There will be an abundance of home-grown talent from the Lancashire Powerboat Racing Club competing and looking to make full advantage of home club waters.
Making a popular outing for the first time this season will be the Monohull T850 Class that produced some extremely close and thrilling racing throughout the 2015 season and looks set to continue throughout this year. Local competitor Bill Owen will be looking to get the jump on team mate David James but both will be weary of the competition from Bedford's Nigel Edwards and the rest of the fleet as they all look to get the best start to their championship campaign as possible.
Whilst Ben Jelf took an early lead in the GT30 campaign at Lowestoft, local Bolton lad Jack Pickles put in a Stirling performance battling hard with Lowestoft's Thomas Mantripp.
On his home water Jack will be looking to take full advantage,
I'm happy with how the boat handled at Lowestoft and my battle throughout the weekend with Thomas was some great experience for me especially as Thomas knows the course at Lowestoft so well. Hopefully all my testing at Carr Mill can give me a slight advantage in the forthcoming Lancashire Grand Prix and I can catch Teigen and Ben who we're in great form earlier in the month. I'd really love to finish on the podium on home water as it would be a great way to say thank you to my family and sponsors TopCat Racing for all their support and dedication to me racing.
Also looking to improve on the Lowestoft Grand Prix will be young gun Matt Palfreyman of Aughton, whose season didn't get off to the best of starts.
It was a late call to make the first National round and we then had a problem with the fuel tank so couldn't compete in all 3 races and then in the last I heat I was a little over eager in the start so basically had to try and overtake as many racers as I could to claim valuable points. It's a really strong fleet out there and everyone's on top form so the Lancashire GP will be an interesting one. The course is very unique and whilst everyone's raced here before, Balfour and I certainly have the home water advantage as this is where we train. I'm hoping all problems from Lowestoft are now behind me and I'm looking for a home water GP win like last year. It's even better winning on home water as the crowds really behind you.
Matt will have his work cut out with Championship leader Colin Jelf and 2nd placed Paul Balfour both putting in flawless performances at Lowestoft these seasoned racers will make it really hard for the youngster to take the Lancashire Grand Prix title for the second consecutive year.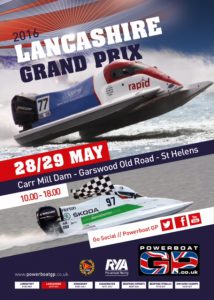 Racing at Carr Mill Dam commences on Saturday 28th May with timed practice session taking place from 10:00 for each class, where the drivers will be fighting for that all-important pole position.
In the afternoon, racing is set to start around 12:30 and each class will complete at least one race.
A full day of action takes place the following day from 10:00.
The event is free for spectators, so everybody is welcome to come along and watch the action.
You can see the racing from anywhere around the banks of the Dam or you can join the racers, their skilled mechanics, pit crew and teams in 'The Boathouse' grounds and where you can listen to the live commentary.