Team Abu Dhabi's Ortendahl claim's ladies parallel slalom title 
 Kuwait City, 13th November, 2021: Team Abu Dhabi's Rashid Al Mulla secured a fourth consecutive freestyle crown in the UIM-ABP Aquabike World Championship today with yet another dominant display at the Grand Prix of Kuwait. 
The Emirati's latest triumph came after Abu Dhabi team-mate Emma-Nellie Ortendahl had won the ladies title in the Parallel Slalom World Championship staged under floodlights on Friday evening. 
Extending a superb winning run stretching back four years, Al Mulla completed back-to-back victories in Kuwait for his 28 successive moto and 13th overall Grand Prix success in a row. 
His dominance of the world freestyle series has not been seriously threatened since his first Grand Prix win back in November 2017, and he once again had far too much power and style for nearest challenger Roberto Mariani of Italy to challenge. 
Ortendahl had seen off fellow-Swede Jonna Borgstrom on her way to Friday night's ladies slalom final where she beat Estonia's Jasmiin Ypraus. 
Ultimately, the three-time Ski Ladies GP1 world champion had to accept runners-up spot to Borgstrom in this year's title race after a battling display in Kuwait. 
Following her victory in yesterday afternoon's second moto, Ortendahl finished second to Ypraus in moto 3 today, as Borgstrom settled for third position to secure the championship.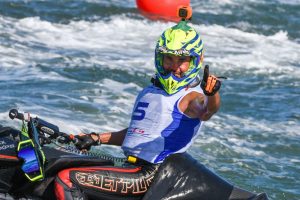 Team Abu Dhabi's Rashed Al Tayer once again showed he has the pace to match the best in Runabout GP1 before a mechanical problem ended his charge towards a podium finish in today's final moto. 
Frenchman Jeremy Perez collected the world Runabout title despite a third successive moto victory on home waters for Kuwait's Yousef Al Abdulrazzaq. 
 Captions:  
Rashid Al Mulla – world champion for a fourth time

 
Emma-Nellie Ortendahl – won the ladies Parallel Slalom World Championship