The season blasted off along Florida's iconic Space Coast as Thunder on Cocoa Beach launched the 2019 APBA Offshore Championship. This highly anticipated event boasted a joint partnership between the Offshore Powerboat Association (OPA) and Powerboat P1, designed to strengthen the future of offshore racing in the United States.
"We want to stage events that excite and entertain, ensuring enjoyment for spectators and TV audiences with sponsor value and a real economic impact for the host venues," stated Powerboat P1 CEO Azam Rangoonwala.
And that they did, as the 3 day event lured an impressive national and international fleet: 55 teams and the star power of stunt performer/motorsports athlete extraordinaire Travis Pastrana aboard JRA/ Hurricane of Awesomeness in Vee Extreme Class.
Super Stock generated exciting moves as a trio of teams, including 2018 National Champion Nick Scafidi of Shadow Pirate.
"There's 15 or 16 boats in the class and you can bet they're all gunning for me," Scafidi told me.
And those words rang true as Shadow Pirate powered ahead of the pack. Gary Ballough aboard FJ Propeller (his new 32' Victory built catamaran) and Performance Boat Center with Myrick Coil and Rusty Williams traded second and third slots. Shadow Pirate got back in the chase moving up the ranks from third to regain the lead and captured the checkered flag.
It was over the top racing in Super Cat. At the start, the non-stop competition revved into action as Wayne Valder and Grant Buggemann aboard Pro Floors Racing grabbed the lead with Tyler Miller and Tyson Garvin of M-Con in hot pursuit.
The intense, and at times deck-to-deck battle kept fans on their feet throughout the 8 lap contest. Although Miller and Garvin never let up, it wasn't enough for the M-Con team as Valder and Bruggemann held their lead, piloting Pro Floors Racing to a flawless finish.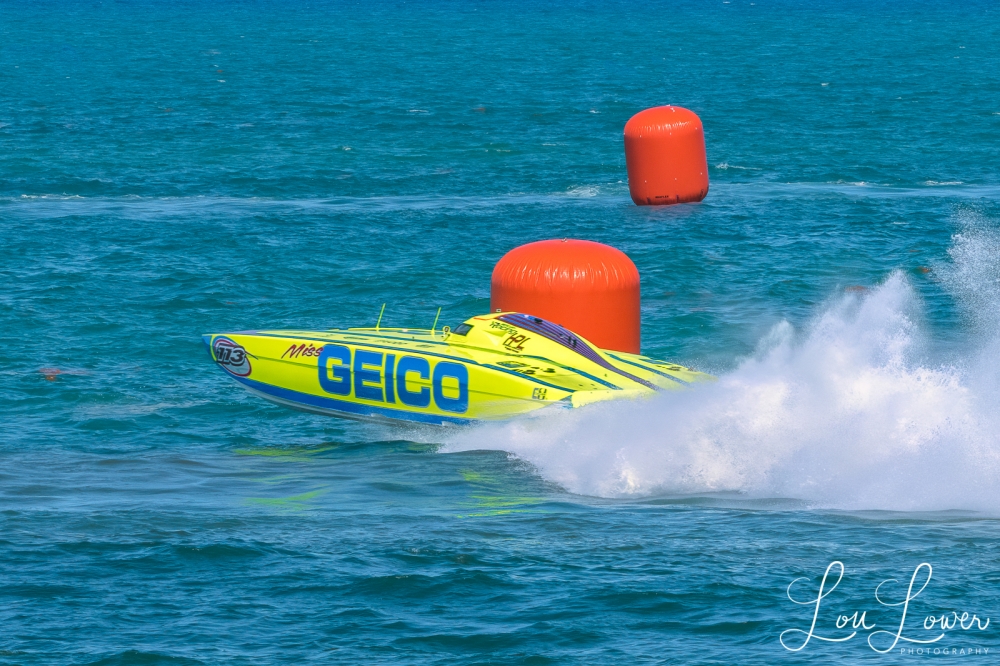 While Class One showcased the new Mercury Racing 1100 Comp engines powering a trio of teams – Miss Geico, 222 Offshore and Victory – from the 5 boat class lineup. Taking the green flag, a fight for first between Miss Geico and Victory ensued; however, as the laps progressed, the race belonged to Miss Geico as James Sheppard and Steve Curtis stretched an impressive lead over the fleet and clinched the win.
I met Thunder on Cocoa Beach Executive Director/Race Chairman Kerry Bartlett when I covered the inaugural event and had a chance to catch up with him as the last race was getting underway.
While challenges are monumental, success shines bright and today was that day as we stood on the beach packed with wall-to-wall fans. Bartlett summed up these past 10 years like this.
"I hope this is the start of a new era in boat racing. This was a collaboration of a lot of good people and now look what we got."
Racing Forward
The 6 race series calendar flips to Lake of the Ozarks, Mo (May 31-June2); Sarasota, FL (July 5-7); St. Clair, MI (July 26-28); Michigan City, IN (August 2-4) and wraps up in Ft. Myers Beach, FL (Oct. 10-12).
Televised air dates for Thunder on Cocoa Beach
P1 APBA Offshore Powerboat Series Cocoa Beach premiers on CBS, Sunday, June 16 at 1 PM EST
P1 Superstock from Cocoa Beach premiers on Fox Sports Sun on Sunday, June 2 at 6 PM EST
Complete race results at www.opa.org