The Bund Holding Group have announced a landmark development in the World of Powerboat Racing with the launch of the China Bund Electric Integrated Propulsion System (EIPS) high performance marine racing engine.
Mr Xin Chongjie, president of the highly successful Chinese conglomerate Bund Holding Group and Mr Dario Calzavara, managing director of the renowned Italian specialised engineering company Terra Modena Mechatronic, revealed details of this significant engineering achievement at today's press conference in Monaco, hosted by Dr. Raffaele Chiulli, the president of the Union Internationale Motonautique (UIM), ahead of its eighth Awards Gala Dinner to be held tonight.

The project to develop and produce the China Bund EIPS, which will be the engine of choice for the UIM-H2O Nations Cup World Series, has taken two years of research and development at Terra Modena Mechatronic's engineering facility in Reggio Emilia in northeast Italy and is fully endorsed by the president of the UIM and has received the full support of the president of H2O Racing, Nicolo di San Germano, the promoter of the UIM F1H2O and AquabikeWorld Championships and Nations Cup World Series.
Terra Modena Mechatronic is a world leader in its field and has already designed and produced a single seater electric racing car, the Terra Modena SG 1.
Dario Calzavara (above with, Nicolo di San Germano Dr. Raffaele Chiulli and Xin Chongjie) said;
Building on our experience the company started to design an upgraded compact electric power unit for BUND Holding Group.
While most of the competitors' electric energy systems power units are conceived for low power and low autonomy, the China Bund EIPS was designed to grant high performances and high autonomy for both racing and everyday use.
The environmental impact of the China Bund EIPS is highly significant and cannot be under estimated.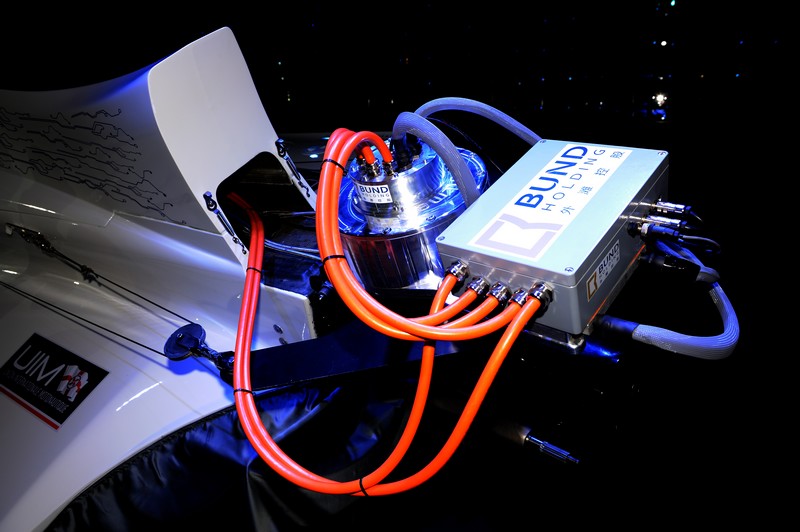 Dr. Raffaele Chiulli told Powerboat Racing World;
We are combining a traditional boat design with an alternative power source.
It will be the first zero emission racing engine to be used in an international powerboat event, and further endorses Bund Holding Group's strategy of investing in high quality innovative carbon reduction projects and striving for carbon neutral events.
Photos: Chris Davies