UIM F1H2o BRM Qualifying on the Arade River was rescheduled for Sunday morning in place of free practice and was split into two sessions for the second time in three weeks. Race officials arranged to run Q1 over 20 minutes to eliminate seven of the 19 boats and, after a 10-minute break, Q2 ran for 30 minutes to determine the top six for pole position points.
Weather conditions were more favourable on the 1.937km course on Sunday and Chiappe made his intentions clear from the outset with an opening lap of 43.67 seconds in clear water conditions. That was sufficient to put the Frenchman into Q2. Carella and Al-Qamzi slotted into seventh and ninth places and survived the cut to progress to Q2. Mike Szymura, Jesper Forss, Christophe Larigot, Cédric Deguisne, Nadir Bin Hendi and Filip Roms were eliminated, but Marit Stromoy survived in the dying seconds at the expense of Francesco Cantando.
Chiappe laid down the gauntlet of 43.59sec at the start of Q2, but that was eclipsed by a 43.39sec lap set by Sami Selio. Torrente had suffered some technical issues in Q1 and was not able to join the session until the last five minutes, although Carella and Al-Qamzi moved into sixth and ninth through the early minutes.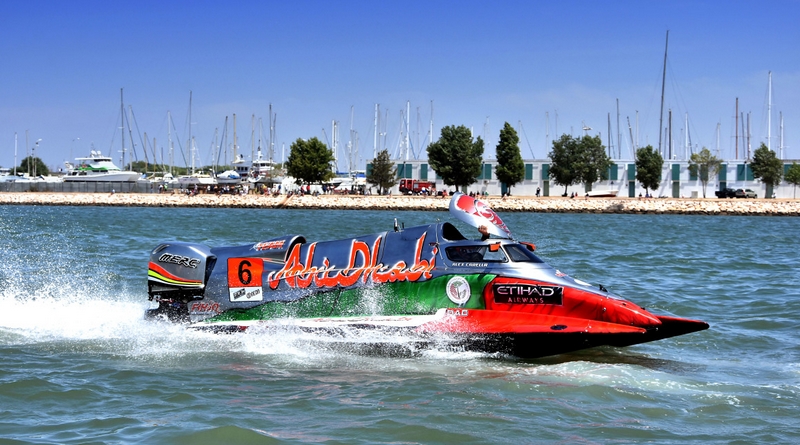 Conditions began to deteriorate as the session progressed and that made it that much more difficult to set top lap times. Carella climbed to fourth with a lap of 43.78sec and Al-Qamzi moved up to sixth with a 44.20sec. But Carella was not to be denied and the Italian stormed to the top of the leader board with a tour of 43.28sec and was followed by Andersson with a lap of 43.31sec. Ahmed Al-Hameli limped out of fifth place with mechanical issues, as the boats entered the final 10 minutes of the session.
Chiappe, racing for the 12th time in his career in Portugal, regained provisional pole by pipping Carella by 2/100ths of a second, but Selio went even faster with a time of 43.11sec to hit the top for the third time in his career in Portugal. Carella upstaged Chiappe to snatch second place with five minutes to go, as Torrente joined the fray and Stark stormed into second with a time of 43.19sec. Torrente gained fifth in the final seconds, but Carella limped off the course in third place, with Al-Qamzi in ninth, although Carella extended his lead in the UIM F1 H2O World Pole Position Championship to six points.
2016 Grand Prix of Portugal– BRM Qualifying result (Q2):
1. Sami Selio (FIN) Baba Racing – 43.11sec
2. Erik Stark (SWE) Emirates Racing Team – 43.19sec
3. Alex Carella (ITA) Team Abu Dhabi  – 43.25sec
4. Philippe Chiappe (FRA) China CTIC Team – 43.26sec
5. Shaun Torrente (USA) Victory Team – 43.27sec
6. Jonas Andersson (SWE) Team Sweden – 43.31sec
7. Ahmed Al-Hameli (UAE) Emirates Racing Team – 43.61sec
8. Duarte Benavente (PRT) F1 Atlantic Team – 44.09sec
9. Thani Al-Qamzi (UAE) Team Abu Dhabi – 44.20sec
10. Marit Stromoy (NOR) EMIC Racing Team – 44.28sec