Andrew Tate from Walled Lake, Mich., defending HAPO Columbia Cup trophy winner and national champion, drove his U-1 "Delta/RealTrac" unlimited hydroplane to victory in his two preliminary heats Saturday during the 54th annual HAPO Columbia Cup on the Columbia River in Tri-City, Wash.
Jimmy Shane, from Maple Valley, Wash., driver of the U-6 "Miss HomeStreet" also won his two heats.
The wins did not come easy for either driver. Tate had to fend off the U-3 "Griggs presents Miss Ace Hardware" and her driver, Jimmy King from Memphis, Mich., in the only piston-powered hydroplane in the 10-boat H1 Unlimited Hydroplane Racing Series field. Shane fought J. Michael Kelly in the U-12 "Graham Trucking" in both of his heats.
Tate said it was a bit bumpy out there today, especially with five boats on the course:
It's nice to have that many boats to race against out there.

It not only makes it exciting for the fans but also for us drivers.
Tate said he wasn't surprised at Jimmy King's performance:
When that boat runs, it really runs!

I was pumped, that was a lot of fun today and to run against Jimmy King, a friend that lives about an hour from me in Michigan, makes it that much more fun.

I love him to death, and this was just another great weekend of boat racing against each other.
Shane and his two heat wins did not come without some challenges. In Heat 1A, the boat lost a water line supplying lubrication to the shaft and other running hardware.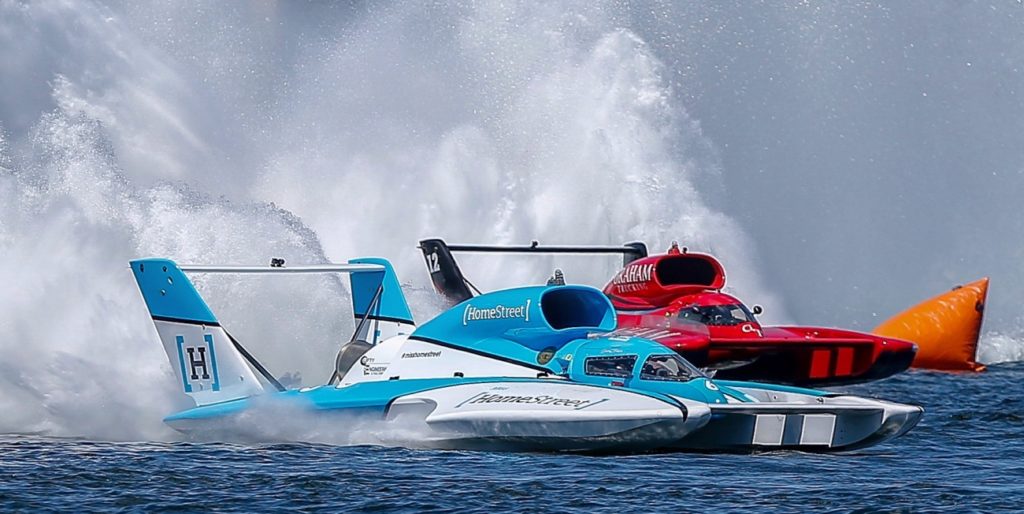 It filled the boat with some water, adding weight to the boat.
The loss of lubrication caused some bushings to fail and bent the propeller shaft.
Shane said:
The crew we have is just amazing.

It usually takes about two hours to make the repairs but they made them in just 30 minutes.

In Heat 2A, the race boat was preforming just like it was before the damage.

We were rocking and rolling and keeping the train rolling.
Shane leads the weekend in points with 900, followed by Tate with 890 points, and Kelly with 680 points.
Fourth place is King with 650, and fifth is Jeff Bernard in the U-1918 "Oberto Super Salami" with 510 points. Sixth is Bert Henderson in the "Biotano Homes" scoring 450 points from Friday and Saturday.
Bringing up the bottom five boats are U-11 "J&D's presents Reliable Diamond Tool," driven by Jamie Nilsen with 239, U-99 "Darrell Strong presents PayneWest Insurance" and Brian Perkins has 338 points, followed by Dustin Echols in the U-440 "Bucket List Racing" with 336 points. Last is Corey Peabody in the U-98 "Graham Trucking American Dream" with 284 points.
Heat 1A Recap
Shane in the U-6 "Miss HomeStreet" took a slight lead in the three-lap preliminary Heat 1A over the U-12 "Graham Trucking" driven by Kelly.
Shane increased his lead during each lap and at the checkered flag had won over Kelly by a half of a roostertail. Henderson's U-7 "Biotano Homes" finished in third, a quarter of lap behind the leaders, followed by the U-440 "Bucket List Racing." U-11 "J&D's Reliable Diamond Tool" with Jamie Nilsen driving did not finish.
Heat 1B Recap
National Champion, Tate, in the U-1 "Delta/RealTrac" came to the starting line side-by-side with the U-3 "Griggs presents Miss Ace Hardware" driven by King, and Bernard in the U-1918 "Oberto Super Salami."
King tried hard to keep up with Tate and trailed between a half-roostertail in the turns and one-roostertail in the straightway.
Bernard in the "Oberto" dropped back by several roostertails by lap two and struggling in the rough water produced by the leaders. U-99.9 "Darrell Strong presents PayneWest Insurance," with Brian Perkins at the helm, finished third.
The team found a replacement for its escape hatch after losing it Friday in the bottom of the Columbia River. A crewmember flew back to Seattle with a handful of competitors' shop keys to look for a replacement that would fit their newly christened hydroplane.
The team ended up finding one in Mark Evans' shop in Chelan, Wash., on Evans' former U-96 "Spirit of Qatar" unlimited hydroplane. Fifth place went to Peabody in the U-98 "Graham Trucking American Dream."
Heat 2A Recap
Shane in the U-6 "Miss HomeStreet" went deck-to-deck with Kelly for the first lap and pulled ahead by two boat lengths on lap two.
By the second, Shane had pulled ahead of Kelly by a full roostertail. Bernard followed well behind the two faster boats, but had to keep Perkins behind him as the two battled for third place.
Peabody followed well behind in fourth. On the final lap, the boats were all equally spaced by several roostertails, looking more like a parade than an unlimited hydroplane race.
Heat 2B Recap
On lap one, going into turn one, Henderson hit choppy waters and was force to slow, losing his momentum again, and Tate and King quickly pulled ahead. Nilsen settled into third. As Tate and King battled in a near replay of their first heat of the day, Henderson began to regain speed and went side-by-side with Nilsen.
At the checkered flag it was Tate, King followed by Henderson, who eventually caught and passed Nilsen. Echols finished fifth.
Additional preliminary heats races continue Sunday, July 28. The winner-take-all HAPO Columbia Cup final race is scheduled for Sunday at 4:20 pm.
Preliminary Heat 1A Results
1. U-6 "Miss HomeStreet," Jimmy Shane, Maple Valley, Wash., 151.016 mph
2. U-12 "Graham Trucking," J. Michael Kelly, Bonney Lake, Wash., 150.015 mph
3. U-7 "Biotano Homes," Bert Henderson, Rockville, Ontario Canada, 132.892 mph
4. U-440 "Bucket List Racing," Dustin Echols, Monroe, Wash., 122.312 mph
DNF U-11 "Reliable Diamond Tool," Jamie Nilsen, Gig Harbor
Fastest Lap: "Miss HomeStreet," lap one, 155.004 mph
Preliminary Heat 1B Results
1. U-1 "Delta/RealTrac," Andrew Tate, Walled Lake, Mich., 145.182 mph
2. U-3 "Griggs presents Miss Ace Hardware," Jimmy King, Michigan, 144.094 mph
3. U-1918 "Oberto Super Salami," Jeff Bernard, Kent, Wash., 135.769 mph
4. U-99.9 "Darrell Strong presents PayneWest Insurance," Brian Perkins, N. Bend, Wash. 130.193 mph
5. U-98 "Graham Trucking American Dream," Corey Peabody, Kent, Wash., 125.813 mph
Fastest Lap: "Delta/RealTrac," lap one, 147.473 mph
Preliminary Heat 2A Results
1. U-6 "Miss HomeStreet," Jimmy Shane, 147.032 mph
2. U-12 "Graham Trucking," J. Michael Kelly, 144.645 mph
3. U-1918 "Oberto Super Salami," Jeff Bernard, 138.732 mph
4. U-99.9 "PayneWest Insurance," Brian Perkins, 133.268 mph
5. U-98 "Graham Trucking American Dream," Corey Peabody, 127.312 mph
Fastest lap: "Miss HomeStreet," lap two, 150.907 mph
Preliminary Heat 2B Results
U-1 "Delta/RealTrac," Andrew Tate, 145.907 mph
U-3 "Miss Ace Hardware," Jimmy King, 145.127 mph
U-7 "Biotano Homes," Bert Henderson, 134.190 mph
U-11 "Reliable Diamond Tool," Jamie Nilsen, 133.809 mph
U-440 "Bucket List Racing," Dustin Echols, 117.271 mph
Fastest lap: "Delta/RealTrac, lap one, 146.501 mph
Sunday, July 28, 2019
7:00 AM Park Opens
8:00 AM-9:00 AM H1 Unlimited Hydroplane Testing
10:25 AM H1 Unlimited Hydroplane Preliminary Heat 3A
10:50 AM H1 Unlimited Hydroplane Preliminary Heat 3B
2:20 PM H1 Unlimited Hydroplane Preliminary Heat 4A
2:45 PM H1 Unlimited Hydroplane Preliminary Heat 4B
4:25 PM H1 Unlimited Hydroplane HAPO Cup winner-take-all final
4:55 PM Top Three Drivers Photo Opportunity