The first ever UIM F2 World Championship Grand Prix to take place in Lithuania kept everyone guessing right up to the final lap as to who would eventually take the top prize.
Just moments into the race Pierre Lundin crashed out at the top of course.
I was so late away from the start pontoon that as we reached the demarcation buoy I was down in fourth place. So I knew I had to take a chance to make up some lost ground.
The Swede went tight into the following turn but hit the rooster spray from his title rival Erik Edin and over he went.
I thought I would take a chance but it didn't work this time.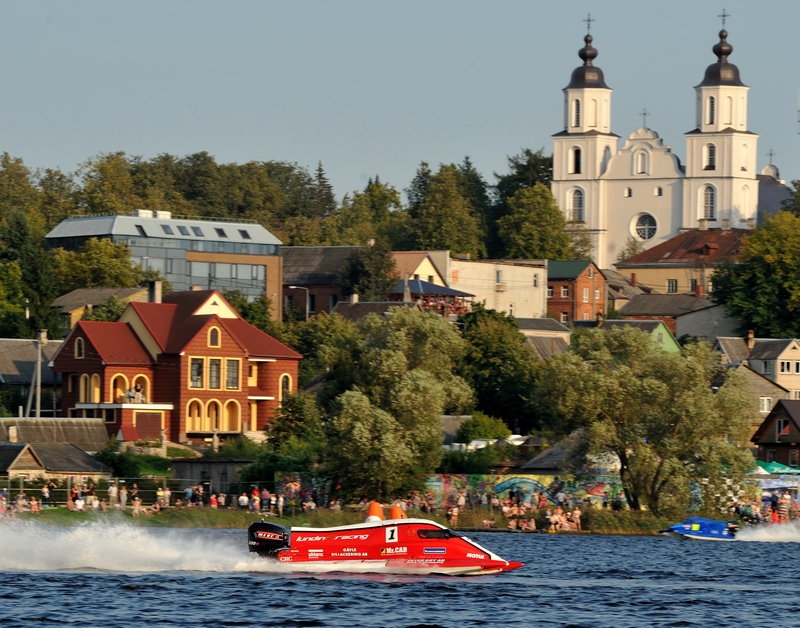 As the field set off once again it was Edin who hit the front once more and looked totally at ease as the remaining sixteen drivers fought it out amongst themselves.
Britain's Matt Palfreyman was having a tussle with the New Star Team driver Roman Vandyshev.
Lap after lap he would try in vain to find a way past the Russian, then on lap twenty two he became the second victim of a rooster tail and over he went.
With the pack closed up again whilst Palfreyman was taken ashore by the rescue team to dry out, Stefan Hagin was now up into second place, with Uvis Slakteris third.
Once again Edin sped off into the distance as soon as the green flag got proceedings back under way.
Hagin though suddenly slowed with engine issues, his Mercury motor kept selecting 'Guardian Mode' because of low oil pressure forcing the German driver back to the pits.
Rupp Temper and Owen Jelf were now locked into a battle for that third spot on the podium but with only five laps remaining their squabble was soon over as amazingly race leader Edin was now slowing a halt allowing Slakteris, Temper and Jelf to get past.
A very disappointed Edin said,
I was just in cruise control for virtually the whole Grand Prix" said a very disappointed Edin. With just a few laps to go the engine just lost power in the turns, at one point I had to restart the motor, I'm glad I did because at least I made it home in fifth place.
Slakteris could not believe his luck.
Finally I'm back on the top step of the podium.
His last victory was back in 2013 at the British Grand Prix in Nottingham.
Last year I was really quick here but my starts just let me down. Today my first start was really good but when I reached the top of the course I just saw a cloud of spray and the next minute there right in front of me was the upturned Moore hull of Lundin. I hit part of it and put a hole in my left sponson. Before the second start my mechanics said it was ok but when I made tight left turns my feet began to get wet, so I knew I had to take it easy around this course. Winning here so close to my home country is really special but I might have used up my supply of good fortune in doing so.
Temper was very happy with the result after struggling throughout Saturday's qualifying.
We were selected to run one of the UIM Efi boxes here this weekend which began to develop problems; fortunately for us they changed it over this morning.
In the first start he was forced to run wide around the demarcation buoy but that meant he didn't get involved with Lundin's crash much to his relief. The remainder of his race was certainly uneventful but he relished the opportunity of showering the media with champagne from the winner's podium.
Owen Jelf also showed he hadn't lost his touch with a bottle of Moet.
If I'm honest I'm very pleased that the hard work the team has put in behind the scene has been rewarded.
Like Slakteris it had been a couple of seasons since he had finished in the top three.
I'm now over my flat spot" said Jelf, Its taken two years but I'm finally there.
As the UIM F2 World Championship moves onto its penultimate round in Macon, France, Edin will probably go away from here thankful that he managed to restart his engine as the points gained here today leaves him tied with Lundin in the race to the 2016 title.

Article and Photographs courtesy Chris Davies / F2 Team Association