The first F1 race in the British capital for 33 years was yellow-flagged on two occasions, but the delays failed to prevent Erik Stark of the Maverick F1 Team from leading from start-to-finish to seal victory and 20 valuable championship points.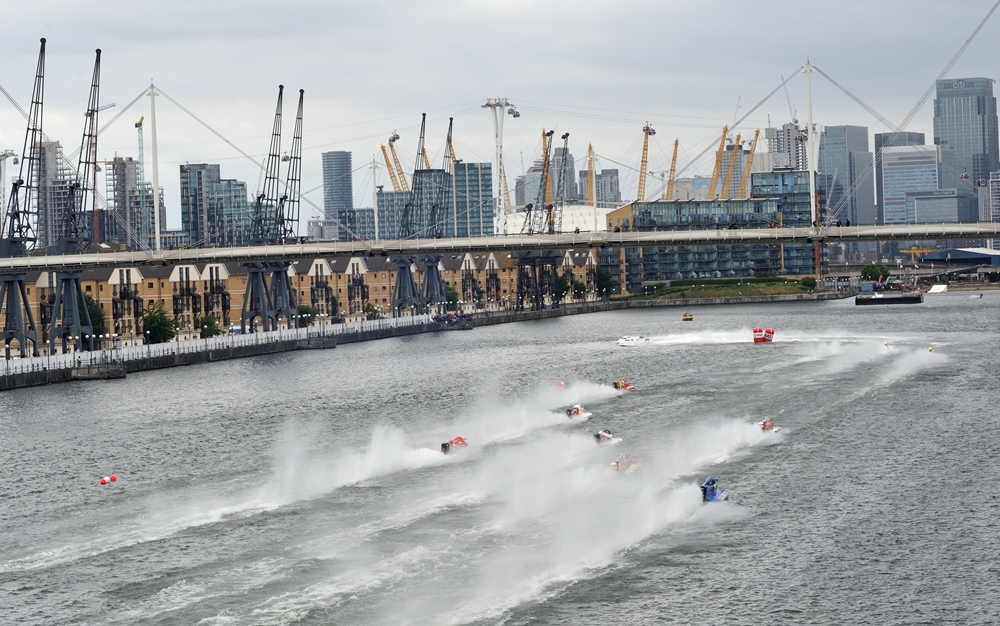 Three-time World Champion Philippe Chiappe of the CTIC F1 Shenzhen China Team shadowed the young Swede to the finish in second position and had the consolation of moving into a three-point World Championship lead over Al-Qemzi.
Chiappe's French team-mate Peter Morin rounded off the podium places in front of thousands of spectators in the heart of the British capital.
Team Abu Dhabi's Shaun Torrente climbed from eighth to sixth place before colliding with two turn buoys on the 10th lap.
The American was disqualified to cap a miserable weekend for the former championship leader. Defending World Champion Alex Carella crashed out of fourth position on lap 36 and only 10 of the original 18 entrants reached the chequered flag.
Finland's Sami Selio and Australian Grant Trask rounded off the top six.
GP of London
Erik Stark led Chiappe and Carella from the start pontoon into 54 laps of the 1.72km, three-pin course on the River Thames.
Overcast and slighty windy conditions greeted teams and the decision was taken to use a rolling start instead of a static take-off from the pontoon. Filip Roms was forced to start at the rear of the field.
Stark maintained his advantage over Chiappe, Carella and Morin through the opening lap, as Torrente climbed to seventh and Al-Qemzi stormed into ninth place.
Morin found a way passed Carella to snatch third place and Torrente tried to make up ground from an outside line in slightly cleaner water. He managed to pass Erik Edin and snatch sixth place, as Stark held a 2.43 second lead over Chiappe through seven laps.
But the race was yellow-flagged on lap 10 when Torrente collided with two turn buoys and was disqualified.
Neither Roms nor Bartek Marszalek made the start with engine issues.
Action resumed on lap 16 and Stark held his line to stay in front of Chiappe, Morin and Cantando, with Carella slipping to fifth and Al-Qemzi holding eighth.
Jonas Andersson also found a way passed the defending champion to hold fifth through 20 laps. Edin slipped down to ninth place with a damaged pickle fork, as Stark held a 2.52-second lead over Chiappe through 24 laps and Al-Qemzi maintained eighth.
Grant Trask overtook Edin to snatch eighth position, but the leading seven drivers held station into lap 27 and there were no changes in the running order until Andersson succumbed to engine issues and retired on lap 29.
His demise lifted Carella into fourth and Al-Qemzi into sixth place. Edin had also fallen by the wayside.
Stark led Chiappe by 3.1 seconds into lap 32, but Cantando ground to a halt on the far west of the course and lost his place inside the top 10 and Mette Bjerknaes also withdrew.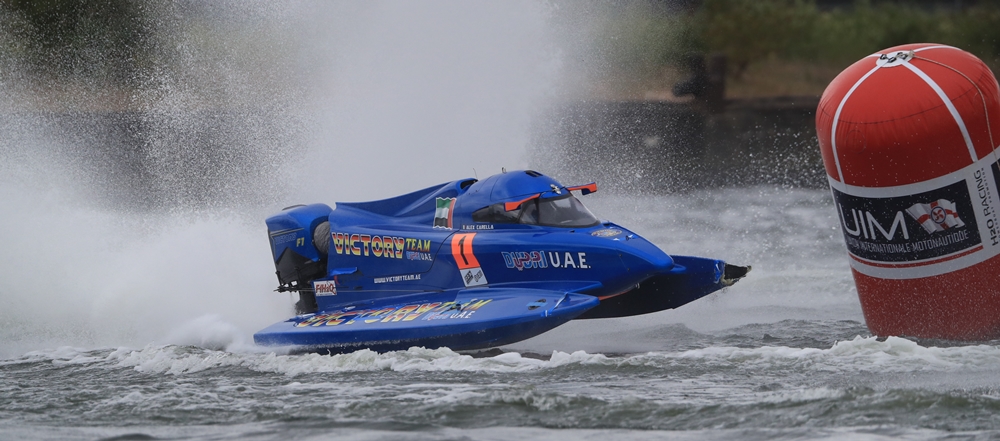 Carella, who had also been running with a broken pickle fork, then overturned his Victory Team boat on lap 36 and forced a second yellow flag with 18 laps remaining.
Only 10 boats remained in the race when action restarted on lap 44. Stark, Chiappe and Morin maintained their top three places, but Al-Qemzi snatched fourth place from Selio and began to pressurise Morin for the last podium place. Cedric Deguisne overtook Duarte Benavente to earn ninth place heading into the last few laps.
Stark was not to be denied, however, and the Maverick Team driver stayed ahead of Chiappe to seal a 3.34-second victory. Chiappe moved into the World Championship lead with second place and Morin wrapped up the final podium position from Al-Qemzi.
Action in the 2018 UIM F1 H2O World Championship resumes at Évian-les-Baines in the Rhône-Alpes region of south-eastern France on June 29-July 1.
2018 Grand Prix of London – result:
1. Erik Stark (SWE) Maverick F1 Team 54 laps
2. Philippe Chiappe (FRA) CTIC F1 Shenzhen China Team @3.34sec
3. Peter Morin (FRA) CTIC F1 Shenzhen China Team @6.67sec
4. Thani Al-Qemzi (UAE) Team Abu Dhabi @16.12sec
5. Sami Selio (FIN) Mad-Croc Baba Racing Team @19.52sec
6. Grant Trask (AUS) F1 Atlantic Team @23.73sec
7. Marit Strømøy (NOR) Emirates Racing Team @27.62sec
8. Ahmed Al-Hameli (UAE) Victory Team L1
9. Cédric Deguisne (FRA) Maverick F1 Team L1
10. Duarte Benavente (PRT) F1 Atlantic Team L1
Mette Bjerknaes (NOR) Maverick F1 Team DNF
Alex Carella (ITA) Victory Team DNF
Francesco Cantando (ITA) Blaze F1 Team DNF
Jonas Andersson (SWE) Team Sweden DNF
Erik Edin (SWE) Team Sweden DNF
Shaun Torrente (USA) Team Abu Dhabi DSQ
Simone Schuft (DEU) Blaze F1 Team DNF
Filip Roms (FIN) Mad-Croc Baba Racing Team DNS
Bartek Marszalak (POL)Emirates Racing Team DNS
Photos: Mike Powell and Chris Davies