For the past few years the Ohio River and weather conditions have not be friendly to the H1 Unlimited Hydroplane Racing Series.
However, Saturday's start to the Madison Regatta's 68th running of the Indiana Governor's Cup was picture perfect.
Sunny and mild-80 degree temperatures, complied with a river free of floating timber debris. Andrew Tate driver of the U-9 Auxier Marketing presents Delta/Realtrac day was also picture perfect.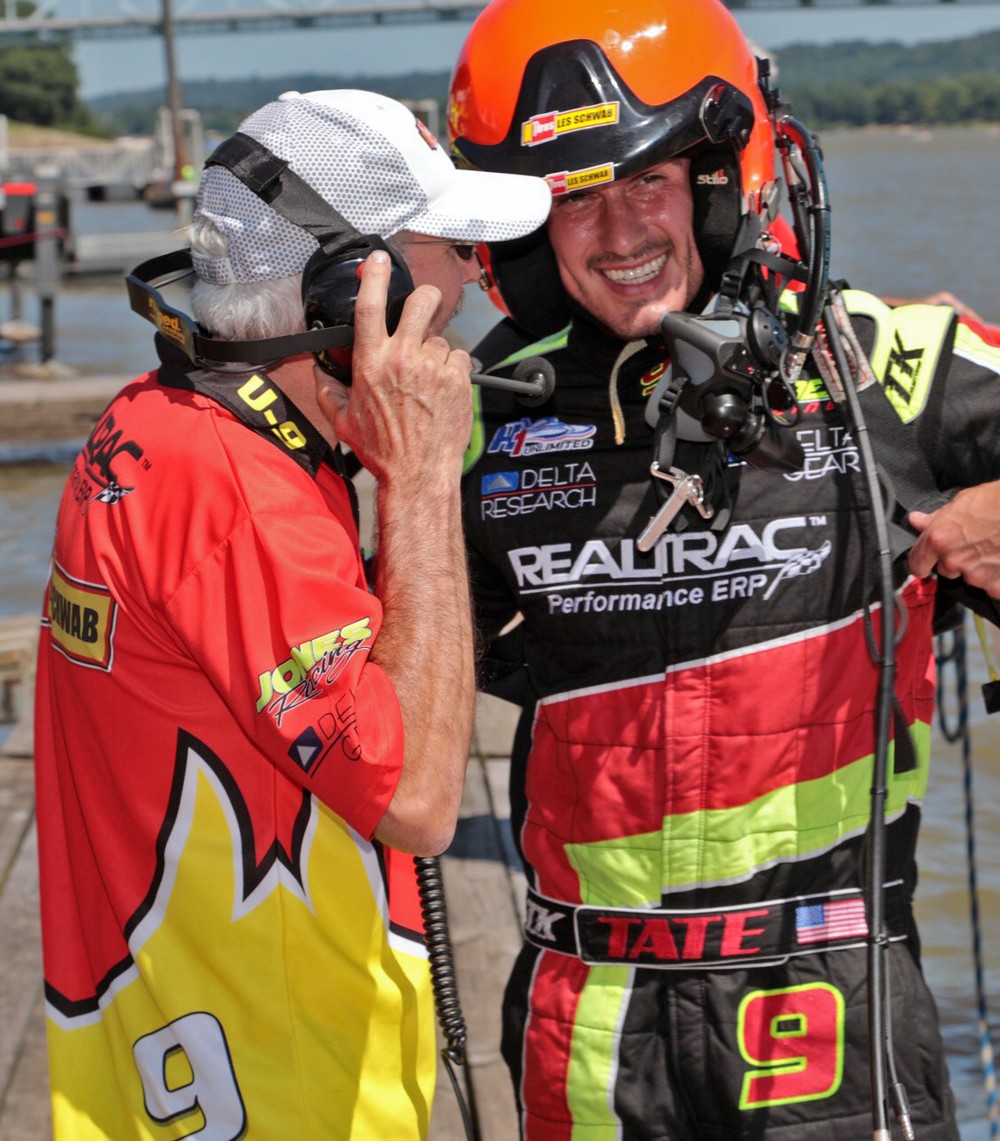 Tate was top qualifier on the 2-mile river course with a speed of 148.166 mph and won his preliminary heat.
He was followed in qualifying by national champion and hometown favorite, Jimmy Shane (Maple Valley, Wash.) in the U-1 Miss HomeStreet/Miss Madison at 146.983 mph.
Third fastest was Tom Thompson (Cambridge, MD) in the U-11 Reliable Diamond Tool presents J&D with a qualifying speed of 141.925 mph.
Fourth was Dustin Echols (Sultan, Wash.) in the U-440 Bucket List Racing at 130.792 mph.
Tate and Shane flip-flopped positions several times in qualify, raising their speeds along the way.
Both were after the $5,000 bounty to break Dave Villwock's course record at 148.837 mph.
We really wanted the $5,000 bonus to break Dave Villwocks course record but we were a few tenths of a mile off and had settle for the top qualifier honors the national champions ship points. With that and our preliminary heat win, we had a perfect day.
Tate scored 500 points, the most points available and maintains his national championship points lead over Shane and Tom Thompson in the U-11 Reliable Diamond Tool present J&D's.
In preliminary Heat 1A, Tate scored an easy victory over the Echols in the U-440 Bucket List Racing.
On the second lap, Echols hooked a buoy and came to a stop on the racecourse. He later restarted and finished but Tate was too far ahead for Echols to catch. Tate finished the heat with an average of 119.126 mph. Echols average was 93.44 mph.
Preliminary Heat 1B had Shane and Thompson next to each other for the three laps with Shane victorious with and average speed of 137.525 mph.
Thompson followed with an average speed 4 mph slower. Thompson's final average was 132.141 mph.
Rookie Aaron Salmon driving the U-99.9 CARSTARS powers Miss Rock completed his mandatory rookie qualifications laps after Scott Raney of the U-11 J&D's loaned the team a motor.
Salmon now must start his heats on Sunday trailing the field until the H1 Unlimited Racing Series chief referee Doug Shelton green lights his front row starts.
Racing continues Sunday with the winner-take-all Indiana Governor's Cup final schedule for 3:00 pm (EST).
RESULTS
Qualifying:
1) U-9 Auxier Marketing presents Delta/Realtrac, Andrew Tate, 148.166 mph
2) U-1 Miss HomeStreet/Miss Madison, Jimmy Shane, 146.983 mph
3) U-11 Reliable Diamond Tool presents J&D's, Tom Thompson, 141.925 mph
4) U-440 Bucket List Racing, Dustin Echols, 130.792 mph
Heat 1A
1) U-9 Auxier Marketing presents Delta/Realtrac, Andrew Tate, 119.126 mph average
2) U-440 Bucket List Racing, Dustin Echols, 93.44 mph average
Heat 1B
1) U-1 Miss HomeStreet/Miss Madison, Jimmy Shane, 133.134 mph average
2) U-11 Reliable Diamond Tool present J&D's, 132.141 mph average