Rashed Al Qemzi put Team Abu Dhabi in pole position for the first time ever in an UIM F2 World Championship event.
Al Qemzi was on the pace in morning qualifying in his DAC hull, which was built last year for Alex Carella to race in Finland, and steadily built his speed for a blistering Q3 lap of 42.77.
It is also the first time that Kaunas in Lithuania has staged a round of the popular international competition and it was fitting that Edgaras Riabko, the organiser of the event, thrilled local fans with the second quickest time this afternoon.
Ten times UIM F1 World Champion Guido Cappellini was full of praise for his driver Rashed Al Qemzi, after the young UAE national scored Team Abu Dhabi's first ever UIM F2 World Championship pole position.
Exactly a year ago the team thought they had won the opening round of the 2016 season but a technical infringement saw that victory taken away from them, now using the same DAC hull, although heavily modified to factor in the new weight limit, Al Qemzi will line up in the number one grid spot for the Lithuanian Grand Prix.
Cappellini said;
Since last June we have made step by step improvements to the boat that Carella used in Finland.
It was very flat out there for his pole lap but I'm optimistic that he will drive well in the race because we don't just build boats that only go well in smooth conditions.
Cappellini was equally happy to have another DAC line up alongside his driver and the vast crowd that were watching the race from every vantage point around the Kaunas reservoir were also delighted because driving that boat was their local hero Edgaras Riabko (below).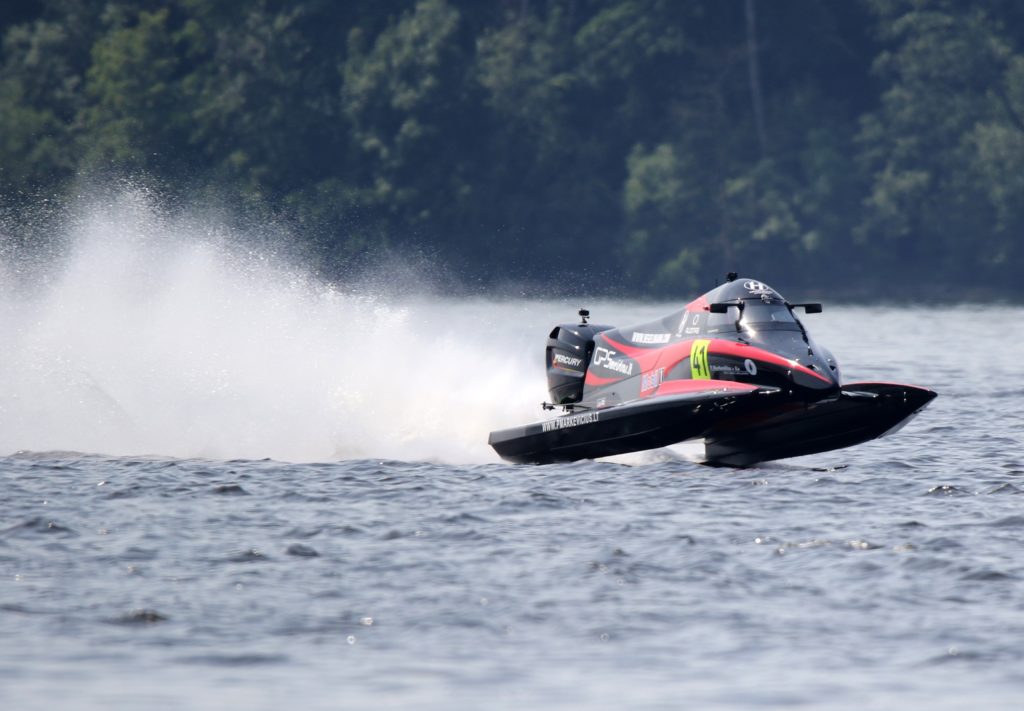 Surprisingly though the Lithuanian driver felt some what disappointed with his performance;
My engine was set too low, my radioman told me after my first flying lap that it was only good enough for sixth place.

So I raised it up and just went for it.
As the crowd held their collected breath, the announcer told them over the PA that he had just missed pole by a fraction of a second but a top three start place made up for their initial disappointment.
I had hoped to have practiced more around this circuit but honestly I only had one opportunity to test here because I have been so busy getting the event together.
I love this place so much that I want all five rounds of the World Championship here.
Lining up in third place is a Norwegian driver who showed flashes of qualifying brilliance towards the end of last season and that is Tobias Munthe-Kaas (below).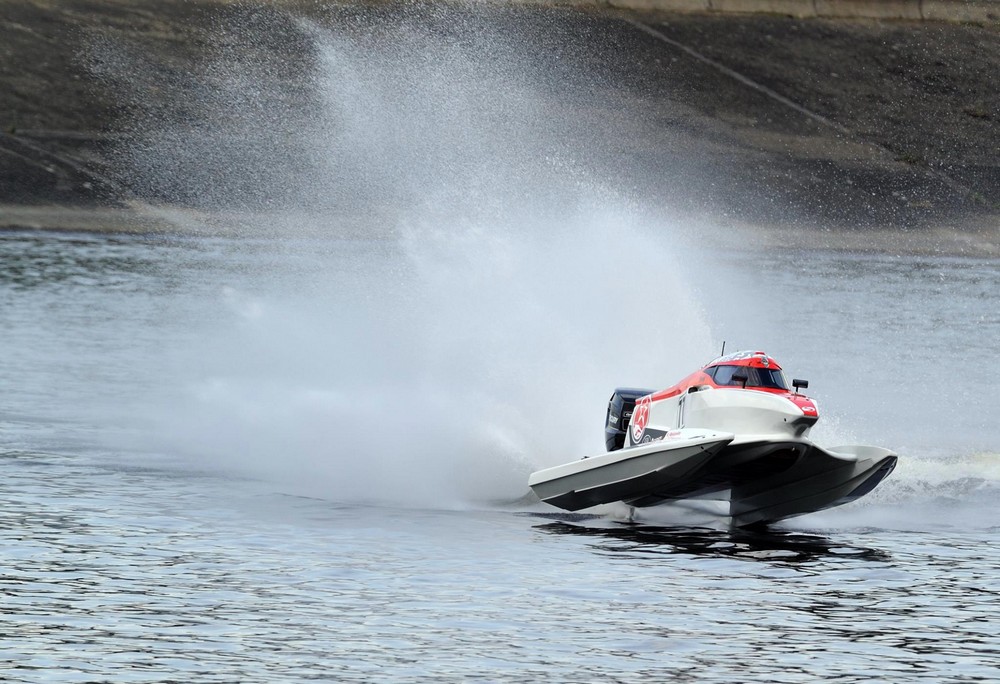 He had been struggling all day with fuel feed issues which were eventually diagnosed, or so they thought.
The team stripped everything down after free practice but I had the same problem occur in Q1.
I thought my chance had gone but in Q3 it suddenly cleared itself and I was able to put in a decent lap.
Another driver struggling in Q1 for different reasons was Erik Edin.
The propeller he had used for most of the 2016 season shed a blade;
It was my best prop.
So now we have to use one that perhaps is not right for this type of course.
Like most of the pit lane he was slightly mystified as to why he was so much off the race pace.
If you look at today's average speed it's really slow compared to courses where I do well at. It's almost 30 Km per hour slower around here, very similar to the course they used last year for the European Championship at Stewartby where I struggled all weekend.
With the top fifteen drivers automatically qualifying for the Grand Prix all eyes will now be on the Sunday lunch-time repercharge to see you will fill those last remaining five places.
Looking at the list of drivers who found themselves at the wrong end of the qualifying report, which include Duarte Benavente, whose engine felt sick in Q1, Mette Bjerknaes, whose Moore felt totally unbalanced and Uvis Slakteris, who had qualified in fourth place only to find his Molgaard hull to be 4.5 Kg's under weight.
The battle is going to be tougher than normal out there tomorrow afternoon.
Photos: Fred Emeny and Chris Davies
Additional reporting Chris Davies