Thani Al-Qamzi, Alex Carella, Majed Al-Mansoori and Tullio Abbate to crew Team Abu Dhabi 35
Mohammed Al-Mehairbi, Rashid Al-Qamzi, Alberto Comparato and Rashid Al-Tayer line up in second 36 boat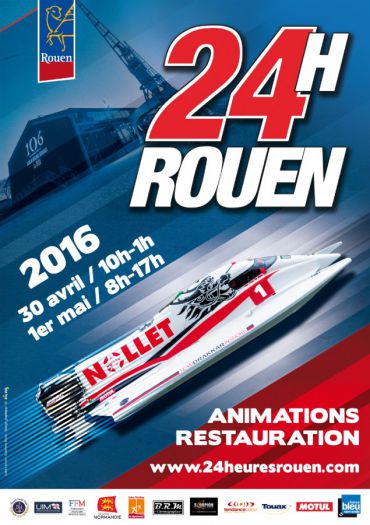 In an exciting break from taking part in the UIM XCAT World Series and the UIM F1 H2O World Championship, Team Abu Dhabi is currently in northern France preparing for this weekend's 53rd edition of the world famous 24 Hours of Rouen, the marine version of motor sport's legendary 24 Hours of Le Mans.
The team from the Abu Dhabi International Marine Sports Club (ADIMSC) has entered two DAC boats in the race for the very first time and four drivers will take turns to crew each of the race hulls during 24 gruelling hours of competition on the demanding Rouen course on France's famous River Seine.
On an entry list that is synonymous with a who's who of mono-hull racing, Team Abu Dhabi has entered its boats in the S2 class. There are three classes in total, with six boats registered in Class S1, 10 in Class S2 and 16 in Class S3.
Double UIM F1 H2O world champion Alex Carella teams up with local stars Thani Al-Qamzi and Majed Al-Mansoori and the experienced Italian Tullio Abbate to crew Team Abu Dhabi 35. Carella is one of the fastest mono-hull racers in the world and finished second in this year's inaugural Dubai Grand Prix. Al-Qamzi has 30 career podium finishes to his name in F1 H2O racing, including seven wins, 13 seconds and 10 third-placed finishes. He is Team Abu Dhabi's most experienced driver.
This is an event that is very close to my heart and something I really enjoy," said Carella. "I have been here five times and won my class twice. Now we have a new team from Abu Dhabi and I am delighted that the people I work with all season will be strongly represented in Rouen. It is another great opportunity for Team Abu Dhabi to shine on the world stage.
Three regular UIM F-4S Trophy racers, Mohammed Al-Mehairbi, Rashid Al-Qamzi and Italy's young Alberto Comparato, will join Team's Abu Dhabi's offshore supremo Rashid Al-Tayer in the second boat, Team Abu Dhabi 36.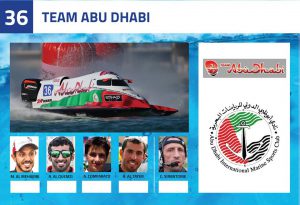 The son of veteran Italian F1 racer Fabio Comparato, young Alberto produced an impressive display three years ago in several Middle Eastern UIM F-4S races, while Al-Mehairbi and Rashid Al-Qamzi showed impressive pace at the opening F-4S races in Dubai in March and the latter actually holds a joint lead in the UIM F-4S Trophy after the opening round. Al-Tayer has raced in many marine sport disciplines and, like Majed Al-Mansoori, arrives in France fresh from back-to-back UIM XCAT races in the UAE with Team Abu Dhabi.
Last year, Carella teamed up with the Russian Nations Cup trio of Konstantin Ustinov and Dmitry and Roman Vandyshev to earn his success with the New Star 1 team in a Mercury-engined DAC in Class S2. There were no Arab teams present on that occasion.
This is an exciting new challenge for everyone at Team Abu Dhabi and we are all looking forward to taking part in this new form of marine sport racing with a real endurance element to it," Salem Al-Romaithi, assistant general manager of the Abu Dhabi International Marine Sports Club (ADIMSC). "Our team has a blend of youth, experience and winning potential and we are confident that our two boats can succeed in the competitive S2 Class.
Class S2 competition for Team Abu Dhabi comes from the likes of Carella's former Russian New Star team-mates, Portugal's regular F1 H2O racer Duarte Benavente and his French colleagues in a Team Privilege BaBa and several potent French teams, such as Paris Inshore Racing, Xtrem Racing and Navikart Racing.
The Class S1 entry list also includes the name of double French UIM F1 H2O world champion Philippe Chiappe, regular F1 racer Christophe Larigot and an Emirates Team entry in Class S3 for Ali Bin Shaiban and young members of the French Chiappe and Philippe Dessertenne racing families.
Team Abu Dhabi is sponsored by Etihad Airways and runs under the patronage of His Highness Dr. Sheikh Sultan Bin Khalifa Al-Nahyan, advisor to the Head of State and chairman of the board of directors of the Abu Dhabi International Marine Sports Club (ADIMSC).
Devised in 1963 by the Rouen Yacht Club, this endurance classic event has gone from strength to strength and attracts thousands of spectators to the banks of the River Seine every year.
The opening round of the 2016 UIM World Endurance Championship gets underway with scrutineering of the boats on Lacroix island in the centre of Rouen on Thursday, April 28th. Drivers will then be permitted free practice on the course from 16.00hrs to 20.00hrs local time on Friday evening (April 29).
The 24hr race starts at 10.00hrs (noon UAE time) on Saturday morning (April 30) and the first section of 15 hours will run until 01.00hrs (3am UAE time). Competitors will then be permitted seven hours of rest before the final nine hours of racing starts at 08.00hrs (10am UAE time) on Sunday, May 1 and finishes at 17.00hrs (7pm UAE time).