Philippe Chiappe's Team Nollet held a commanding lead of the 2017 24 Heures motonautiques de Rouen as the night racing session ended late on Sunday night.
Chiappe is attempting to win the race for the fifth time in a row and is looking odds on, Team Nollet have a 19 lap cushion on nearest rival VSI Racing in the S1 Class.
Team Privilege head the S2 Class as their main challengers all had issues.
After eighty six laps, Team Abu Dhabi #36 driven by their UIM F2 reserve driver Rashed Al Remeithi was caught out by the spray coming from two boats just ahead of him.
The young UAE driver was unhurt in the blow over, but the left sponson was completely destroyed in the impact.
There was more woe for Team Abu Dhabi when at approx 19.00 CET their #35 boat barrel rolled with Alex Carella driving.
Carella was okay, but shocked.
The team worked feverishly to repair and get the boat back into competition.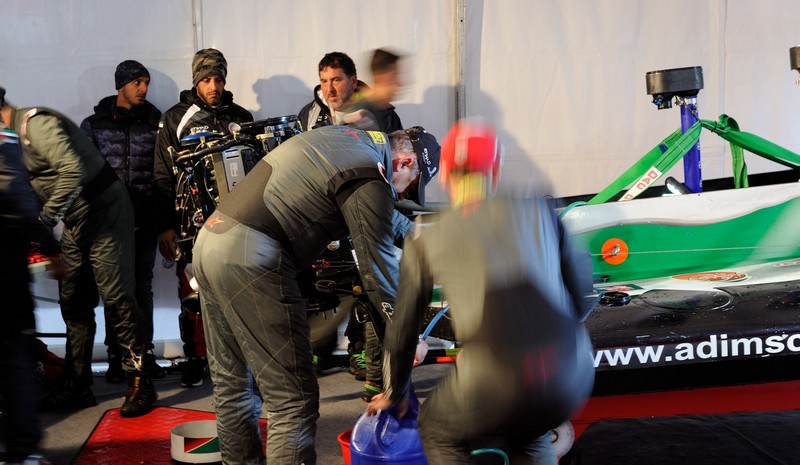 New Star #20 with Shaun Torrente at the wheel missed the start after a fuel pump failure, because of testing restriction this morning they were unable to diagnose the issue until the race had got under way.
He quickly made up six laps on the leader in his driving stint.
It's really fun out there.
I got really mad with Navikart because they overtook me on a yellow. So I tried to catch them and was nearly caught out coming around the pit turn mark. I thought to myself what the hell am I doing there's still a lot of racing to do today.
Later in the afternoon, the team suffered gearcase failure costing more time spent in the pits.
The final hours will be hotly contested tomorrow.
Photos:
Nollet – Jean-Luc Couesme
Team Abu Dhabi – Chris Davies