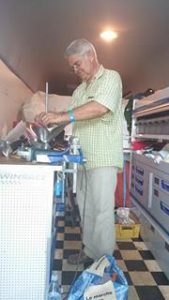 Rup Temper from Austria was forced to qualify for today's UIM F2 France GP via a repechage.
After posting the third quickest time in qualifying yesterday, he failed the post qualifying technical inspection.
Temper's team worked hard into the early hours of this morning to ensure a repechage win and then a 16th place on this afternoon's GP grid.
Temper duly rewarded his team with a blistering repechage drive, his best lap of 38.10 was over a second of a lap quicker than Oskar Samuelsson and Bela Cserni who will also be joining him to compete in the UIM F2 France GP.
Main Photo: Fred Emeny