2019 UIM GT30 World Champion, Andrè Faye Solvang, is here in Kupiškis to add a European title to his belt this weekend.
However, a spectacular out of shape moment in his home country of Norway last weekend nearly put paid to his plans.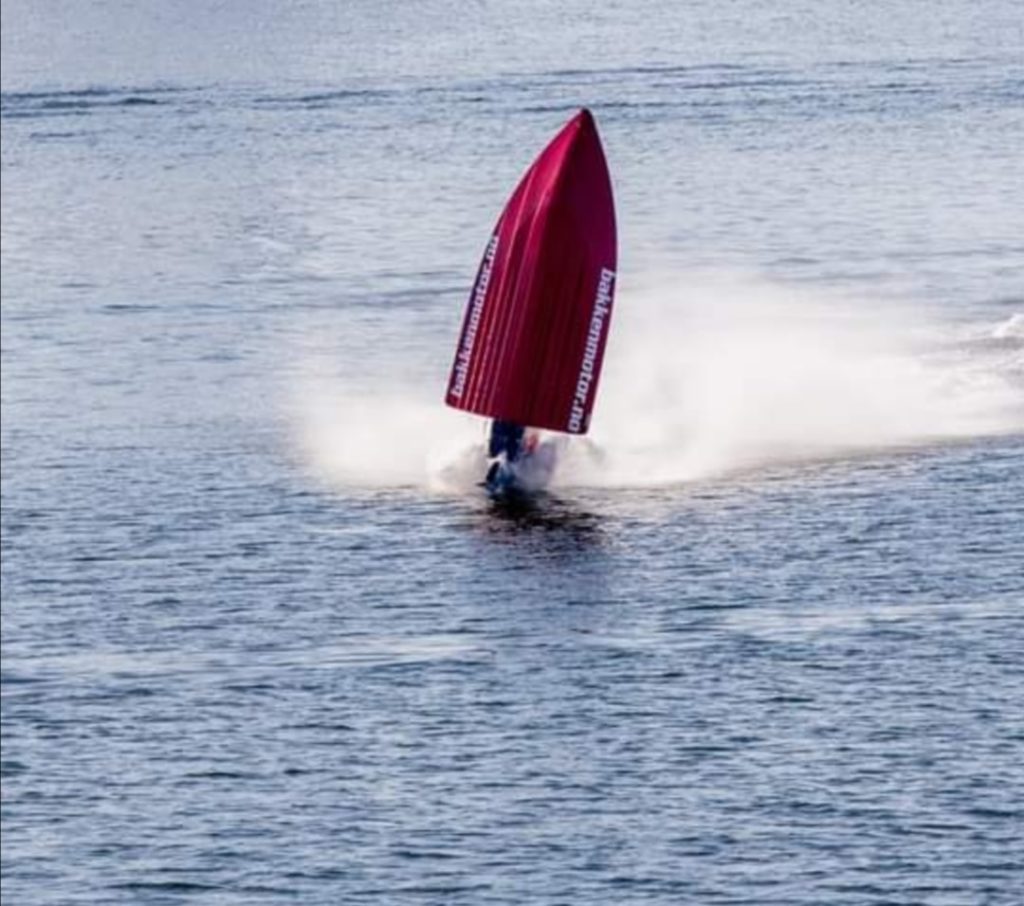 Photographer Jon Petter Marthinsen captured the incident (above) of Andrè turning his GT30 hull into Norway's first manned rocket to the stars.
The enthusiastic 16 year old told me this afternoon:
'It was my mistake really, but no real damage was done to the boat and I'm very exited to be here in Lithuania'.
'I'm looking forward to trying some different props this afternoon in practice and we will see what set-up to run for tomorrow's races'.
Those races tomorrow are as follows:
Saturday
11.50 – 12.40 GT30 Qualification
15.30 – 16.00 GT30 Heat 1
17.45 – 18.15 GT30 Heat 2
With everything that is going on in the world right now, it's refreshing to have spent some time with a committed young racer who has made the trip here and loves to talk about racing.
He told me with a cheeky smile:
'Powerboat racing pisses over football'.
He's clearly not an Arsenal fan.
UIM GT30 European Championship - Kupiškis, Lithuania
| | | | | | | | |
| --- | --- | --- | --- | --- | --- | --- | --- |
| # | Country | Driver | Heat 1 | Heat 2 | Heat 3 | Heat 4 | Total |
| 7 | EST | Kärol Soodla | 400 | 0 | 169 | 225 | 794 |
| 69 | FIN | Sami Reinikainen | 127 | 169 | 225 | 169 | 563 / 690 |
| 76 | FIN | Saari Arttu | 225 | 225 | 95 | 95 | 545 / 640 |
| 47 | LIT | Mantas Kukcinavičius | 40 | 127 | 71 | 127 | 325 / 365 |
| 27 | FIN | Noel Vänttinen | 169 | 0 | 127 | 40 | 336 |
| 70 | SWE | Hilmer Viberg | 71 | 95 | 0 | 71 | 237 |
| 25 | FIN | Tino Lehto | 53 | 71 | 17 | 53 | 194 |
| 87 | LAT | Roberts Minings         | 13* | 53 | 40 | 30 | 136 |
| 99 | FIN | Tino Seppälä  | 17 | 40 | 22 | 22 | 101 |
| 73 | EST | Märten Arula | 30 | 0 | 53 | 0 | 83 |
| 59 | LAT | Toms Smilskalns       | 22 | 30 | 30 | 17 | 99 |
| 50 | LAT | Laura Lakovica-Lakovica | 95 | 300* | 400* | 400* | 1100 / 1195 / DQ |
| 1 | NOR | Andrè Faye Solvang | 300 | 400 | 300 | 300 | 1000/ 1300 / DQ |