Team Abu Dhabi's Shaun Torrente and Thani Al-Qemzi delivered stunning performances at Sunday evening's Grand Prix of Portugal to claim first and second positions for their team running out of the Abu Dhabi International Marine Sports Club (ADIMSC).
The American and the Emirati had qualified in first and second positions and held their nerve, despite a yellow-flag situation on the opening lap, to give the defending UIM Teams' Championship winners a superb start to the season. Torrente's 2.09-second victory on the Arada River in Portimão was the Miami driver's first since the 2016 Grand Prix of Sharjah. Rashed Al-Qemzi finished 13th in the third Team Abu Dhabi boat
A delighted Torrente said:
This was a perfect weekend for the team with a 1-2 finish. We had perfect preparation, everything went to plan, all the hard work paid off and the boat was fantastic.
Now I am going to go home and hope that this wonderful start to the season wasn't a dream!
Three-time World Champion Philippe Chiappe shadowed Italy's four-time World Champion Alex Carella for the majority of the race and managed to find a way passed the Italian with 13 laps to run. The Frenchman then went on a charge to try and hunt down Thani Al-Qemzi and reached the finish a mere 1.45 seconds behind the runner-up in third place.
Carella, driving for the Victory Team, suffered trim issues and came under pressure from Chiappe's CTIC China Team colleague Peter Morin and held on to a slender advantage to seal fourth place. His Victory Team colleague Ahmed Al-Hameli rounded off the top six.
Grand Prix of Portugal
After a violent thunderstorm passed over the race course minutes before the start, Team Abu Dhabi's trio of Torrente and Thani and Rashed Al-Qemzi started the 48-lap race from first, second and 11th on the pontoon, but an engine change meant that Marit Strømøy was forced to start from the rear of the field. Torrente stormed out of the blocks and he and Thani Al-Qemzi began to edge clear of their rivals, as Carella struggled to get going and Chiappe and Al-Hameli moved up to third and fourth positions.
The race was yellow-flagged almost straight away when Jonas Andersson's engine caught fire after a collision with Strømøy. Both drivers were forced to retire before the green flag was raised on lap five.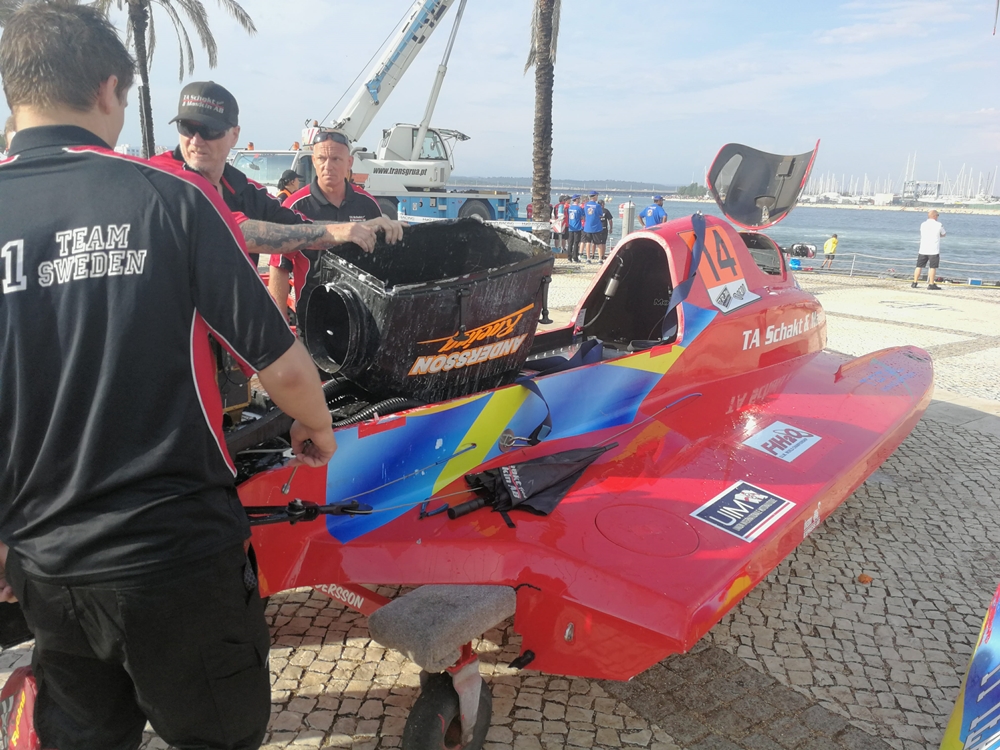 The Team Abu Dhabi duo maintained their positions, although Carella was the main beneficiary of the re-start and settled back into third place, with Chiappe, Morin and Al-Hameli rounding off the top six. Rashed Al-Qemzi held 13th.
Chiappe began to pressurise Carella, as Torrente completed his ninth lap with a lead of 3.63 seconds over his team-mate but Filip Roms completed a miserable weekend for the Mad-Croc Baba Racing Team by retiring. Rashed Al-Qemzi was struggling towards the rear of the field in 14th place.
By lap 16, Torrente's lead over Thani Al-Qemzi had grown to 4.28 seconds, although the tussle for third was continuing between Carella and Chiappe. Morin was a distant fifth and Al-Hameli was dropping time in sixth. Al-Qemzi began to close the gap slightly on his team-mate as the race reached lap 20 but the top 10 were holding station and 15 boats remained in the race.
At the halfway point, after 24 laps, Team Abu Dhabi maintained the top two positions and Torrente edged away from his Emirati colleague again to lead by 3.61 seconds. But the leaders started to move in on the back-markers and Al-Qemzi closed to within 2.03 seconds heading into lap 27 of what was developing into a processional race after the first lap drama.
Conditions began to deteriorate slightly as the race progressed and the boats were also losing their fuel loads and becoming lighter. Torrente put in the fist sub-46-second lap of the race and continued to lead Al-Qemzi by 3.51 seconds into lap 32. Less than a second separated Carella and Chiappe in the battle for third place. Rashed Al-Qemzi was running four laps down in 14th place.
Chiappe managed to squeeze passed Carella to gain third place on lap 34 and romped away from the Italian. He also posted the fastest lap of the race thus far – 45.67sec – but the Team Abu Dhabi duo were too far in front of the Frenchman with only 11 laps remaining. By the start of lap 39, Torrente led Al-Qemzi by 4.39 seconds and Chiappe was already nearly nine seconds in front of a struggling Carella. Morin and Al-Hameli maintained fifth and sixth.
Torrente was now counting down the laps and trying to stay out of traffic, as Morin began to apply severe pressure on Carella in the battle for fourth with the Italian struggling with trim issues. With five laps remaining, Torrente maintained a lead of 3.76 seconds but Al-Qemzi could feel Chiappe breathing down his neck in third, as Cedric Deguisne retired with engine issues within five laps of the finish.
Torrente held his nerve and managed to reach the chequered flag to claim a famous victory by the margin of 2.09 seconds, despite losing vital time trying to overtake sixth-placed Al-Hameli. Al-Qemzi held off Chiappe to finish second and Carella and Morin rounded off the top five.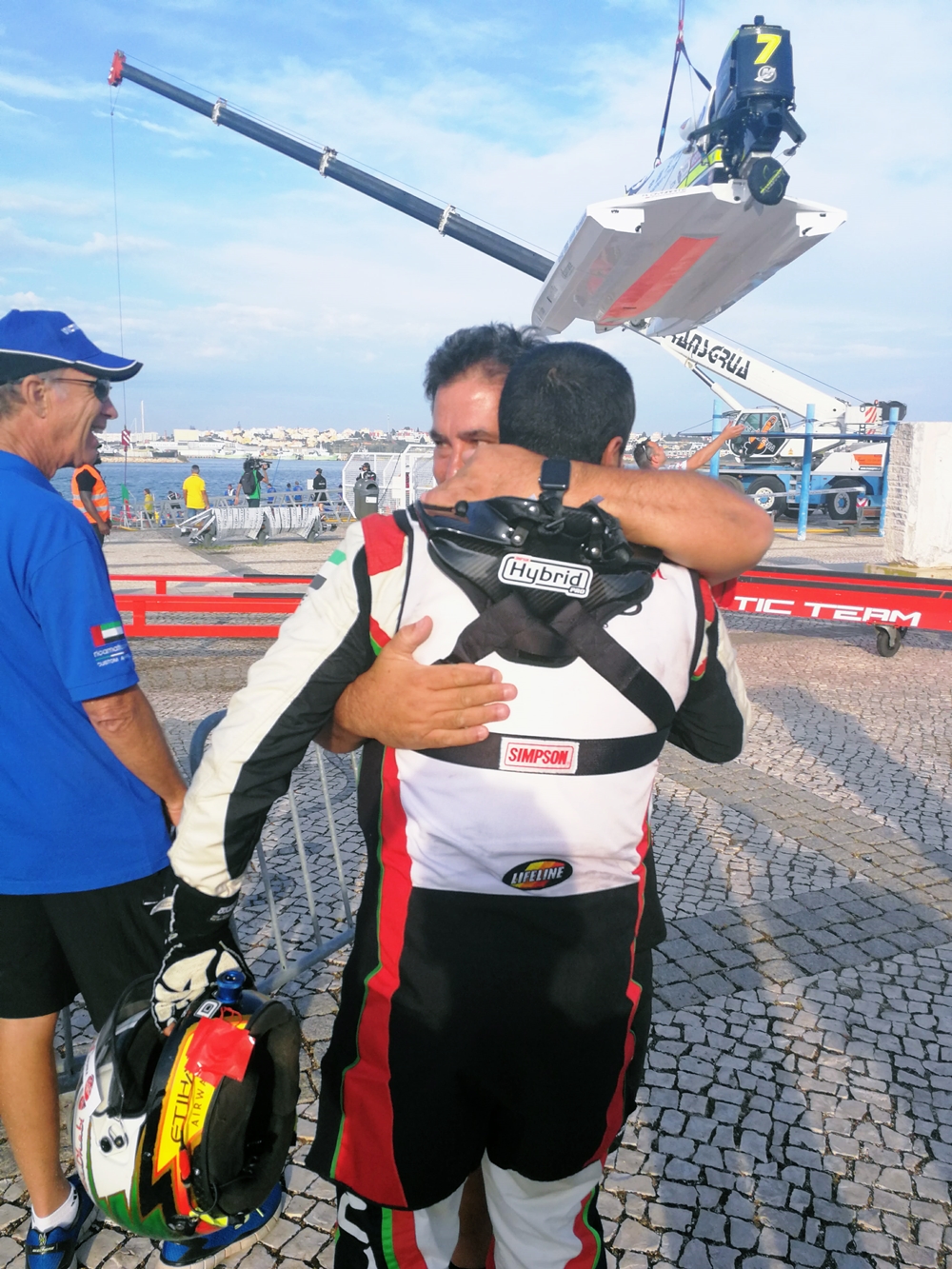 2018 Grand Prix of Portugal – result
1. Shaun Torrente (UAE) Team Abu Dhabi 48 laps
2. Thani Al-Qemzi (UAE) Team Abu Dhabi @2.09sec
3. Philippe Chiappe (FRA) CTIC F1 Shenzhen China Team @3.54sec
4. Alex Carella (ITA) Victory Team @25.75sec
5. Peter Morin (FRA) CTIC F1 Shenzhen China Team @26.83sec
6. Ahmed Al-Hameli (UAE) Victory Team @53.00sec
7. Duarte Benavente (PRT) F1 Atlantic Team L1
8. Francesco Cantando (ITA) Blaze F1 Team L1
9. Erik Edin (SWE) Team Sweden L1
10. Erik Stark (SWE) Maverick F1 Racing L1
11. Bartek Marszalak (POL) Emirates Racing Team L2
12. Cédric Deguisne (FRA) Maverick F1 Team DNF
13. Rashed Al-Qemzi (UAE) Team Abu Dhabi L6
14. Grant Trask (AUS) F1 Atlantic Team DNF
15. Simone Schuft (DEU) Blaze F1 Team L10
Filip Roms (FIN) Mad-Croc Baba Racing Team DNF
Jonas Andersson (SWE) Team Sweden DNF
Marit Strømøy (NOR) Emirates Racing Team DNF
Sami Selio (FIN) Mad-Croc Baba Racing Team DNS
2018 UIM F1 H2O World Championship – standings after round 1:
1. Shaun Torrente (UAE) Team Abu Dhabi 20pts
2. Thani Al-Qemzi (UAE) Team Abu Dhabi 15pts
3. Philippe Chiappe (FRA) CTIC F1 Shenzhen China Team 12pts
4. Alex Carella (ITA) Victory Team 9pts
5. Peter Morin (FRA) CTIC F1 Shenzhen China Team 7pts
6. Ahmed Al-Hameli (UAE) Victory Team 5pts
7. Duarte Benavente (PRT) F1 Atlantic Team 4pts
8. Francesco Cantando (ITA) Blaze F1 Team 3pts
9. Erik Edin (SWE) Team Sweden 2pts
10. Erik Stark (SWE) Maverick F1 Racing 1pt