(Above) 2016 UIM Class 3A European Champions
Johan Torsell and Eva Pettersson – Photo: Pickla.se
The UIM Class 3 European Championship's were dominated by the host nation, Sweden.
All 3 classes, (A,B and C) were won by Swedish teams.
The racing in Nynäshamn was run over two heats in flat conditions with a slight swell.
Class 3 A
Johan Torsell and Eva Pettersson took a popular Class 3A win particularly as they had a 'Battle Royale' with Rasmus Hamrén and Filip Eriksson in Heat 2, with whom they traded positions on numerous occasions.
Hamrén and Filip Eriksson added their second place to third yesterday which gave them the UIM European Bronze Medal.
Torsell and Pettersson's win was perhaps surprising as Heat 1 winners, Anton Modin and Susanne Jansson had started as hot favourites in their new British Phantom 19 G hull.
Their Team Manager Per Bälter told me after the race;
They took the lead and pulled away from the fleet.
Suddenly the engine stopped and their race was over, right now we think it is a fuel issue.
We are disappointed; we would have been very competitive today.
Inge Lund and Leander Knutsen took third place and the Silver Medal overall in their Ocke Mannerfelt hull.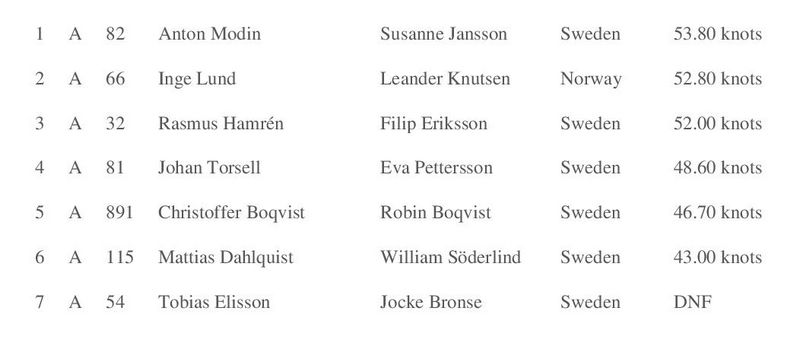 Class 3 B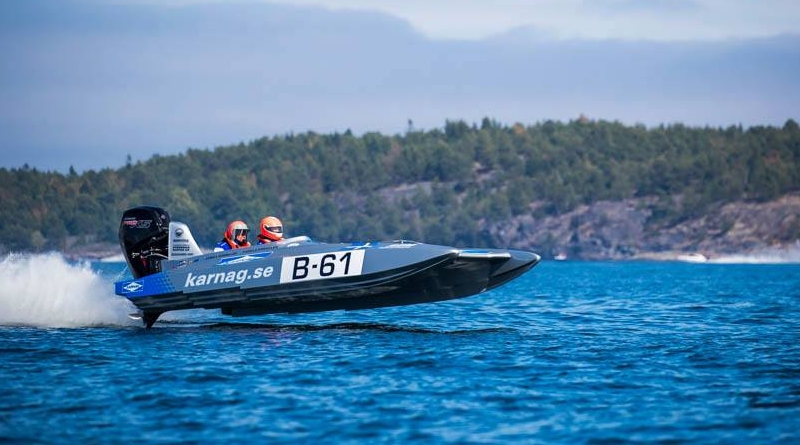 (Above) 2016 UIM Class 3B European Champions
Thomas and Annika Wrenkler – Photo: Pickla.se
Thomas and Annika Wrenkler's 2 second places were good enough to give them the 3B Championship.
As with Class 3A, the winners yesterday broke today. Fredrik Groth Fyrö and Lina Thorén had a clear lead in heat 2 when they lost drive, 400 points from yesterday was good enough for a Bronze consolation prize.
Gustaf Lindén and Malin Lange got back to winning ways today and a Silver Medal overall must go some way towards making up for a difficult World Championship in Norway and theft of their equipment prior to that event.

Class 3C
(Above) 2016 UIM Class 3C European Champions
Micke and Marie Bengtsson – Photo: Pickla.se
Micke and Marie Bengtsson were unbeatable over both heats and they romped to European honours.
The multi – champion and uber experienced racer said after;
It was some of the closest offshore racing I have ever raced.
Marcus Johnsson and Jussi Myllymäki from Finland kept the Bengtsson's honest throughout with 2 seconds, whilst Jan Trygve Braaten and Linnea Carlsson took third place in both heats.