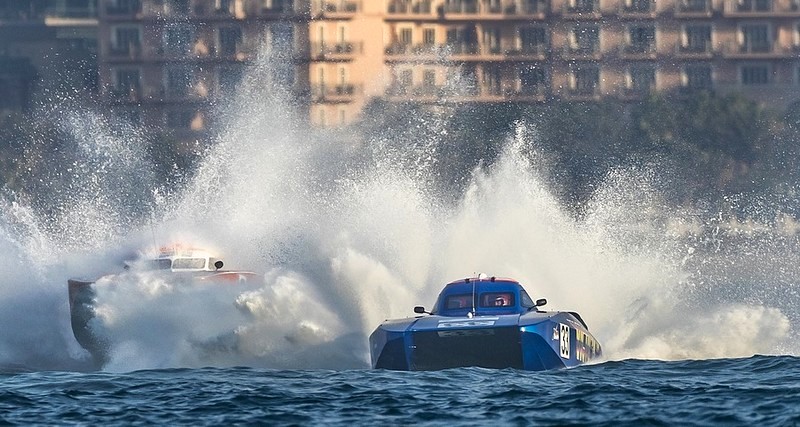 Victory 33's Gary Ballough and Ahmed Al-Hameli delivered a stunning performance to fend off a magnificent challenge from Swecat Racing's Mikael Bengtsson and Erik Stark to claim a memorable victory in Dubai today.
After neck and neck racing for the lead, the Swedes were overtaken close to the finish by the impressive Italian duo of Serafino Barlesi and Alessandro Barone in the Fujairah Team boat and slipped to third place.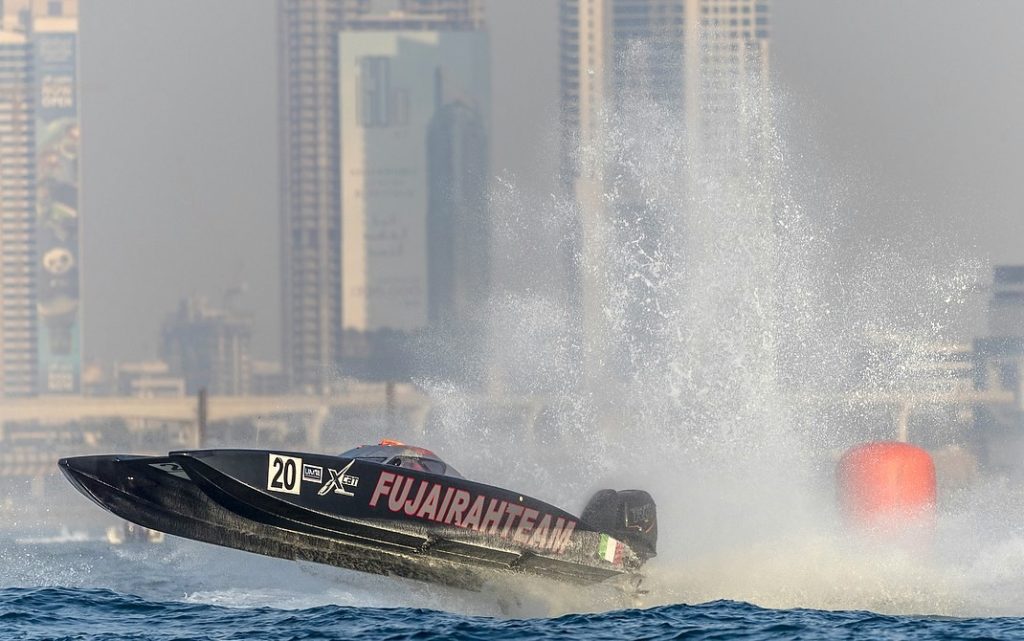 Ballough and Stark's throttle work through the choppy waters was truly impressive and heart stopping in equal measure.
Victory 3 win the 2017 UIM XCAT World Championship
After penalty laps had been imposed and the results were finalised late on Friday afternoon, a mere point separated Victory 3 (Salem Al-Adidi and Eisa Al-Ali) from Team Australia (Brett Luhrmann and Pål Virik-Nilsen) at the top of the championship standings and Team Abu Dhabi was 28 points adrift.
But the Victory crew had the advantage of starting the second race from fourth place behind Al Wasl, Victory 33 and Swecat Racing. Team Abu Dhabi and Team Australia were sixth and eighth at the second gate for the delayed start to the west of Palm Jumeira.
In tricky conditions and a low sun, Swecat Racing and Al Wasl delivered a spectacular duel through the opening turns with the Swedes snatching the lead and beginning to edge away.
Race officials decided not to include long laps on this occasion and it would be a straight fight to the chequered flag over 10 laps.
Swecat Racing continued to leap over the waves and increased its lead from Victory 33, an impressive Team Abu Dhabi, Fujairah Racing and 222 Offshore with Al-Wasl stopping on the course and Victory 3 slipping to sixth in the dramatic opening laps.
Victory 33 managed to find a way to overtake Swecat Racing, as Team Abu Dhabi retained third position from Fujairah Racing, 222 Offshore, Victory 3, New Star, Team Australia, Caccia Engineering, Raheeb and Gasbeton.
The thrilling duel between Victory 33 and Swecat Racing continued unabated in treacherous conditions, but Caccia Engineering hit trouble, Gasbeton 96 retired and Victory 3 managed to stay in front of Team Australia and close in on the world title.
But the Australian-Norwegian pairing ground to a halt on the course soon afterwards and gifted the Dubai-based Victory Team with the world title on home waters.
Victory 33 continued to lead and Ballough and Al-Hameli held on to claim a stunning victory, as Fujairah Racing edged passed Team Abu Dhabi to claim third position and then moved into second near the finish at the expense of Swecat Racing.
Team Abu Dhabi came home in fourth place and New Star rounded off the top five.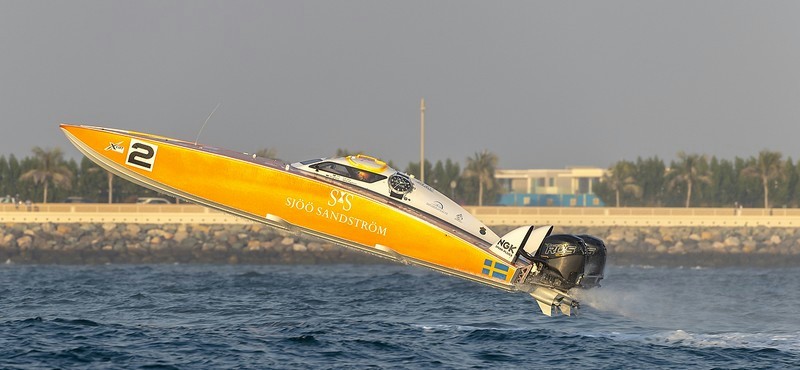 After declaring it was:
The craziest race ever!
Swecat's Erik Stark now has another matter to deal with, next Friday he will be challenging for his first F1H2o title in Abu Dhabi.
2017 UIM XCAT World Championship – Race 8
2017 UIM XCAT World Championship