PHILIPPE CHIAPPE CLAIMS THIRD SUCCESSIVE WORLD TITLE AS TORRENTE WINS IN SHARJAH
Frenchman Philippe Chiappe clinched his third successive UIM F1 H2O World Championship title after a thrilling climax to the season at the Grand Prix of Sharjah on Khaled Lagoon on Friday afternoon.
Needing to finish inside the top 10, regardless of whether arch rival Shaun Torrente of the Victory Team won the race outright, Chiappe made a superb start and stormed passed pole sitter Jonas Andersson on the first lap. He eventually ceded the race win to Torrente and cruised to the finish in second place to claim a third title for the CTIC F1 Shenzhen China Team. Torrente's win gave him the runner-up spot in the series rankings.
Team Abu Dhabi's Alex Carella moved up gradually during the race, after missing out on the top six in qualifying, and the Italian looked set for third place until he pulled out with engine issues three laps from the end and handed double World Champion Sami Selio his position.
Pole winner Jonas Andersson was fourth, fellow Swede Erik Stark finished fifth and rookie Grant Trask was an excellent sixth.
Grand Prix of Sharjah
Jonas Andersson managed to repair his boat and avoid changing the engine after his spectacular Q3 crash on Thursday and began the race from pole, ahead of title rivals Chiappe and Torrente.
The Team Abu Dhabi trio of Carella, Al-Qamzi and Al-Qamzi were seventh, 11th and 15th of the 20 starters at the start of the 45-lap race.
Chiappe made a superb start and passed Andersson to storm into the lead, as Torrente snatched second position and Selio slipped back to eighth.
After two laps, Carella and the two Al-Qamzi cousins were sixth, 11th and 15th. Mike Szymura had already fallen by the wayside.
Torrente settled into second behind Chiappe, the Victory Team driver knowing that any technical issues for the Frenchman would give him the title. Jesper Forss withdrew with mechanical problems, as Chiappe took a 1.44-second lead into lap seven and began to come under pressure from a charging Torrente.
Rashed Al-Qamzi climbed to 14th and then progressed to 12th before falling out of contention on lap 12, but Ahmed Al-Hameli had retired four laps earlier.
The yellow flag was raised on lap 15 when Ziwei Xiong turned his CTIC F1 Shenzhen China Team boat over at speed on the south-east of the course, with Chiappe leading from Torrente, Andersson, Stark, Carella and Bartek Marszalek. Action resumed on lap 20 and Torrente got the jump on Chiappe to snatch the race lead.
The American began to pull away as Chiappe noticeably eased his pace to conserve his equipment to take into the remaining 23 laps.
Carella began to pressurise Stark in the battle for fourth and the Italian stormed through to take the position, as Thani Al-Qamzi moved up to eighth at the expense of Grant Trask.
Torrente's lead was 13.16 seconds through 30 laps, as Carella disposed of a slowing Andersson to move into third place, with Al-Qamzi also benefiting to snatch seventh place. Marszalek's brave run ended on lap 29 and Al-Qamzi also withdrew with his own issues three laps later.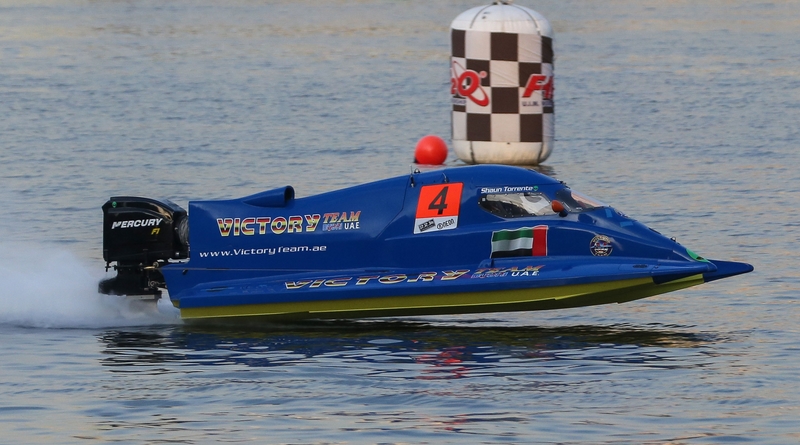 Torrente held on through the closing laps to record his first win since Doha last year, but it was not enough to prevent race runner-up Chiappe from claiming the world title for the third time in three years.
Carella tried hard to overtake the Frenchman, but was forced to settle for third place after a frenetic tussle over the closing laps, with Selio nipping at his heels from fourth place.
Carella dramatically stopped with engine issues with three laps remaining and Selio moved into third.